Guild Launch Releases New Update to Further Support Nightmare Tide, RIFT's New Expansion
Gaming's premiere site hosting platform, Guild Launch, released a new update on 10/22/14 to ensure top-notch RIFT support in the wake of Nightmare Tide.
Nightmare Tide, RIFT's newest expansion, looms on the horizon. Their team has brought the servers down for maintenance, preparing them for a flood of new content and waves of players ready to take on the Plane of Water. So while we all wait for that moment when we can finally make the plunge into a whole new realm of possibilities under the sea, we have to reel ourselves in a bit and prepare to make a splash.
(That last water reference was a little forced, but I make no apologies. Yes, I subjected you to that intentionally. Or should I say... submerged?)
Fortunately, Guild Launch's latest release has some good hooks to support Nightmare Tide and make sure your guild site has what it needs to properly reflect your new venture into the expansion, so that the launch is smooth sailing! (Okay, full stop. Mostly.)
New RIFT Souls

As you may know by now, each class can access a new soul. Mages can now be Arbiters, Warriors can now be Liberators, Clerics can now be Oracles and Rogues can now be Physicians.
They look like a blast, and Guild Launch has updated both their forum signature generator and their on-site guild rosters with the new icons, so that you and your guildmates can properly show what you are playing in the new expansion!
Server Status Widget
The RIFT Server Status widget on Guild Launch as been updated to accurately display whether or not the servers are up. Site owners and guild leaders can easily show whether players should be chatting on-site, reviewing strategies or diving headfirst into the three vast new zones RIFT has added. (I said mostly done.)
Raid Progression Icons
Two new raids have been added in-game: The Rhen of Fate (10-player) and Mount Sharax (20-player). Guild Launch's Raid Progression Widget has icons (and boss lists!) for both!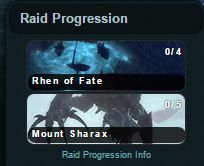 You don't have to worry about fishing for information in guild-chat about whether everyone downed The Yrlwalach; it can be posted in an easily-digestible format on your site to keep things flowing smoothly.
All this is in addition to the current support Guild Launch provides for RIFT, so get your sites ready for the new expansion and enjoy the game! And if you don't have a site with Guild Launch already, you can create one for free on our homepage.
Slaternote: Slater is the support manager for Guild Launch, a sister site of GameSkinny.
Editor's Note: We're keeping the nautical puns, seal deal with it.
Published Oct. 22nd 2014