New SMITE: Battleground of the Gods Comic Issue #1 Free!
Check out the brand new introduction and backstory to the hit mythological MOBA.
Hi-Rez Studios has tried their hands at a number of different online offerings - from my personal Kryptonite Global Agenda, to the latest addition to the Tribes legacy - but it wasn't until the studio hit upon SMITE that Hi-Rez really began making bank.

This third-person action MOBA (multiplayer online battle arena) for Windows and Xbox One allows players to fight in arena combat as a mythological god drawn from a number of different pantheons, armed with highly individualized character powers. Together, players can fight in team matches against other gods and non-player controlled minions.
While SMITE hasn't made quite the breakaway hit in the eSports world as League of Legends or DOTA 2, it is definitely making headway in that direction. Just last month in fact, the world's top eight teams from five regions vied for the top spot in the first SMITE World Championship with a $2 million prize pool.
(see SWC: Exclusive Interview with Smite World Champions, Cognitive Prime)
And now the origin story is here in comic book form.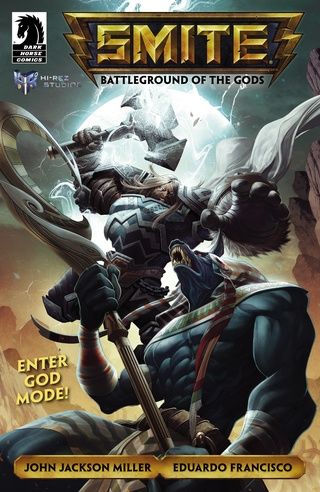 Where before the entirety of SMITE comics were a series of fanart-like strips (found here on Hi-Rez's SMITE website), this latest, and more polished effort by Dark Horse Comics gives a solid introduction and backstory to the online game.
From the Dark Horse page:
"[F]ollow the street urchin Nassa as she discovers the origins of the epic battle between gods both old and new. Nassa is presented with new knowledge about herself that requires her to make a fateful choice!
Published Feb. 4th 2015