Nintendo's Wii U and 3DS Black Friday deals revealed with bonus retailer-exclusive savings
Get your wallets and wrapping paper ready: Nintendo's Black Friday sales cover everything from bundles to amiibos with bonus online and post-Black Friday options.
Nintendo's Holiday Gift Guide announced all their grand gaming steals coming to retailers for Black Friday. Their sales cover bundles, consoles, games, and amiibos. The latter two categories enjoy additional deals at Toys R Us. To sweeten the pot of savings, Toys R Us and Nintendo eShop shopping comes with the added bonus of not having to fight the formidable and questionably sane crowd in-store. Walmart and Target will feature their own select title sales as well. We've got a lot to cover, so read on!
Bundles, bundles, come and get your bundles
The Wii U and 3DS each get their own fancy bundle this holiday season.
Smash Splat Special Edition Deluxe Set: This bundle includes one black Wii U console already prepped for good times with Super Smash Bros. and Splatoon pre-installed. The set sells for $249.99 at Walmart and Target while major retailers Best Buy, GameStop, and Toys R Us will sell it for $279.99.
Nintendo 3DS XL + Super Mario 3D Land: Grab a red, blue, or black Nintendo 3DS XL with a downloadable code for Super Mario 3D Land. You'll find this bundle at Walmart or on Amazon for $129.99.
Just interested in a console?
Nintendo's taking $20 off the New Nintendo 3DS XL pricetag. Pick up the handheld console in eye-catching red or sleek black for $199.99 at Best Buy, GameStop, Toys R Us, or Walmart.
Still not sure what new and improved 3DS XL offers? This system added:
Face Tracking 3D: opens up a wider range of viewing angles while the system adjusts the 3D "sweet spot" to best suit the location of the player's face.
New controls: ZL and ZR buttons join the C Stick.
Built-in amiibo support
Faster processing power
Backwards compatibility and future console-exclusive content
Easy data sharing: now your can transfer photos, music, and other files between your PC (or another device) and mircoSDHC card without removal.
For new games and amiibos, look no further than Toys R Us.
Toys R Us boasts two deals you won't find at other retailers:
2 for $22 amiibos: Includes ALL amiibos, whether $10.99 or $13.99. This deal starts on November 15th but lasts until Saturday, November 21st.
Buy one get one 40% off on all 3DS, Wii U, and Wii software: Lasts from Black Friday into Saturday the 21st. The discounted item must be of equal or lesser value, naturally. Find this deal in-store or online.
Don't forget about the coupons shoppers can nab at Nintendo's Mall Tour either! While the second Toys R US deal listed above cannot be combined with other offers, it's good to keep in mind all your holiday options. You don't want to be stuck without a good deal in sight if you miss out on Black Friday!
Nintendo eShop Cyber Deals
If you miss some hot Black Friday sales, don't fret: Nintendo's eShop Cyber Deals promotion doesn't start until November 25th. This sale runs through December 2nd and promises up to 50% off select Wii U and 3DS titles. Some prices will drop as low as $5.
Starting at 9 a.m. PT (or 12 p.m. ET), Nintendo's Gift Guide will sport an extensive list of all the games included.
Find 6 specific sales at Walmart and Target
Walmart will feature two Wii U Games for just $25:
Target's extra savings focus on 3DS titles for $15:
New Super Mario Bros. 2
Mario Kart 7
Super Mario 3D Land
Animal Crossing: New Leaf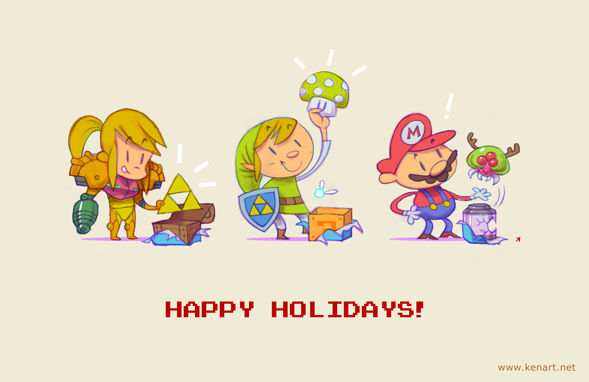 Any deals in particular catch your eye? Excited for options that leave crazy deal-hunting grandmother's out of the equation? Let us know, and good luck shopping!
Published Nov. 17th 2015