The Top 5 Pieces of Legend of Zelda Merch | Gaming Gear, Ep. 4
This week's episode of Gaming Gear rounds up the top 5 pieces of Zelda merch... from Hyrule hats to a dress inspired by A Link to the Past!
This week's episode of Gaming Gear rounds up the top 5 pieces of Zelda merch, just in time for the release of the 3DS remake for Majora's Mask!
The Legend of Zelda is arguably one of the most iconic video game franchises of all time and is often credited for inspiring an entire generation of gamers - myself included. My first ever video game memory was playing through A Link to the Past with my dad and uncles. We couldn't figure out one of the dungeons and after pondering what to do next for what seemed like forever, my uncle had the genius idea to use a bomb to blow up the wall. We all freaked out and celebrated… but looking back, I can't help but laugh at how difficult games seemed without the internet!
Since The Legend of Zelda has been around for a long time, there are loads and loads of Zelda merch. I had to categorize my search to make sure that I only had five items. With that in mind, I know there's more cool Zelda merch out there - so if you have a favorite piece that I don't mention, please share it in the comments below!
1. Terminus Terrae T-Shirt
First up is the Terminus Terrae t-shirt from Fangamer. I'm definitely biased towards Majora's Mask since it's my favorite Zelda game - but common, this t-shirt is beautiful! I absolute love the colors, the design, everything about it. This shirt would look great layered under a black or charcoal cardigan or tucked into a dark, high-waisted skirt. The shirt is $23 and is available in men and women's sizes.
Next is actually what I'm wearing in the video! It's the light and dark world reversible skater dress from Much Needed Merch. Being reversible means that this dress has two different prints, one on the front, and one on the back. This dress is very comfortable and goes with a variety of looks. The print seems abstract from a distance, so you can really dress it up or down depending what you wear with it (I actually have a video on 3 ways to wear this piece on my channel)! The dress is $40 from Much Needed Merch, but you should also check out their other Zelda stuff too, they have a ton of cool pieces for men and women.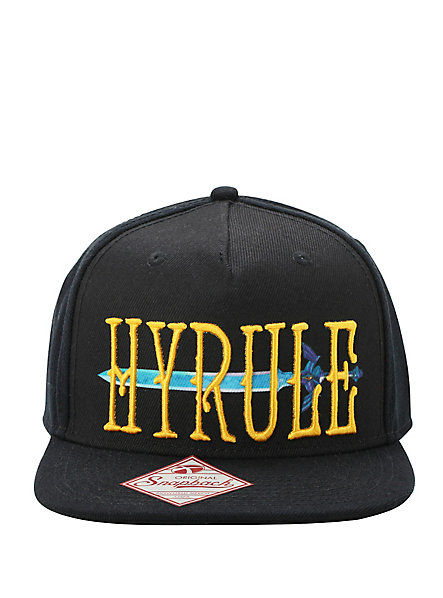 3. Hyrule Snapback Hat
Next is this Hyrule Master Sword hat from Hot Topic. I've seen a lot of Zelda hats in my life - usually with the Triforce logo. While they look great, I love that this hat has a different design. It reminds me of a sports team hat, but the geeky spin is really fun. The hat is on sale right now for $15.
4. Spiritual Stone Necklaces
Another Zelda piece for the ladies, Sanshee has these amazing Spiritual Stone necklaces. I had the opportunity to give away some of these over the summer and got to see them first hand. The necklaces are a great quality and aren't too big or too small - you can really wear them with anything. The necklaces are available in both silver and gold and are $22 each.
If you're a fan of Legend of Zelda jewelry, Sanshee also carries Tri-force earrings and necklace and Navi earrings.
5. Link Figma Figure
And finally, we've got a piece of merch that's not clothing related. It's the Link figure from Figma! I picked one up last year and absolutely love it. It comes with a million parts to swap out Link's hands, weapons, face, hair… just be careful, it's very delicate. I actually broke one of Links's hands when I first opened it by accident. I love that you can customize and pose the figure, and it's definitely worth the price tag. The figure is $55 from ThinkGeek.
So what's been your favorite item we featured? Comment with your top piece and if you own any other Zelda merch. I'd also love to know which games you'd like featured on Gaming Gear! Don't forget to subscribe to the Console to Closet YouTube channel for more gaming fashion videos.
Gaming Gear is a bi-weekly show rounding up the top 5 pieces of merch from a particular game franchise. The show is hosted by Amanda Erickson from Console to Closet, the gaming fashion blog.
Published Jun. 17th 2020