Why I Prefer Jelly Splash Over Candy Crush
Download this awesome free-to-play game today!
A few months ago, my mother, sister and grandmother were begging me to start playing Candy Crush—not because they wanted me to play a cool new game, but because they wanted me to send them new lives so that they could continue playing.
I started playing for a while, but after a few weeks it became a bit boring. Now I don't want to try to mess with a game that clearly has over 46 million monthly users (including my mother who plays it non-stop on her iPad, Android, and other peoples phones and tablets), but I wanted to share a similar game that I prefer over Candy Crush.
Jelly Splash
Wooga, a social network game and mobile developer stationed in Berlin, Germany developed Jelly Splash, a free-to-play puzzle game. Although the idea of the game is similar to Candy Crush, it's different because you aren't swapping positions of two adjacent jellies. Instead, you connect or link same colored jellies in order to clear or "splash" the jellies on each island you are on. There are no time limits, but there are missions like "Clear all the dark slime! You have 20 moves!"
Easy to Learn
Jelly Splash allows new users to quickly learn new missions that develop as you advance through levels by a simple walkthrough. Below is a walkthrough video of the first level in Jelly Splash.
Typically long connecting lines (like the red one you saw in the video) give you an explosive jelly; however, because it's the first level of the game you don't have that ability yet.
Graphics and Sound
Jelly Splash stands out a lot to me over Candy Crush because of its cute jelly characters and its unique islands. You have the typical looking island, the snowy island, a volcanic island, a shipwrecked island and more!
The gameplay sounds are also very appealing. Sound personally helps me know when I have connected the right amount of jellies I need to create an explosive one. I prefer Jelly Splash's gameplay sounds over Candy Crush because after a while the "Sweet, Tasty, Delicious, Divine, and Sugar Crush" becomes a bit annoying.
Above are the five different jelly creatures you will be connecting. As you advance through each stage you will come across some tough dark mushrooms who won't move out of the way unless you connect a jelly near them. If you don't connect a jelly near them, the mushrooms will multiply. This makes the game tough as you start to have limited amount of moves and limited amount of space to move around.
Other Missions
As you continue to advance through the levels, you will not only face the challenge of defeating mushrooms, and clearing dark slime, but you will also have to bring all of the diamonds to the bottom. This is similar to the Candy Crush fruits that you have to bring to the bottom.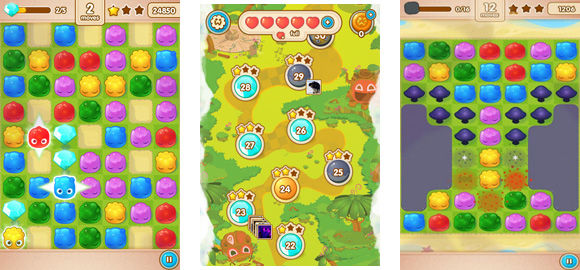 Where is it available?
You can start playing Jelly Splash on Facebook, your iPad, iPhone, or on your Android device! Start splashing some jellies and let me know what you think!
Our Rating
Download this awesome free-to-play game today!
Published Oct. 24th 2013