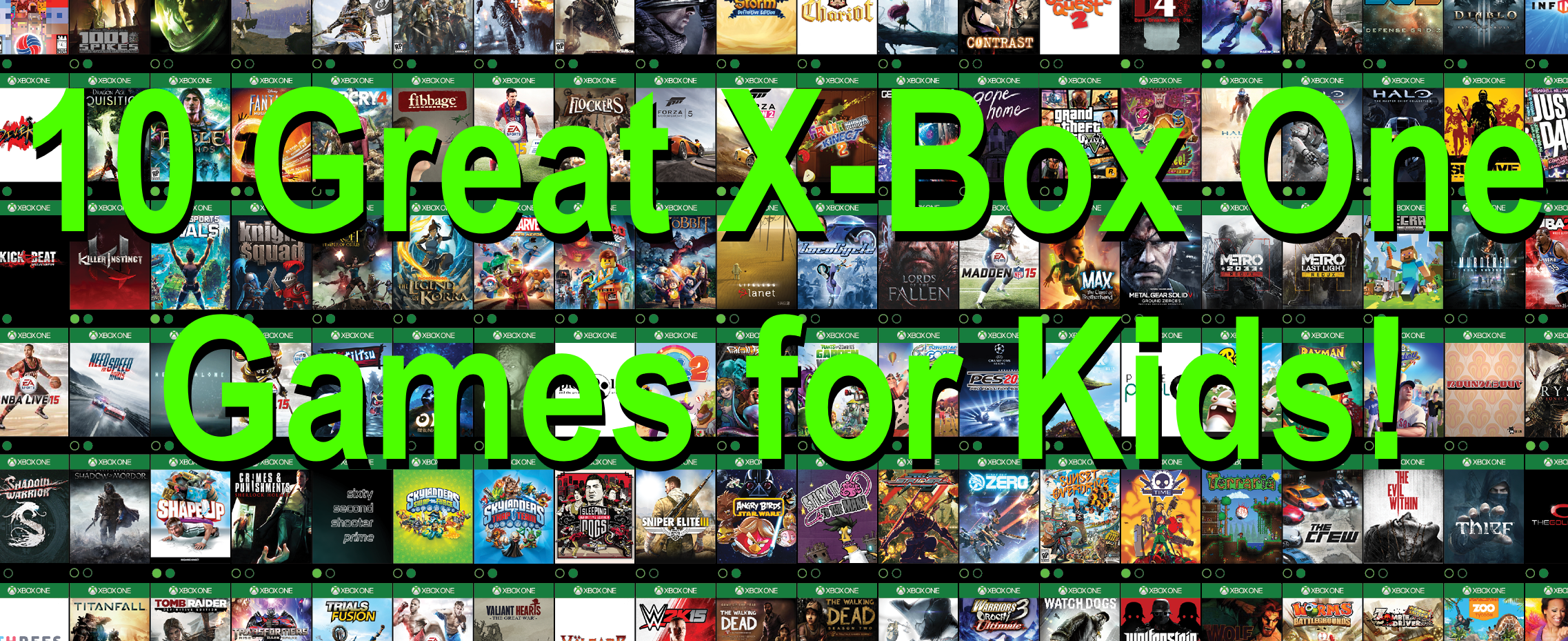 Staring at a wall of game titles in a store or browsing page after page online can be daunting when trying to find an age-appropriate but fun X-Box One game for younger players.
Though a gamer and a pirate amazon, I'm a parent first. So, I understand the struggle of knowing what's okay for kids to play that's not too intense, too scary or too mature for their game time--especially since many X-Box One popular titles are shoot'em ups, fighting games or horror.
Here's some of the most popular E Rated and E-10 Rated games out there. E Rated meaning a game is suitable for Everyone; no naughty language, over the top violence, or graphically frightening images. The E-10 rating is meant for older kids and normally means there might be a crude joke or two (like fart humor) and the action might be a little more intense.
Some of the titles have been around a little while, but you just may have not seen them. A few are fairly new and might be good upcoming gift ideas.
Prices listed are the everyday prices averaged from several gaming stores, big box stores and online shopping. Some comparisons can find the best deals.
---
The first selection is one you may already be familiar with, but still a classic. Though nearly 5 years old, the quintessential sandbox builder game Minecraft continues in popularity. It's simplicity, combined with open-world play and layers of complexity keep millions coming back. It's also sprouted a mobile app and most recently a spin-off, Minecraft: Story Mode.
Online Minecraft has become it's own universe with sites and Youtube channels dedicated to the creations players have made, start up seeds, downloadable outfits, custom bricks, as well as favorite things to do or best places to go in the game, etc.
It's the ability to jump right in as a single-player, co-op or online session that means everyone can experience the game as they want. Take on the challenge of Survival Mode, or tinker in Creative, or just be social on someone's server.
Minecraft MSRP: $19.99 (Disc or Direct Download)
Minecraft: Story Edition MSRP: $29.99 (Season Pass Disc)
---
Trackmania Turbo
Just released in March, Trackmania Turbo by Ubisoft features high-speed action, mind-bending tracks and vivid environments to engage younger racers while it still challenges veteran drivers.
The insanely wild courses reminded me of the Speed Racer movie as your car defies gravity, flips, jumps and hugs impossible turns at high speed.
With over 200 unique racetracks (yes, over 200), the experience won't get old fast. Older kids can create with Track Builder for making new thrills and can even post their finished creations online for others to try.
Family members can challenge each other in head-to-head race events or go online for massive Player-vs-Player Racing. Ubisoft's Double Driver Challenge takes Co-Op play to a whole new level as two players must match move for move to control a single car and keep it on the track.
MSRP: $39.99
---
So, what would playing a giant game of soccer be like if played by rocket-powered cars? Simple premise. Insanely fun.
Based on the PS3 game Supersonic Acrobatic Rocket-Powered Battle-Cars that Psyonix originally published independently, this next-gen version ramps up the thrills with customizable cars, "mutator modes" (to alter gravity, ball size, physics), and plenty of DLC (more cars, various paint jobs, trick tires, and new maps).
The critically-acclaimed, award-winning game has been called "highly addictive", "the right mixture of chaos and precision", and "one of the most entertaining multi-player games of the year (2015)." After huge success on PCs and Playstation 4, Psyonix is adding an X-box One version this summer.*
The basic premise makes Rocket League easy to pick up for younger drivers, but the level of detail means that older kids will be far from bored. Learning how to make precise moves and trick jumps or flips with the cars is an acquired skill. In fact, there is a dedicated Youtube channel where players can show off their driving and goal-making skills.
Split-screen action allows for sibling rivalries as well as online play for more intense competition or a single-player Season Mode that uses computer controlled cars for teammates or opponents.
MSRP: $29.99
*X-Box One Version Release Date is July 6th
---
PopCap Game's world of Plants vs. Zombies sprouted first as a tower defense game where players tried to protect their Suburbia backyard from invading zombies by raising crazy attack plants to stop them.
Plants vs. Zombies: Garden Warfare expanded the wacky battle by creating a three-dimensional world the player could move about in, lay out their yard, plant new creations and fight off zombie invaders.
Garden Warfare 2 now ratchets up the battle another notch as players can play either side and even pilot the zombie's Zmechs, walking tank secret weapons.
While the story is a war between the undead and monstrous plants, the cartoonish action and comic sense of humor makes Garden Warfare 2 a blast to play and numerous play modes keep the challenge coming.
There's over 100 different plants and zombie characters to use in your armies. Team up for 2, 3 or 4 player Co-Op mode or pop online for Player-vs-Player mode with up to 24 competitors.
MSRP: $59.99 or $69.99 for the Deluxe Edition.
---
So often parents worry their kids spend too much time on the couch and not enough being physically active. Also, what can kids do to stay active on those rainy or snowy days?
The Just Dance series uses the X-box One Kinect* as players imitate dance moves acted out on the screen. Imagine the old Dance Dance Revolution game, but without a floor pad. Characters on the screen perform to the music and you score by how well you perform the moves and keep up.
Disney Party 2 uses songs from The Disney Channel's most popular kid series and TV movies like:
Austin and Ally

The Descendants

Girl Meets World

Girl vs. Monster

K.C. Undercover

Teen Beach 1 and 2
If you have a houseful of dancing fools, there are several Just Dance titles to keep them rocking out new moves.
MSRP: $29.99
*Requires the Kinect scanner
---
Next is a curious and stunningly beautiful platform puzzle-solving game from Coldwood Interactive and Electronic Arts.
Yarny is a small fuzzy creature made of yarn. As he moves through the environment, the player can have Yarny use parts of himself to perform tasks, solve puzzles, avoid enemies, and get around obstacles in his path.
Using his strings to build bridges, swing across openings, grab things etc. can deplete Yarny, so players must be careful to keep him going. His mission is gathering memories by earning badges for his successful outings.
The world Yarny moves through is gorgeous to look at and his journey challenges the brain not the trigger finger.
MSRP: $19.99
---
Saying this UbiSoft game is a side-scrolling platformer and RPG does nothing to describe the experience of leaping into a lush fairy tale painted with a watercolor palette. Each level plays upon light and shadow, as is the game's theme, and looks like a Grimm story brought to life.
Aurora is a princess taken from her home at a time when darkness threatens to consume everything. She sets out to find the moon, the stars and the sun and return the light to stop the Umbra, the Queen of Darkness.
With the help of a firefly named Igniculus, Aurora sets out across mythical realm of Lemuria. Watching Child of Light reminds me of turning pages in some kind of animated storybook. The visuals are layered and stylish but kids who've played other classic platform games should acclimate just fine.
MSRP: $14.99 (Download)
---
A recent trend has been the combination of video games with collectible toys. This would include the original Skylanders, the very popular Disney Infinity series, Nintendo's Amiibo (a-me-bo) and Lego Dimensions.
Additional toys, sold separately, allow new characters and vehicles to be added to games, unlock levels, find secret areas and create new combinations of adventures.
Lego Dimensions adds another facet. Not only are players collecting characters and playing the game, they're actually building or re-building the vehicles and equipment used in the game.
Snap together the Batmobile and place it on the portal stand... viola! The Dark Knight's ride appears in the game for characters to tool around in.
The Starter Set also includes:
LEGO Toy Pad
Bricks to build the LEGO Gateway
3 LEGO minifigures (Batman, Gandalf, and Wyldstyle)
LEGO Batmobile vehicle
Lego's other titles have always been favorites for players of all ages with a variety of worlds to play in like Star Wars, DC Comics, Pirates of the Caribbean, Ghostbusters and most recently Jurassic World.
Lego Dimensions Starter Kit - MSRP: $79.99
Additional characters and mini-sets range from $8-$29
---
While we're on the topic of games combined with collectible toys, it's hard to avoid the Death Star in the room. Disney's Infinity is now in it's third generation with no signs of stopping.
Younger players like the hands-on feel of having, collecting, or even trading figures with friends.
With their recent acquisition of Lucasfilm and Marvel Comics, Disney has added their massive universes to an already massive open world experience.
Players connect the Infinity platform to the X-Box One, then place their characters, which can be used in nearly any combination. Want to have Ironman, Princess Leia and Timon team up? Now, you can make your dream team of heroes and villains.
Disney Infinity 3.0 Starter Kit - MSRP: $39.99
Additional characters and sets range from $7.99-$29.99
---
How about a game app that let's you create your own games or play games created by others?
Imagine being able to start with a blank video canvas or alter existing environments, add objects, items to play with, and characters. Designed objects and worlds are shareable, and other players can be invited into your creations.
Using a Kinect device, your young game maker can create animation for their characters and even add voices to them. Creative older kids can dive in and begin to craft their own fun or anyone can download and play projects created by others.
The folks at Project Spark also provide a lot of support and videos showing how to use the application and to build the best game possible.
And best of all? There's NO charge.
MSRP: FREE (Download from the X-Box One)