If you happened to miss the boat, then the taxi, then the train, then the pedicab, and then the bike-share on Minecraft, it can be a bit daunting to learn the ins and outs of the game.
Picking up and playing open games like this is often the best way to learn, but for newcomers, it is often helpful to start your game on a pre-generated seed rather than letting the game generate a random game world for you. This seed, in effect, is a code that tells the game what to put in your game world, and it can be entered in the "More World Options" section of the world select screen.
All that said, here are 10 Minecraft seeds that are tailor-picked for people experiencing the game for the first time.
---
Seed: -5292382787242612878
Spawn Coordinates: -11/69/250
Notable Biomes: Savanna, Taiga, Mega Taiga
One of the most important things for Minecraft newbies to learn is the qualities of the different biomes in the game. This seed, in addition to offering up a desert village (coordinates -193/66/263) and a loot-packed jungle temple (246/63/279), also features a variety of different and rare biomes so that new players can get comfortable with what they have to offer.
---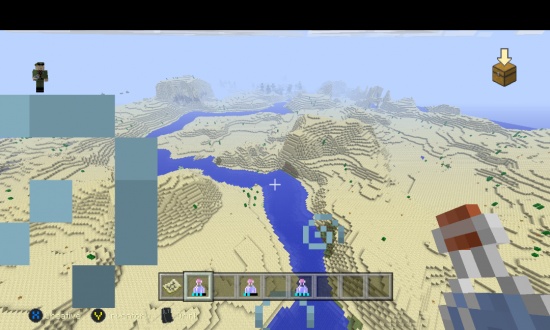 Seed: -4507088769138839877
Spawn Coordinates: -180/74/248
Notable Biomes: Desert
This seed was designed for Survival Mode, but it also offers great potential for exploring in general. The biomes in this seed are very large, and a flooded village (-798/64/-2,000) and underwater stronghold (709/38/-838) provide a stark contrast from the desert biome that dominates the map.
---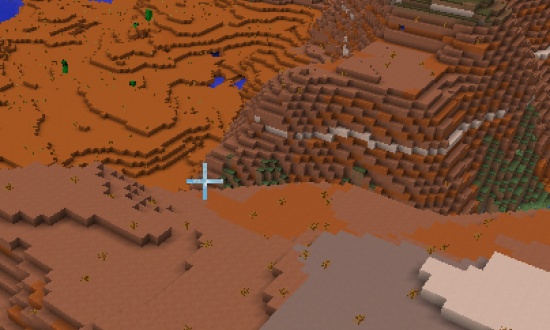 Seed: -3332594370621071513
Spawn Coordinates: 301/66/102
Notable Biomes: Mesa, Mega Taiga
Though this seed is relatively devoid of villages, it features a few witch huts and ocean landmarks. Its variety of biomes and verticality also gives this seed a great exploratory feel, perfect for newbies who want to strike out on their own a little bit.
---
Seed: -3332594370621071513
Spawn Coordinates: -252/244
Notable Biomes: Extreme Hills
The great thing about this seed for those of us that are new to the game is that it spawns you right next to a bunch of the stuff that makes Minecraft so great. The stronghold near the spawn is connected to a large cave system as well, so for those of you who are more into mining than crafting, be sure to check this one out.
---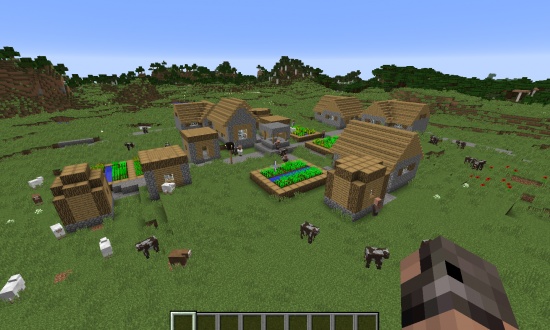 Seed: 5132472577713836028
Spawn Coordinates: 141/71/265
Notable Biomes: Plains, Forest
For those of you who want to give survival mode a shot, this seed is a great entry point. It spawns you right next to a village with a library (just head west, you can't miss it), and wildlife abounds. Just note that the village is a bit bare-bones. There's no blacksmith there, so be aware of that.
---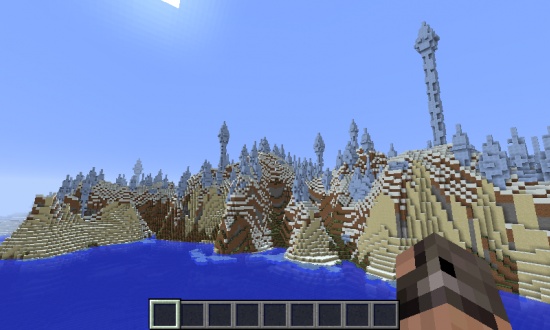 Seed: 8592227573401915141
Spawn Coordinates: -57/70/248
Notable Biomes: Ocean, Ice Plains
This is another seed ripe for players who want to jump into the game and just start exploring. The seed will spawn you on an island full of chickens, but venture east and you'll eventually find an ice temple. To the south of the spawn are plains and forest biomes as well. This is a striking seed from the moment your game starts, so be sure to take in the views!
---
Seed: -7492801512473941435
Spawn Coordinates: -200/86/20
Notable Biomes: Extreme Hills, Flower Forest
For those of you who want to jump in and start building, this seed offers some great verticality. The terrain practically begs players to build elaborate structures, and the way the hills and cliffs overlook the beaches ensure that any structure built in this seed will feature stunning views. This is a perfect seed for folks who want to learn the ins and outs of building.
---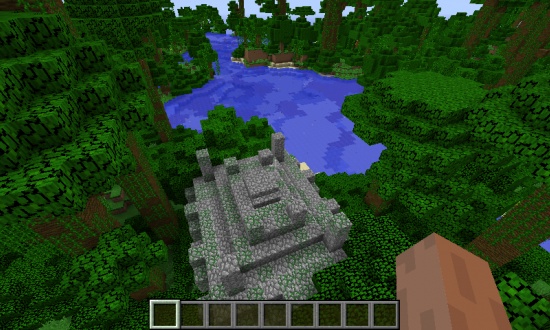 Seed: -1154251764487443855
Spawn Coordinates: -100/64/186
Notable Biomes: Jungle
The nice thing about this seed, at least for first time players, is that the spawn is relatively close to a jungle temple, so it's not likely that you'll get lost on the way there. Just head to 191/70/121 and start exploring.
---
Seed: 453039338
Spawn Coordinates: -192/67/179
Notable Biomes: Plains, Birch Forest
Whether you're new to the game or not, it's always helpful to have a village right at your spawn. This one comes complete with a house, and a whole bunch of food to take along on your journey. Plus, the village sits at the intersection of four different biomes-- a forest, a birch forest, plains, and a desert.
---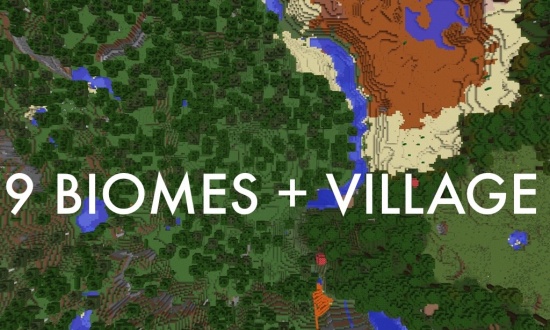 Seed: 6433889404973407738
Spawn Coordinates: -204/71/245
Notable Biomes: Like, All Of Them
We've saved the best for last. This seed features 9(!!!) biomes and a village not far from the spawn point (724/68/215). The sheer number of biomes means that each one is relatively small, so exploring is a bit quicker and easier. What are you waiting for? Explore!
We know that it can be daunting to dive into Minecraft, especially since it's been out for so long now, but the best way to learn what makes the game so great really is to dive in. Are you new to the game, or do you have suggestions (or seeds!) for people who are? Sound off in the comments! If you need us, we'll be building a secret island lair in the shape of a skull.