2019 is looking to push the envelope for action games. If you're a gamer who wants to get there blood flowing, you've come to the right place.
Many of our most anticipated action games of 2019 are sequels to established franchises. Some of these franchises are long dormant, but they should be familiar to any savvy modern gamer. A few of these games are brand new IPs, however, and could offer a breath of fresh air to those who are sick of those well-worn treads.
Whether you want shooting, swords, or Keyblades to get your jollies in, these are some of our most anticipated action titles of 2019.
---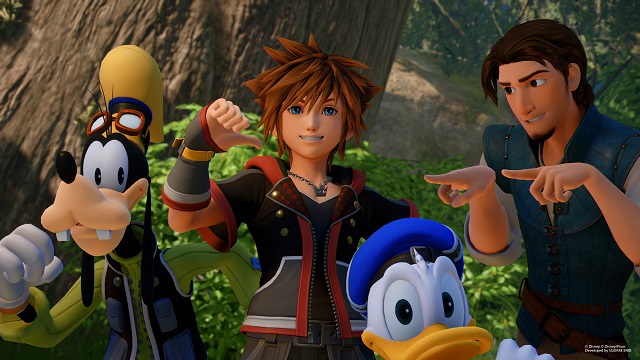 Kingdom Hearts 3
Developer: Square Enix
Platforms: PlayStation 4, Xbox One
Release Date: January 25, 2019
Kingdom Hearts 2 came out back in 2005. 2005! Think of how young and innocent we all were back then! If you count the spinoffs, reboots, remixes, and games with crazy titles like Kingdom Hearts: 358/2 Days. It's tough to wrap your brain around, but 2019's release will somehow only be the "third" game in the Square/Disney collaboration.
One of the most interesting aspects of the Kingdom Hearts series is getting to experience all the different worlds from Disney movies, and Kingdom Hearts 3 has several new entries to the series. Worlds based on Frozen, Big Hero 6, Toy Story, Tangled, and Monsters, Inc. will all play into the game. Confirmed returning worlds and characters include inspiration from Hercules, Winnie the Pooh, and Pirates of the Caribbean.
Kingdom Hearts has a pretty bonkers story, and it will be interesting where the next true entry in the series brings to the table involving the Heartless, Organization XIII, and the like. Luckily, we don't have long to wait until its release.
---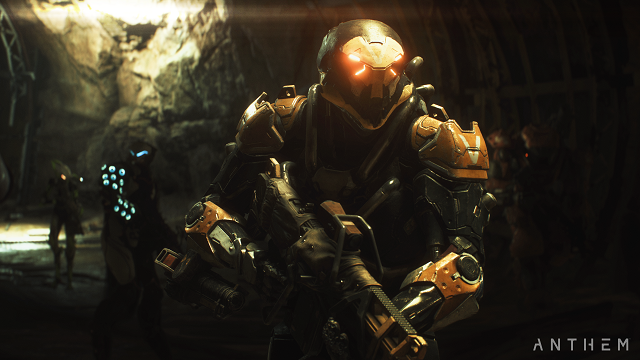 Anthem
Developer: BioWare
Platforms: PC, PlayStation 4, Xbox One
Release Date: February 22, 2019
BioWare's first title since putting the finishing touches on the Mass Effect series, Anthem is a brand new IP that looks to combine third person shooting and action role-playing elements into a squad-based, open world MMO. If that sounds like it ticks all your boxes, you aren't alone. BioWare is banking on Anthem being the go to choice for groups of gamers to team up and take down foes.
In Anthem, each player will take on the role of a Freelancer, mercenaries who battle throughout the world in customized exosuits equipped with powerful weapons and abilities. These exosuits, called Javelins, will come equipped with a variety of skill sets and will allow player customization. For taking on high-leveled quests, squads of up to four will need to work together to synchronize abilities and make the most of their Javelins' powers.
Anthem comes out in late February for PC and consoles.
---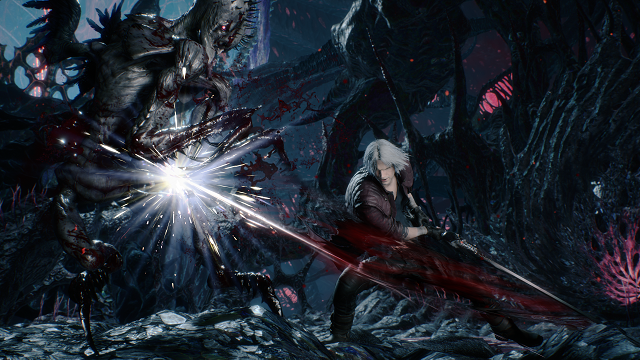 Devil May Cry 5
Developer: Capcom
Platforms: PC, PlayStation 4, Xbox One
Release Date: March 8, 2019
Capcom's stylish, over-the-top action series is returning in March of 2019. Dante and Nero will be returning, slaying demons and looking both cool and cheesy as they do it. A new, playable character named only "V" will also be joining the fray, and a lot of our favorite elements of the series will be on full display.
Of course, the outrageous set pieces are always a highlight of the Devil May Cry series, and Capcom has released footage from the game so far that shows that this element will be back in full force. Dante will be wielding several new weapons, including a pair of gauntlets named after Balrog from the Street Fighter series and a pair of buzzsaws that transform into a motorcycle (!) named Cavaliere. V reportedly has a completely different fighting style than both Dante and Nero, but how exactly it will work has yet to be revealed.
Grab your wraparound sunglasses and shotgun some Mountain Dew. Devil May Cry 5 is coming in March.
---
Sekiro: Shadows Die Twice
Developer: FromSoftware
Platforms: PC, PlayStation 4, Xbox One
Release Date: March 22, 2019
FromSoftware, best known for the Dark Souls series and its spiritual sequel Bloodborne, has a new third person, melee combat title coming out in 2019. Sekiro: Shadows Die Twice looks like it isn't a complete Souls-alike, while still utilizing elements of its character design and combat.
Sekiro takes place in 16th century Japan, and the player takes control of a shinobi who has lost his arm in battle. When the shinobi awakens, he has been given a prosthetic arm (which the player can customize with different tools and upgrades) and leaves to seek revenge - the man who wounded him also kidnapped his master.
Rather than utilizing the mysterious story and character creation of Dark Souls, Sekiro looks to tell a bit more of a coherent story while offering plenty of the chunky, timing-based combat that players expect from FromSoftware. There will be stealth elements involved as well as a unique combat system that allows players to open up enemy defenses before striking with a precise killing blow. Look for it in late March.
---
Skull & Bones
Developer: Ubisoft
Platforms: PC, PlayStation 4, Xbox One
Release Date: 2019
Sadly, Skull & Bones is not a stealth-action game featuring George W. Bush as he infiltrates his alma mater's secret society. Rather, it takes elements from the much beloved Assassin's Creed pirate-themed entry Black Flag, and will allow players to live out their favorite pirate fantasies - no bottle of rum needed. However, for maximum enjoyment, one would be highly encouraged.
Skull & Bones is a third-person game that features a single player campaign, but its main draw is its multiplayer naval combat. Each player will play as a pirate captain, and can party up with up to five others to sail the high seas and engage in ship-to-ship combat. Ubisoft is promising all sorts of variables to play into the game's combat, including wind conditions and how rough the ocean is. It will also provide players with a variety of ships to choose from, mimicking the "classes" of squad-based shooters. This promises a variety of strategies and playstyles, and will hopefully keep things fresh as the game ages.
There is no definitive release date yet for Skull & Bones yet, but it is expected in 2019. Keep your eyes on the horizon for more details as they become available.
---
Cyberpunk 2077
Developer: CD Projekt Red
Platforms: PC, PlayStation 4, Xbox One
Release Date: TBA
CD Projekt Red's follow up to one of the greatest games of all time, The Witcher 3: Wild Hunt, looks to be a similarly ambitious title. Cyberpunk 2077 draws its inspiration from the tabletop RPG Cyberpunk 2020, and it looks to take the powerful story telling and grey morality of The Witcher into a science fiction future.
In Cyberpunk 2077, players take control of a character named V. Unlike The Witcher's Geralt, V is fully customizable: look, gender, skills, and more are all determined by the player and how they want to approach the game. It takes place in a massive open world: a futuristic megacity called Night City, California.
Cyberpunk 2077 looks massively ambitious and, if done right, could be yet another massive win for CD Projekt Red. There's no guarantee it is coming out in 2019, but we can certainly keep our fingers crossed.
---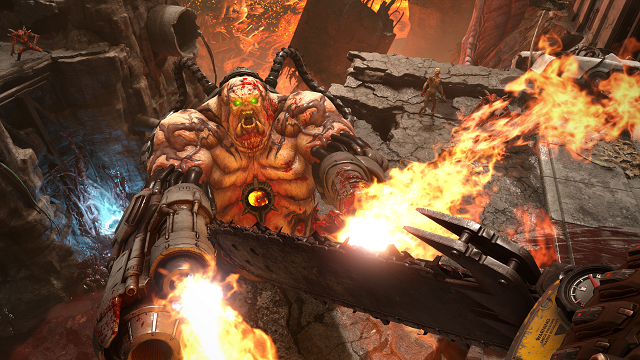 DOOM Eternal
Developer: id Software
Platforms: PC, PlayStation 4, Switch, Xbox One
Release Date: 2019
2016's DOOM reboot was an extremely pleasant surprise, and id Software is looking to continue that goodwill with a direct sequel, entitled DOOM Eternal. The demons have begun to invade Earth and, of course, only you can stop them.
One of the best aspects of the reboot of DOOM was how well the developers captured the adrenaline-pumping feel of the original games. The are looking to push this even further in the sequel, offering plenty of incentive for the player to be aggressive in their demon-murdering spree. One of the coolest new additions comes in the form of the "Meat Hook," a grappling gun attachment on the shotgun that allows players to grapple into an enemy and unload a powerful shotgun blast as soon as they get close. Get ready for plenty of gore.
DOOM Eternal will also feature a Dark Souls-esque multiplayer option that will let players invade others' games as demons. id Software appears to be hitting the "more of what people liked" button with DOOM Eternal, and it is expected sometime in 2019.
---
Bayonetta 3
Developer: Platinum Games
Platforms: Switch
Release Date: 2019
The good news is that Bayonetta 3 is in development and should be coming out in 2019. The bad news is this: if you don't own a Nintendo Switch, you're out of luck. The third game of the trilogy is coming exclusively to Nintendo's platform, but it will look to continue the title character's story and bring plenty of blisteringly difficult challenges to players.
The story of Bayonetta is... difficult to explain. Here goes: you play as a sexy witch who has guns for shoes and a magical outfit that is made out of her own hair. She is over-the-top flirtatious, constantly posing during fights and making double entendres. She utilizes her hair as a weapon, crafting it into giant monsters in order to battle creatures of heaven and hell.
It's... complicated.
What it does extremely well is crazy action - think Devil May Cry but sped up a few degrees. The combat system rewards twitch reflexes and massive combos, so there is a lot of level for mastery here. The story is, as we mentioned, totally off the wall - but the game is also well aware of that fact, and never gets to the point of being annoying with its self-awareness. Switch owners will need to keep their eyes open, as Bayonetta 3 is hopefully coming in 2019.
---
Gears 5
Developer: The Coalition
Platforms: PC, Xbox One
Release Date: 2019
Don't let the title fool you - they may have dropped "of War," but Gears 5 is another entry in the Gears of War series. Even more confusingly, it is actually the sixth entry, since Gears of War: Judgment came between the third and fourth games.
Those semantics aside, it seems like we can expect more of the third-person, cover-based shooting that the Gears series has always done so well. Many characters we know and love, including series mainstay Marcus Fenix, will be returning in Gears 5, but it will pick up where Gears of War 4 left off. Players will control Kait Diaz, who is searching for the origin of the Locust and her own family history.
Gears 5 will feature both single player and multiplayer and crossplay between Xbox One and PC players. It is expected to release sometime in 2019.
---
Tom Clancy's The Division 2
Developer: Massive Entertainment
Platforms: PC, PlayStation 4, Xbox One
Release Date: March 15, 2019
Looking to build off the successes of the first game and address some of the issues that many players had, Tom Clancy's The Division 2 looks to update its brand of squad-based shooter with its 2019 release. The game takes place about half a year after the original, and will allow players to team up in small groups to take on objectives in an ever-changing world.
The main focus for Massive Entertainment with The Division 2 is on the endgame content. A big gripe with the original was that there was not enough for players to do as they got to the end of the game, so high-level raids and large (free!) DLC support is in the plans for the sequel.
The Division 2 is available for preorder now, and doing so will gain you access to the private beta when it becomes available. The game will release in full on March 15, 2019.
Editor's note 2/12/19: We played The Division 2 PC beta. Here are our thoughts.
-----
Are there any other games you're looking forward to in 2019 that aren't on this list? Let us know in the comments below!