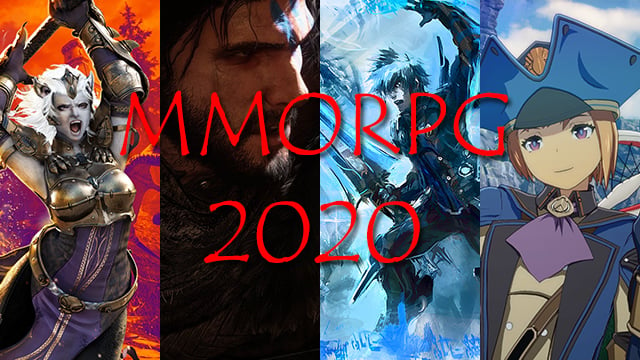 MMORPGs still gather huge crowds of people from all over the world. Obviously, the leading positions are held by free-to-play games mainly due to their popularity in the Asian markets.
But it looks like the new trend is coming in 2020 - a surge of cross-platform MMORPGs that will be available on mobile devices. This means that players can play anywhere they want in case there is a speedy internet connection available.
That is the reason why so many games on this list have a mobile support. Of course, AAA projects will still be available on PC and consoles only. But don't neglect the impact of mobile devices on the development of the MMORPGs in the future.
Take a look at these 11 highly anticipated MMORPG titles for 2020, and see which of these titles you will like the most.
---
Crimson Desert
Developer: Pearl Abyss
Platforms: PC, PS4, Xbox One
Release date: TBA
Crimson Desert is an open-world fantasy MMORPG made by Pearl Abyss as their new flagship after the release of Black Desert Online.
The project was created using a new game engine, which may surprise BDO. Crimson Desert accumulates all the best ideas and experiences that have been gained by developers while working on Black Desert Online, which was a huge success on many markets and platforms.
The events of Crimson Desert unfold on a continent divided into three regions that are the basis of conflict between mercenaries and the monarchy. This is not a prequel or a sequel to Black Desert Online, but they do share the same universe.
Players will have access to crafting, large-scale battles, trading and creating their own teams with other people online.
---
Bless Unleashed
Developer: Round 8
Platforms: Xbox One
Release date: TBA
Bless Unleashed is a free-to-play fantasy MMORPG based on Unreal Engine 4. Although the project was created exclusively for the Xbox One console, there is a chance that it will be ported to other platforms in the future.
Expect some unusual combat mechanics in this game, including advanced dodging and customization. There are several PvP modes with competitive ladder and cooperative PvE missions.
As of now, there are five different classes of heroes in the game. However, this number could grow in time, as developers plan to support the game with regular content updates.
---
Ni no Kuni: Cross Worlds
Developer: LEVEL-5
Platforms: Mobile
Release date: TBA
Ni no Kuni: Cross Worlds, also known as Second Country: Cross Worlds, is a spin-off of the famous Ni No Kuni series for video games.
One of its main features is the gorgeous anime graphics, as well as the social system called "Kingdom". It will allow players to create and develop their own guilds, and collaborate or compete with other people online.
In addition, players can collect and train spirits called "Imazen", and then take them on a journey through the Cross Worlds.
---
World of Dragon Nest
Developer: Eyedentity Games
Platforms: PC, Mobile
Release date: 08 Jan 2020
World of Dragon Nest is a cross-platform MMORPG for PC and mobile devices, which is a sequel to Dragon Nest.
This is a full-fledged open world game with total freedom of movement, unlike the first Dragon Nest, with lots of available professions, such as fishing, farming, crafting, etc.
There is also a PvP mode for 200 players that allows players to create four different teams with 50 characters in each. But boss raids will also be available, as well as an unchanged non-target combat system.
---
Wolcen: Lords of Mayhem
Developer: WOLCEN Studio
Platforms: PC
Release date: Jan 2020
Wolcen is a hack'n'slash type MMORPG based on Cry Engine 3 and procedurally generated locations. This project was fully financed through a Kickstarter campaign.
The world of Wolcen covers four square kilometers, most of which is located underground. In addition, the game will have a really fun Dungeon Challenge mode, which pits players against hordes of monsters in a PvPvE format similar to deathmatch.
The Umbra combat system is based on some of the ideas from Magicka. For example, players will be able to lure monsters into the water and use electric charge to kill them all. Also expect some mini-games and a large number of secret missions throughout.
---
Phantasy Star Online 2
Developer: Sega
Platforms: PC, PS4, NS, Xbox One
Release date: TBA
The game that has been available exclusively in Japan is finally getting a worldwide release in 2020.
The gist of PSO2 is really simple. Players will mainly focus on completing quests, raid dungeons and spend a lot of time exploring procedurally generated locations.
There are nine base classes in the game along with a main and sub-class system, allowing for a fair amount of customization on a character per character basis.
The dynamic weather system will influence your ability to kill mobs and defend yourself, which is really interesting. Phantasy Star Online 2 also provides players with the opportunity to build a home and fashion it in any way you like.
---
Moonlight Blade
Developer: Aurora Workshop
Platforms: PC
Release date: TBA
Moonlight Blade is another promising MMORPG with a massive oriental martial arts angle. The game looks similar to Blade & Soul, but for a more casual crowd. According to the developers, it is 18 times bigger than the world of Skyrim.
Here players can choose one of the eight classes. Each of them has their own unique storyline and battle system. Moonlight Blade pays a lot of attention to PvP mode, which focuses on the conflict between factions.
The combat involves the simultaneous use of target and non-target systems, which was created with the help of real martial artists.
---
Project BBQ
Developer: Neople
Platforms: PC
Release date: TBA
Project BBQ is an MMORPG using on Unreal Engine 4. The project offers a brand new fantasy world, eight heroes to choose from and a non-target combat system.
The world is divided into dungeons and other adventure zones, which can be accessed from cities and settlements serving as social hubs. Some of the heroes have been ported from Dungeon Fighter Online, while others were created from scratch.
According to game director Yoon Myung Jin, Project BBQ was inspired by many console games and combines elements of Monster Hunter and Devil May Cry.
---
Gran Saga
Developer: NPIXEL
Platforms: PC, Mobile
Release date: TBA
Gran Saga is an upcoming MMORPG from the creators of Seven Knights.
Players will explore the world and try to save the kingdom from the curse of the dragon. The developers plan to focus on the epic narration with various phases during the game.
Although this is a mobile game it was created on Unreal Engine 4, and will hopefully look just as good on mobile devices as on PC.
---
Inferna
Developer: Inferna Limited
Platforms: PC, Mobile
Release date: TBA
A new independent MMORPG will be available at Steam Early Access on December 6, 2019. But full release is scheduled sometime during 2020 with no exact date of yet.
Inferna offers four classes of heroes: magician, warrior, assassin, and semi-demon. Each class has its own fighting style. Players will have to explore the world of Pangaeu and protect one of the given kingdoms from the enemy realm.
There will be a ton of dungeons to raid, and all this exploration will be heavily supported by a variety of story-telling elements.
---
Blue Protocol
Developer: Project Sky Blue
Platforms: PC
Release date: TBA
Blue Protocol is an action MMORPG that requires players to join forces and save the native and once prosperous world of Ragnus from destruction.
In order to accomplish such a difficult task they will have to travel through space and time together. According to the developers, the game is mainly focused on story development and multiplayer battles.
At the start there will be four classes: Aegis Fighter, Twin Striker, Blaster Archer and Wizard.
---
For more anticipated games of 2020, from the Nintendo Switch to FPS games and more, check out the list below:
What your most anticipated MMORPG games of 2020? Let us know in the comments section below.