Final Fantasy XV, as you probably know, is the biggest open world Square Enix have ever created. It takes lots of inspiration from Western Triple-A developers like Bethesda or Rockstar, and the result is a very good Final Fantasy game.
However, like most modern games, Final Fantasy XV has its share of glitches. Thankfully, most of these bugs are not game-breaking and instead imbue the game with hilarious and bizarre side effects that definitely make us laugh. So, here you will find the five funniest glitches we have seen in FF XV so far.
Lux Infinity & Beyond!
Playing the Judgment Disc Demo of Final Fantasy XV weeks before the game's actual release, this player was enjoying his time in the world of Final Fantasy XV, getting to know Leide, Hammerhead, Galdin, etc. Minding his own business, he finds a group of dangerous rhinos in the area and decides to fight them. Imagine his surprise when he suddenly teleports hundreds of feet above the ground!
This hilarious glitch only happens in the demo when you fight this particular group of rhinos, located south of Hammerhead. When the battle is over, Noctis appears in the sky high above and starts falling until he reaches the ground in a spectacular smash.
However, it can get even worse.
The second time you try to defeat the animals, you get teleported and fall outside the limits of the demo! You are trapped and cannot get back. Thankfully (or not), this bug was patched in the main game.
Purple Sea, Purple Sea…
How is this even possible! What kind of phenomena can explain this? This is supposed to be water in Galdin Quay. However, it has turned purple! All of it! Needless to say, we do not think it is safe to swim or fish there… If you could even see fish in the first place.
Later, you will notice that this is not the only glitch involving neon purple. There seems to be a problem with this particular color in the game. Or maybe somebody just like purple. Who knows?
Why Are You So Serious!
Noctis, are you alright? Much like Assasins' Creed Unity and The Sims, Final Fantasy XV also includes extremely glitched faces — with both horrifying and hilarious results. In this case, Noctis turns partly invisible and shows us his radiant smile.
We find it really interesting that many games have these kinds of bugs. They are especially weird and funny during cutscenes, where they takeaway all the dramatism and seriousness of the moment. Not even a 10-year development cycle can fix these situations…
What if everybody in the game looked like this? Creepy …
The Human Centipede
Notice something wrong? Apparently, Noctis is ignoring the fact that there are four people merging behind him! Like a pair of Siamese twins, these four gentlemen are having a casual conversation — just as each pair slowly becomes one bizarre, single person with two heads and several limbs!
These fine gentlemen could easily be from the world's of Bloodborne or Silent Hill, but instead, they've decided to bring a little horror to the world of Final Fantasy. However, they are harmless. You can approach and take a closer look with no fear of possible retaliation. They are friendly creatures … for now.
Dragon Ball XV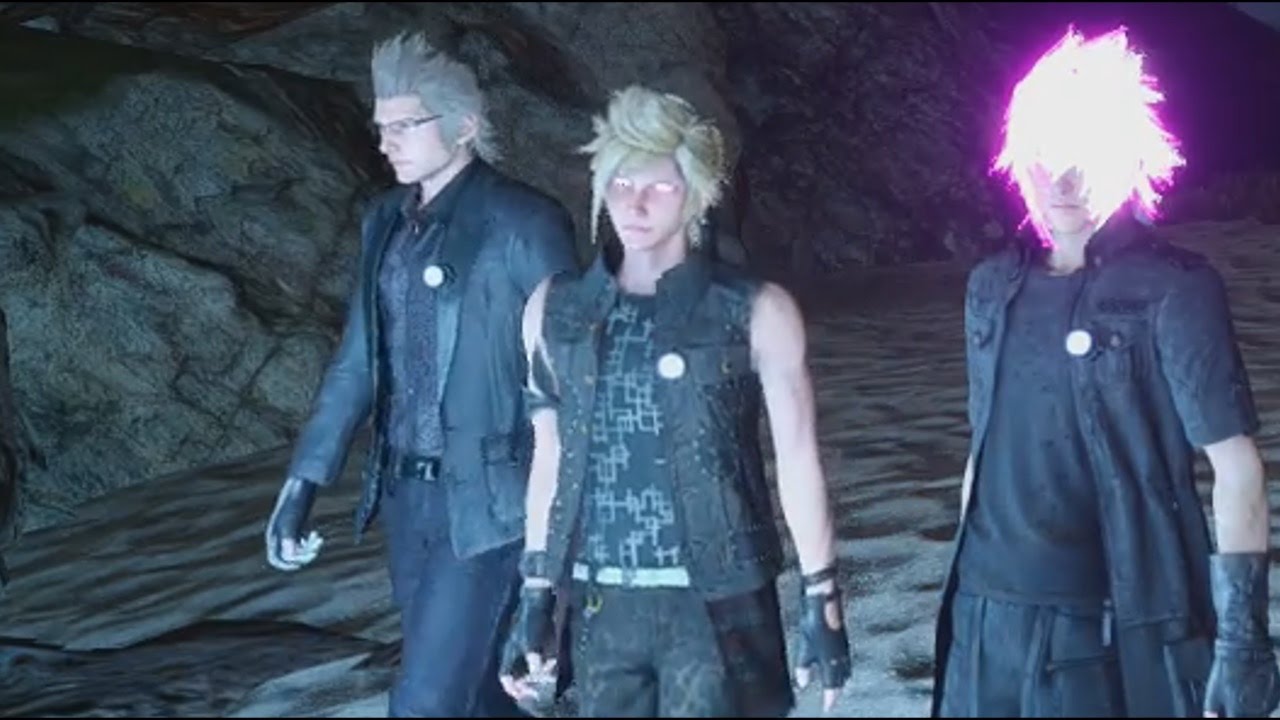 My personal favorite glitch so far, and one that I would love to trigger on purpose, is this awesome neon-purple hair Noctis is rocking! Suffice it to say this hairdo is one of the best in the Final Fantasy universe. It looks like he is becoming a Super Saiyan, which really wouldn't be a surprise if it were true. After all, he can teleport, briefly float in the air and kick serious ass. Sadly, I have checked and he is still not able to perform a kamehameha.
There is also another bug in the image. Prompto's eyes are shining! Maybe he does not want to be a character of Final Fantasy XV and prefers to being a member of Daft Punk instead. Or a futuristic zombie, who knows!
And that is it for the most hilarious glitches in Final Fantasy XV. There will probably be more in the coming weeks when the player-base increases and they get to explore the vast world of Eos.
What do you think of these bugs? Have you find new ones? Let me know on the comment section below!
About the author