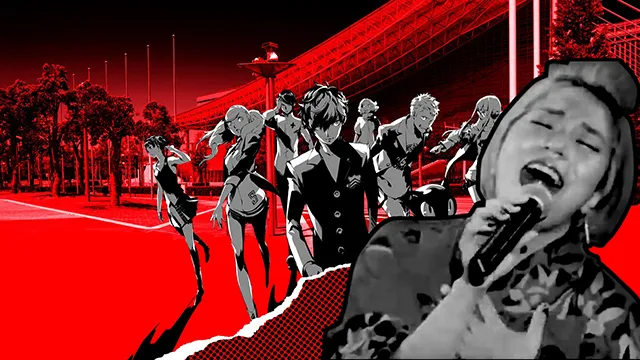 Persona 5's soundtrack is by far one of the best this year, if not the best within the series, or even the JRPG genre for that matter. Everything from Lyn Inaizumi's incredible vocal work, to the unique jazz-rock score which bleeds style and is perfectly fitting for a game that also mimics this aesthetically. Persona 5's soundtrack I believe will go down as a fan favorite -- it certainly is for me.
Today I'll be counting down the five songs in Persona 5 that prove Lyn Inaizumi and Shoji Meguro are a match made in musical composition heaven, and make Persona 5's vocal tracks some of the absolute best original songs for a game in years.
Be careful, Lyn will certainly takes your heart.
---
#5 - Rivers In the Desert
From the intense drum beats, opening guitar riffs, and that awesome main chorus. This is an incredible song with the only thing I think holding it back is the lyrics being a bit confusing and bordering on hard to understand with Lyn's accent, hence its placement at #5.
That beat also at 2:01 is an absolute highlight for sure -- incredible stuff.
&j A river in a dry land -- The last ace in a lost hand -- A heartbeat for a tin man -- Oasis in a singed land!&k
---
#4 - Life Will Change
This is without a doubt one of the catchiest songs in the game, from the incredible rhythm guitar work (a fine example at 3:10) -- to the catchy main chorus of the song itself.
I was honestly shocked this wasn't the main theme of the game itself when I first heard it. This song is extremely catchy and uplifting, but catchy doesn't necessarily mean great -- hence the placement -- as I think these next three songs are the real heart takers!
&jRight before your eyes, Watch us multiply, Come to claim our rights -- It's tiiiime&k
---
#3 - Beneath the Mask (Rain Version)
This is the type of song that sets the mood perfectly for a rainy mellow atmosphere. Throw in some rain trickling down on a window sill, with a crescendo from the chorus of this song, and you've basically set the most comfortable mood possible.
The moment you hear this in the game itself is also beautiful and one my favourite segments so far.
&jPlease don't take off my mask, my place to hide&k
---
#2 - Wake Up, Get Up, Get Out There
This is the opening and main theme of Persona 5 itself, it's the first song you'll be greeted with once you start the game for the first time. It sets the impression, tone, and theme of the game itself. With an incredibly unique jazz rock fusion that bleeds style like the game that you're about to play, it's absolutely solid as the main theme and setting that crucial first impression, but it's not quite my favourite.
&jWake up -- Get up -- Get out there -- Raise your voice against liars -- Feed your anger like fire!&k
---
#1 - Last Surprise
Did you see this coming? Of course you did, if you've played Persona 5 then chances are this main chorus is burned into your bind, as it should be -- it's fantastic. Once again with a smooth jazz rock fusion, this track is absolutely my favorite track in the game and it never gets old hearing it.
&jYou'll never see it coming&k
But what are your favourite songs? Let us know in the comments and for everything from Persona to Shin Megami Tensei and in-between, stay tuned to GameSkinny!