With its March 20 release date coming up fast, Animal Crossing: New Horizons is just over the, um... horizon. There's no telling what might be in store for us, but in keeping with Animal Crossing, we can bet there's probably going to be new furniture.
Despite there being four games' worth of furniture, there are still plenty of new opportunities to explore and ways to tweak existing designs to keep things interesting. So, to help fill the two months left of waiting, I decided to indulge my inner Happy Home Designer and think about what new furniture might be fun to add in there— or that might just be long overdue (like real beach furniture).
From volcanoes to the simplicity of plain colors, we've got seven big new furniture sets we want to see in Animal Crossing: New Horizons. Let's get started.
---
Rustic Furniture
Remember that Happy Home Academy challenge focused on so-called Rustic themes? The one with all kinds of furniture that definitely wasn't rustic? Yeah, that's not the kind of new furniture I'm talking about. This would be more a drawing together of pieces that already exist to create a more unified look.
Cabin and Ranch furniture is great, and so is the Alpine theme. But it's sort of like the kind of place you get when you retire and buy a second home somewhere in the mountains or in the middle of an open plain — "rustic" with quotation marks because it's supposed to be pretty and attractive.
Some of the Cabin furniture, like the chair, fits that already, but I'm thinking something more like the Cyrus variations of Cabin furniture in New Leaf. Those used birch instead of dark wood and generally looked a lot rougher, which really fits with the idea of rustic.
Instead of leaving it at just a palette swap, though, it should incorporate pieces like the potbelly stove, because you can't get more rustic than that, along with the hearth item with its massive cookpot in the center of the room.
Add in a cot, some mosquito netting, and make the lantern count as part of the set, and you've got yourself a nice little place in the boonies.
---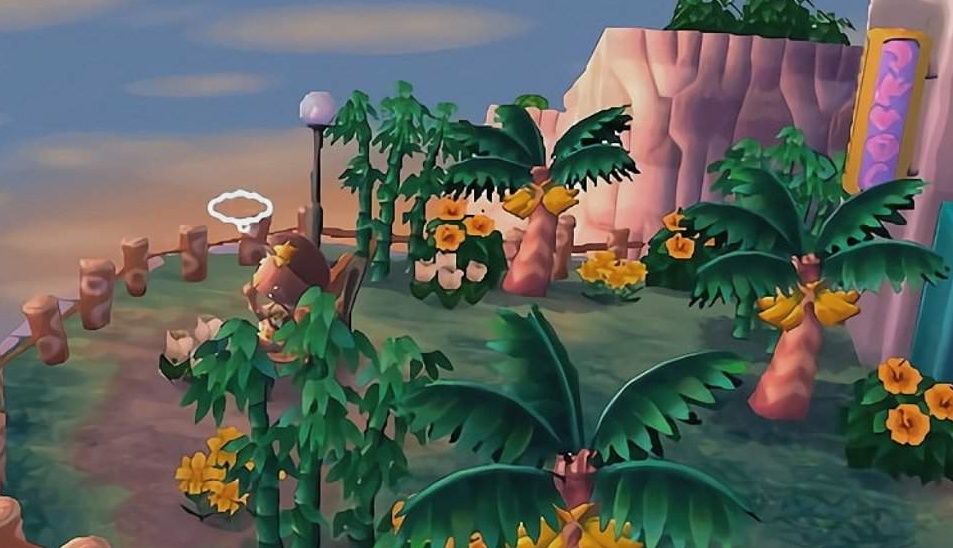 Jungle Furniture
We're living on an island in New Horizons, so it only makes sense to have some proper jungle furniture. New Leaf has a Jungle Wallpaper on sale if you complete the museum's bug collection, but I'm envisioning something a lot more like deep jungle exploration: thick foliage and not much light, with maybe even some eyes lurking behind the branches.
For furniture, imagine a bed made up of woven banana leaves. One of your chairs could be a large hollowed out fruit dangling from the ceiling like an egg chair, and then for storage, we've got an ancient, mysterious statue that just so happens to open out and store three full screens' worth of your collected odd and ends.
There's no natural light deep in the jungle, so you're stuck using a campfire or high-powered flashlight for your lighting (apart from the inevitable light switch controlling your unseen lights, that is). If that's too much like roughing it, though, a lamp made from hollowed-out coconuts would be more than okay be me.
Fortunately, you brought along your trusty, rusty Victrola to play the latest K.K. Slider tunes and keep your spirits up, and you can put it on that makeshift table made from woven grass and sturdy sticks. It's highly unlikely this next bit would actually happen, but it'd be the ultimate outdoors experience if one of the pieces was actually just a hole in the ground for, y'know… certain things.
---
Beach or Underwater Furniture
It's surprising we haven't actually gotten proper beach-themed furniture yet. Yeah, there's some random pieces like the surfboard and deck chairs, and you can sort of display your beach shells, but I mean a whole unified set.
Coral grows in beds, so, of course, your bed should be made of coral too with a cushion to offset the pointy bits. This one's a bit obvious, but a huge clam as a sofa is a natural fit for this kind of theme and again, it's really surprising we didn't see that in the Mermaid theme in New Leaf.
Chairs have plenty of possibilities, from high-backed chairs made from tall seaweed to sprays of bubbles for your armchairs, or even a conch shell in place of a regular chair.
On top of that, you'd get points for bringing in things like fish and your finds from the beach because in this Animal Crossing fantasy, the game recognizes related pieces of furniture that aren't technically part of the set.
With that in mind, we could have all kinds of crossovers with the pirate and mermaid sets too — a driftwood barrel here, a treasure chest there, a shell screen or lamp at the other end of the room. I have no idea how challenging it would be to make the game recognize relevance over just strict theme membership, but why not dream?
---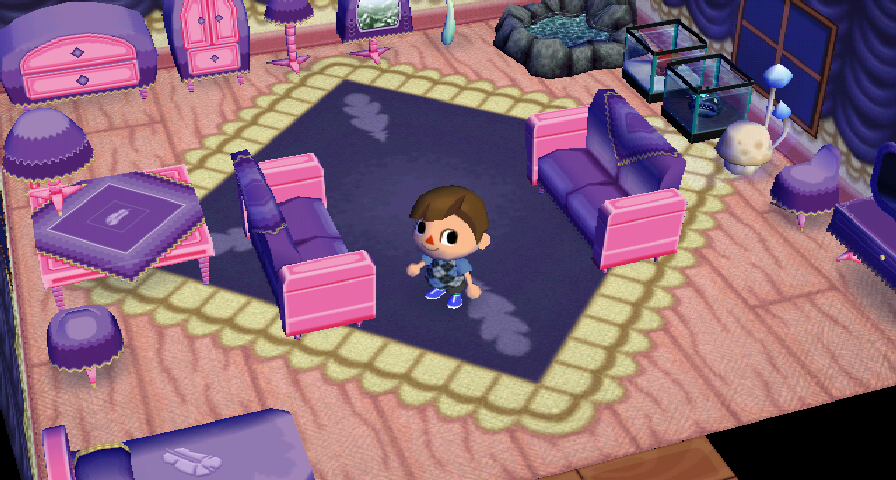 Proper Harvest Furniture
Yes, there's already Harvest Furniture, but frankly, I've never been a fan and just saved Franklin to sell the furniture on again. Garish pink and purple furniture, with rather terrifying looking bird claws for the feet of things like lamps really doesn't fit my idea of harvest themed or even bird themed. I don't know why it even exists.
Anyway, the theme lends itself to some easy wallpapering and flooring: an open sky with fields of wheat on the wall, with a cozy brown floor — sort of like the Mushroom Floor, but a bit less busy. Make your bed from a big pile of hay, and you could even use haybales for your sofa too. Cornhusks would add some interesting texture for the tables, and since it's harvest time, let's go for not-scary pumpkins for the chairs and stool seating.
The idea is this being outside, so lighting's obviously a bit more generic — torches maybe, or some kind of bonfire. Or maybe even use a giant, hollow gourd for a fireplace. Sure, it's completely impractical, but so is owing money to a raccoon.
---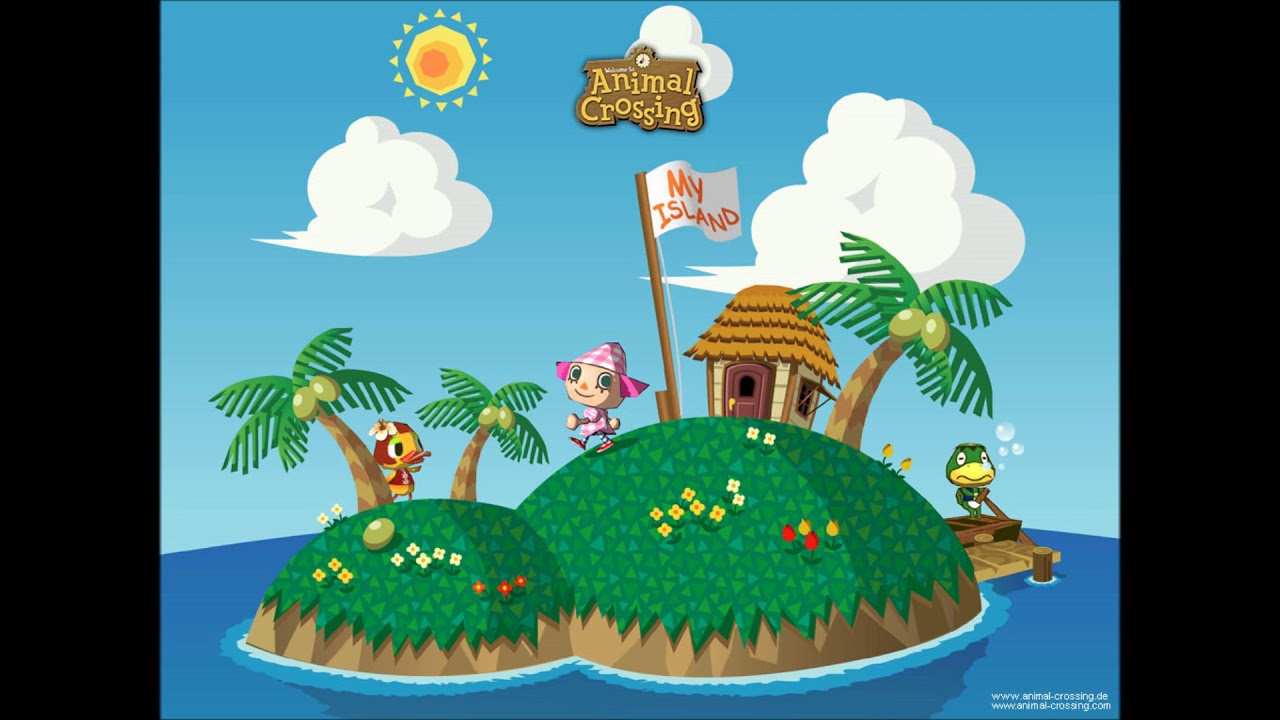 Volcano Furniture
We've got ice furniture already, and volcanoes and islands go together pretty well. Why not make a whole set themed around it? The wall and flooring for this one are pretty obvious — dark sky with lava plumes for the wall and a big crater for the floor.
A slab of basalt could serve as your bed, with a lamp made from sprays of lava (lava lamp… haha). Wall decorations might consist of something like an ash cloud that flashes with lightning when you interact with it or a mobile made of pumice stones. Speaking of pumice, there's a lot of it about in most eruptions, so it would work well as a table. There should definitely be a volcano stove just for the irony of it too.
We could settle at just using stone or whatever for the chairs and benches, but that'd be boring. Cracked rock with streaks of magma showing through would be much more interesting.
You could make this your upstairs room too, with the jungle down below, so it turns into your own little island disaster just waiting to happen.
---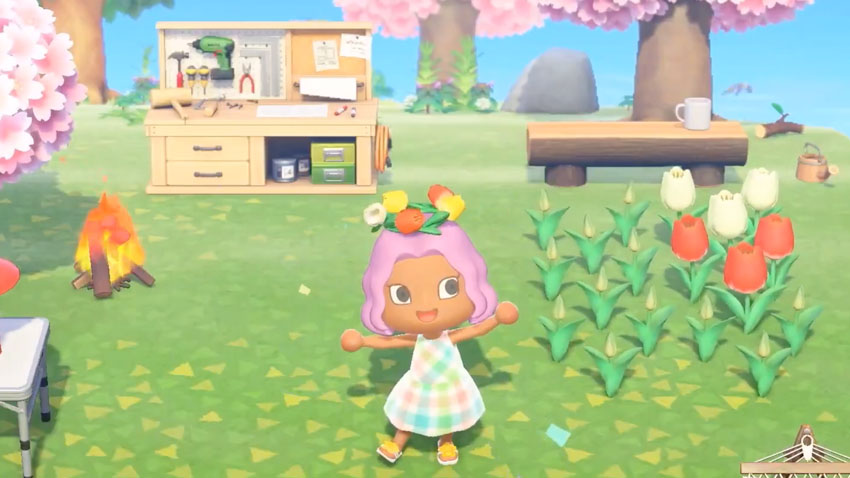 Garden Furniture
Garden furniture is another broad and somewhat nebulous set. There's a wide assortment of garden-ish things, like (garish) flower chairs, some bamboo stuff, a pond, and such. The Welcome Amiibo update introduced some more items clustered around more of a theme. They're nice, but like the Ranch and Cabin sets, it's more like a show garden.
What I want is something you'd expect to see in the garden of Agatha Christie's Miss Marple. Big, rose-filled trellises or bushes, and one of those benches you're amazed is actually comfortable because it's made of stone are a must. A small, but vocal fountain could serve as a centerpiece, with something like a splash of colorful songbirds to go up on the wall. Your bed is a flowerbed, because nothing else will do for a garden theme, and the primary table just so happens to double as a potting bench.
Seating arrangements could vary, from stumps to plastic chairs or anything in between, and then add a set of Japanese lanterns that have hitherto not counted for much in terms of furniture.
No garden could be complete without a good book to read, so we'll just have to toss in a bookcase made of intertwining branches with leaf-shelves as well.
---
New Color Series
We've got some pretty nice furniture themes based on specific colors already, like the Blue and Green themes. The Modern set is basically black and white themed furniture, there's some random neon orange, red, and cream furniture, but that leaves a lot of colors in the lurch.
I'd like to see purple or orange get the same treatment as the Blue and Green themes. Both of those are incredibly cozy in their simplicity and accommodate plenty of other styles as well. They're also surprisingly varied in style; just compare the blue and green beds, for instance.
But it doesn't have to be cozy. Orange could be groovy, purple could be wild, or the two could be swapped. That's the great thing about these basic themes: they're versatile and can be adapted to whatever the creator has in mind.
What's strange is that while we've seen Animal Crossing furniture evolve over time, these basic color sets from the very beginning haven't changed or been added to.
---
We could really just go on and on with furniture ideas for Animal Crossing: New Horizons, and this doesn't even cover possible combinations of things you could add outdoors. But really, we'll probably be happy with whatever. There's always something for everyone, whether it's a mix-and-match house, one that follows strict themes, or something in between, and that's part of what makes Animal Crossing so great.
What's on your Animal Crossing: New Horizons furniture wishlist? Let us know in the comments, and give us a good ol' share if you enjoyed what you read!