If you're a gamer, you're no stranger to spending hundreds of dollars on a great gaming mouse, a fancy gaming chair, a nice pair of headphones, and fantastic mechanical gaming keyboard.
However, something you might not often consider is the most obvious and important piece of equipment of all: your gaming desk. Your desk can make or break your gaming experience. A desk too low or too high, too uncomfortable or too tilted can really be the difference between being in the top 1% or the top 10% in whatever game it is that you play.
Both comfort and features are incredibly important when it comes to picking the right computer gaming desk, and that's why we're here to bring you eight of the best desks out there for PC gamers, from cheap budget desks to the highest of the high end.
---
Origami RDE-01 Computer Gaming Desk
Price: $90.13
Buy it on: Amazon
As one of the most popular, well-rounded, and well-reviewed PC gaming desks out there, the Origami RDE-01 combines simple elegance with the lowest of setup requirements.
This computer gaming desk opens and folds in 40 seconds, requires no tools to set up, folds flat for easier storage, has a removable tabletop, and offers a hanging bottom level for your tower to keep dust away from it.
The desk weighs a total of 43.8 pounds and stands as one of the best examples that PC gaming desks don't have to be flashy and expensive to get the job done. At the budget price point, this is one of the best gaming desks out there.
---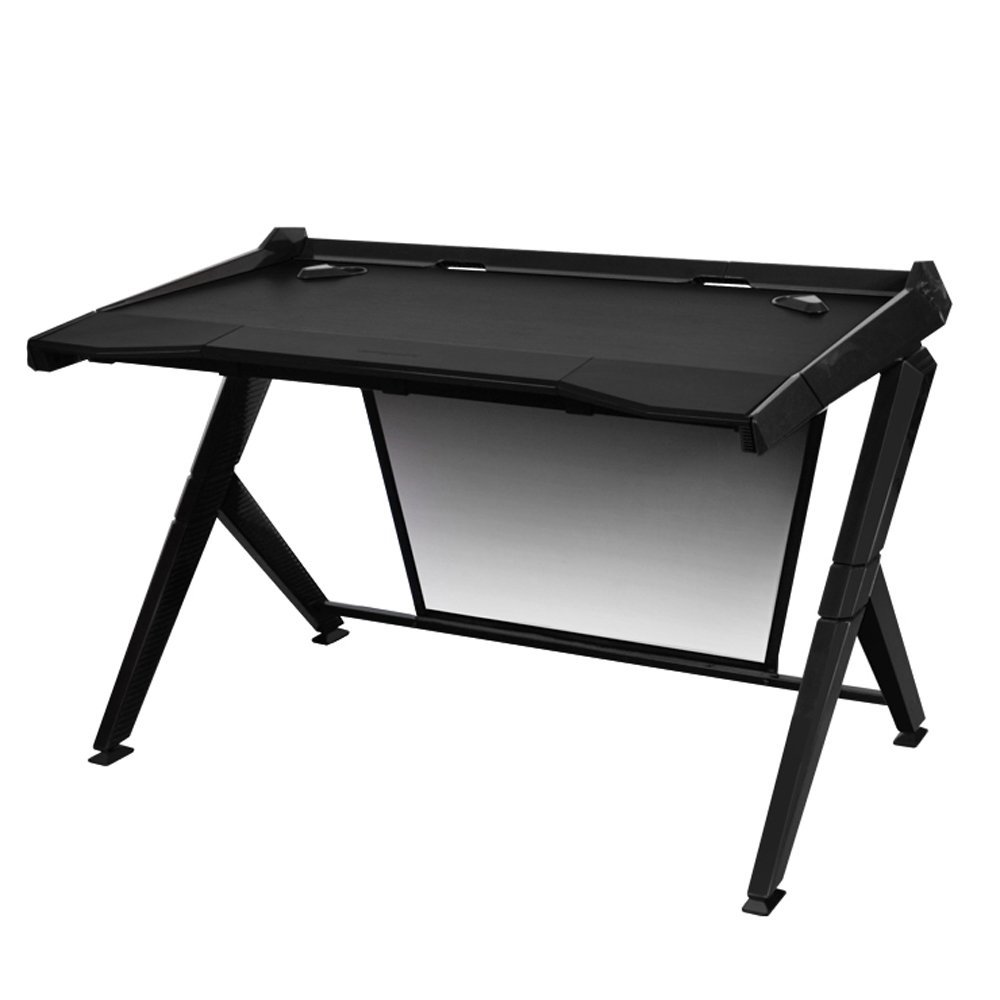 DXRacer DGD/1000/N Newedge Edition Gaming Desk
Price: $399.99
Buy on: Amazon
As one of the most well-respected brands in PC gaming chairs, it's no surprise that the DXRacer DGD/1000/N Newedge Edition gaming desk comes with a heavier price tag than some of the other desks on this list.
The DXRacer boasts a double triangle design with a 10-degree slope, robust wire management options, an extended work surface, and 360-degree rotatable trapezoid feet. The design and finish is as sleek and clean as you've come to expect from the DXRacer name.
Reviews say that this computer desk is of incredible quality and offers some really great forearm rest space for those of you who reach across your desks with mouse-intensive games.
---
Z-Line Belaire Glass L-Shaped Computer Gaming Desk
Price: $135.15
Buy on: Amazon
The Z-Line Belaire Glass L-Shaped computer desk is one of the prettiest glass desks you'll find at just over $100. In both clear and black-bordered glass, it has a sturdy metal frame with reinforced plates.
This computer desk features clear tempered glass, a raised monitor shelf, a pull-out tray for keyboard and mouse, and a spacious desktop work area.
Those of you who are new to glass desks should know that they require some pretty extensive home assembly, and they're some of the heaviest desks out there. This specific desk weighs in at just a few pounds under 100 when fully assembled.
---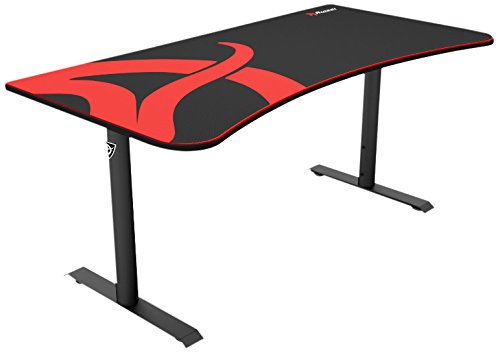 Arozzi Arena Gaming Desk
Price: $399.99
Buy on: Amazon
The Arozzi Arena computer desk is a true-to-form, pure gamer's desk. What looks on the surface to be just a flat, surfboard-like PC desk is actually something that can really level up your gaming experience
The surface area can support up to three large monitors at 160cm in width. At 80cm in depth, you have a huge field of play for your mouse, keyboard, and other peripherals. The Arozzi Arena has a mousepad built in with a microfiber cloth surface that isn't going to damage or stick when you spill liquids around it.
The Arozzi Arena gaming desk comes in red, blue, green, white, and black. It's also designed for easy transport as the desktop and frame are divided into three separate sections.As far as minimalist designs go, this is one of the best gaming desks in its price range.
---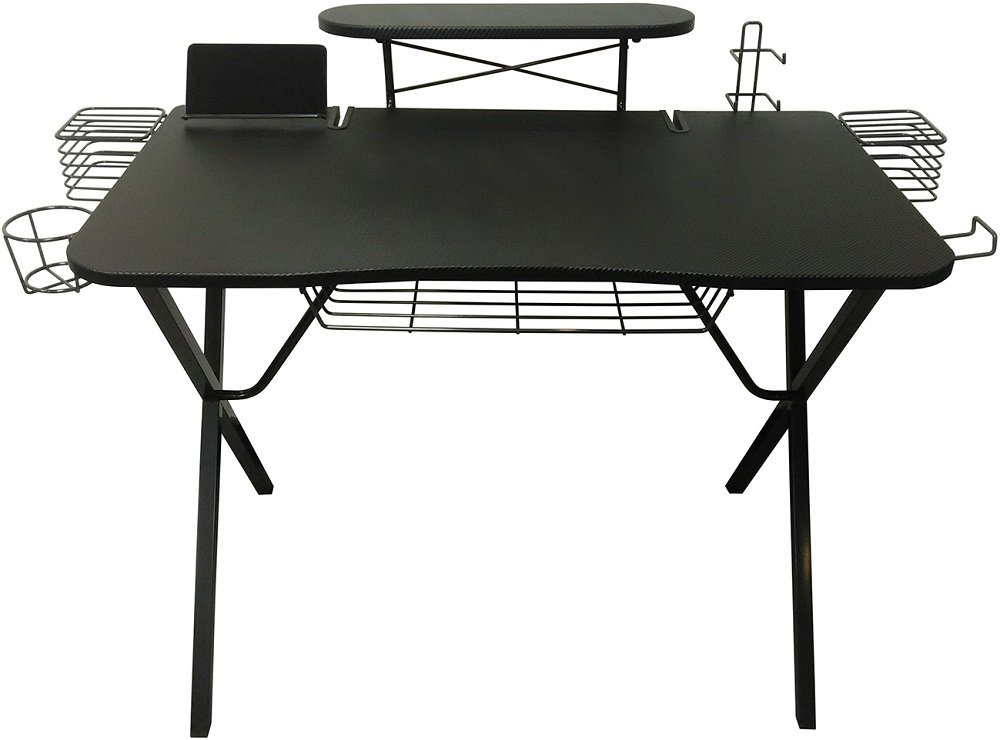 Atlantic 33950212 Gaming Desk Pro
Price: $131.84
Buy on: Amazon
The Atlantic 33950212 Gaming Desk Pro caters well to gamers who love their controllers and and other accessories. Trays and pads around this computer desk function as a charging stand, speaker trays, game storage, controller hooks, wire management racks, a rear power-strip holder, and a headphone and cup holder.
This unique gaming desk can fit speakers up to 6"×5" and has a charcoal-colored, carbon fiber laminated top. The elevated shelf supports a monitor up to 32". This is a fantastic desk for anyone with a dedicated gaming setup.
---
ApexDesk Elite Series Standing Gaming Desk
Price: $599.99
Buy on: Amazon
The 71" ApexDesk Elite Series 71 electric height-adjustable standing desk is at the highest end of PC desks suitable for gaming. The height is adjustable from 29" to 48" at 1.3"/second through dual motors with 225 pounds of capacity. This desk offers enhanced stability through its one-piece fixed steel beam.
Being free of a crossbar, this computer desk allows for extra leg room and even the flexibility of adding an excercise bike. The screwless design should allow for setup in under 30 minutes. The desktop itself is made of medium density fiberboard with anti-scratch, high-pressure laminate. It's of the most premium material when it comes to PC gaming desks.
Reviews promise that this is one of, if not the, best standing gaming desks out right now.
---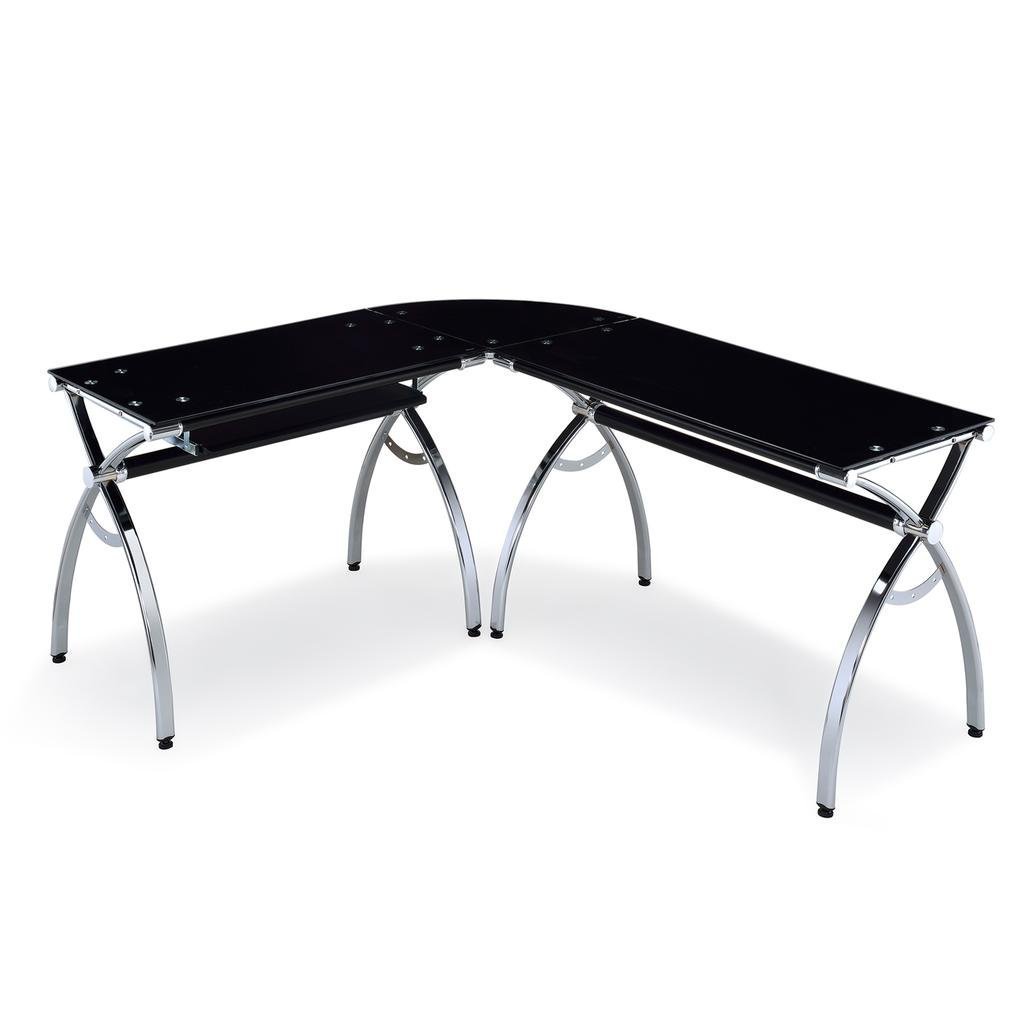 Techni Mobili Hip Black Glass Corner Computer Desk
Price: $238.39
Buy on: Amazon
The Techni Mobili Hip Black Glass Corner Computer Desk is left or right-hand interchangeable with a scratch-resistant, powder-coated steel frame. It has a pull-out keyboard tray equipped with a safety stop.
The desktop panels have a max weight capacity of 110 pounds and the curved panel has a capacity of 66 pounds. The keyboard tray can hold up to 33 pounds. These are all more than adequate to serve their intended purpose, and this adds up to one of the most stylish and effective corner desks at this price point.
---
Bell'O CD8841 Computer Gaming Desk
Price: $199.99
Buy on: Amazon
The Bell'O CD8841 computer desk is a classic and elegant tempered glass desk with the basic features that a gamer is probably looking for. This desk doesn't overwhelm you, offering a spacious desktop, pull-out keyboard tray, and cable management system.
With curved wood sides, steel framing, and a beautiful Espresso color, it's a great piece to any gamer's bedroom that will both look and feel good. When less is more, the Bell'O CD8841 is a great mid-range option for someone who plays games at their PC.
---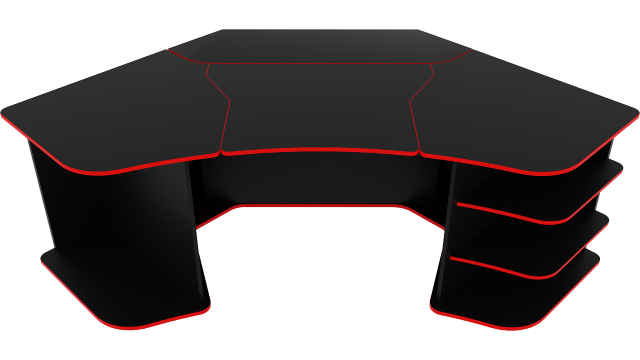 From desks built for the office that just happen to meet the spacious needs and demands of gamers to desks that have peripherals like mousepads built into their designs, it's safe to say that there's a quality computer gaming desk out there for you -- no matter what kind of person you are.
Be it a $90 budget gaming desk or $500 computer desk with stands and hooks for every type of peripheral you can imagine, equipping yourself with a desk that can meet your gaming needs and demands is just as important as getting one of the best gaming mice or keyboards. Not only do you feel it in game but out of game, too. It should be the best you can get.
When you're comfortable, you play better. When you play better, you win more. Find the desk that's right for you and improve!