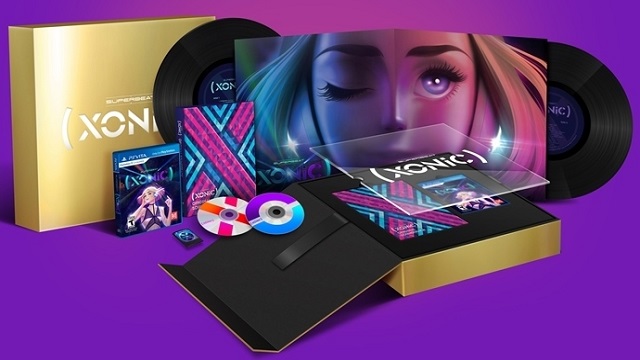 Collector's editions, limited editions, special editions -- however developers decide to name them, these editions, along with the game itself, are usually bundled with one or several collectible items, ranging from posters and stickers to hardcover artbooks and elaborate figurines. Such bundles have existed for a long time, but they became especially prominent during the seventh console generation, when, for most major releases, it was almost an unwritten rule to provide a limited edition alongside the standalone game.
This list features 9 such editions and was compiled using one simple criterion:
Each edition must contain at least one somewhat unique or significant item in the context of the game itself
A regular figurine, no matter how well made, will not cut it for this list. Editions such as Saints Row IV's "The Super Dangerous Wad Wad Edition" or Grid 2's Mono Edition were not considered due to their ridiculous nature and price, and Steel Batallion, while impressive in its own right, was not classified as a collector's edition. With that aside, click over to the next page to view 9 awesome collector's editions in alphabetical order (by game title).
(The image at the top here is of the Gold Edition of Superbeat Xonic: Limited Edition for the PlayStation Vita; there's only one in existence!)
---
Bloodborne
Nightmare Edition
Bloodborne, a spiritual successor to Dark Souls, which, in turn, is a spiritual successor to Demon's Souls, received a Europe-only Nightmare Edition. The set included a steelbook case, a digital soundtrack, a notebook, an artbook, and a bell trinket along with some downloadable content. Its main highlight, however, was a set of quill and ink, with an ink vessel resembling a skull. All of it was packaged in a tin case disguised as a row of books, which made for an impressive piece of decor.
---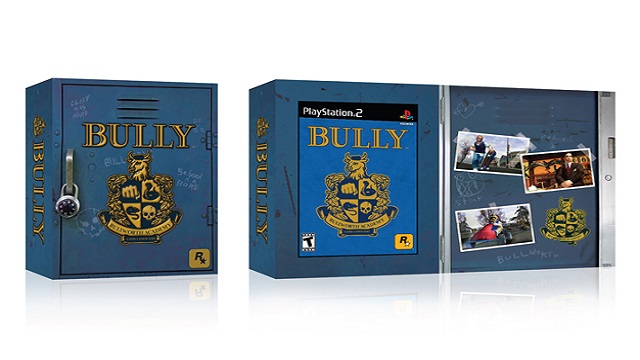 Bully
Special Edition
One of the more popular titles by Rockstar Games, and perhaps the most elusive edition on this list, Bully, released in 2006, received a Special Edition that is almost unattainable today. The outer box was themed after a school locker which, because the game takes place in a school environment, is very fitting. This edition included a Rockstar Games-branded sticker, a comic book based on the game, and an inflatable dodgeball.
---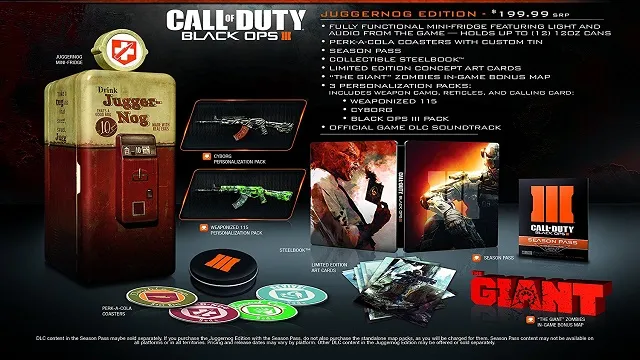 Call of Duty: Black Ops III
Juggernog Edition
Regardless of what you may think about the series, Call of Duty: Black Ops III had probably one of the coolest editions ever made. The Juggernog Edition featured things like coasters, a season pass, a steelbook case, some art cards, and a digital soundtrack along with some downloadable content. It also included a fully functional mini-fridge which stored up to 12 cans of Mountain Dew (or beer, for those of age).
---
Catherine
Deluxe Edition
Catherine is a bizarre game, and its Deluxe Edition, released in North America, is even more so. While some of its contents were pretty mundane -- an artbook, a soundtrack CD, a t-shirt -- it also included a pillowcase featuring Catherine, one of the game's main heroines. To top it off there, was also a pair of oversized polka-dot boxer shorts, with everything neatly packaged in a Stray Sheep Pizza box, a bar/pizzeria which is featured in the game.
---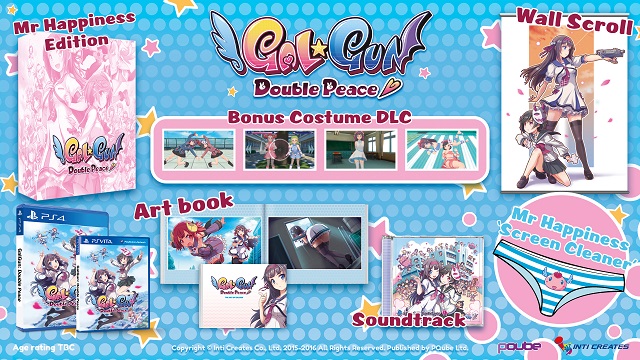 Gal Gun: Double Peace
Mr. Happiness Edition
At first glance, there is nothing significant about Gal Gun's Mr. Happiness Edition -- some DLC costumes, a soundtrack CD, and a wall scroll featuring two girls. It also included a pair of panties. Some developers seem to have a thing for underwear, though fret not, it's actually just a microfiber cloth for cleaning the screen of your device. Which is still weird considering the main objective of the game is to rub girls. Oh, Japan....
---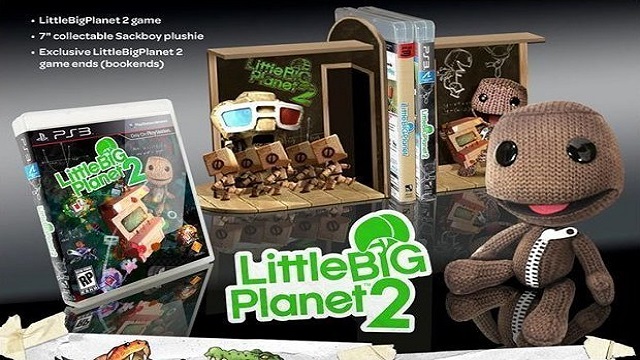 Little Big Planet 2
Collector's Edition
Little Big Planet 2, much like its predecessor, is oozing with charm, and its U.S. Collector's Edition reflects that. While somewhat sparse on contents, it's the quality which counts. Along with some downloadable costumes of familiar characters from other franchises and a cute Sackboy plush toy, this edition also included cardboard bookends, themed after the game, to display your collection of games in style.
---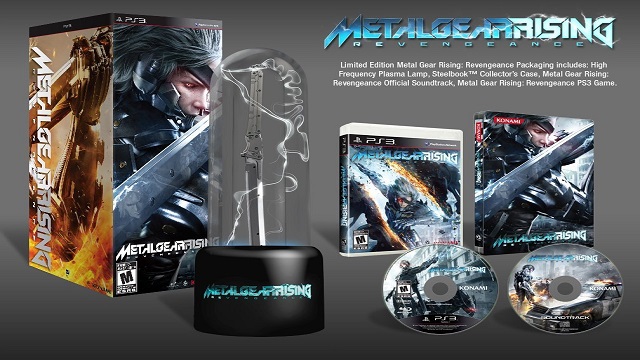 Metal Gear Rising: Revengeance
Collector's Edition
Metal Gear Rising: Revengeance, made by Platinum Games, was not only a spectacular spin-off to the Metal Gear series, it also received an equally spectacular Collector's Edition in the United States. In addition to a steelbook case and a soundtrack CD, it contained a plasma lamp featuring part of Raiden's katana on display, which lit up in glorious color.
---
Ni No Kuni: Wrath of the White Witch
Wizard's Edition
Ni No Kuni: Wrath of the White Witch, the charming RPG by Studio Ghibli and Level-5, received two versions of the Wizard's Edition. With downloadable golden skins for familiars, a cute Drippy plush toy, and a replica of The Wizard's Companion found in the game, the EU version was slightly surpassed by the U.S. version, which also included five artwork cards, a soundtrack CD, and a collectible coin featuring the game's main protagonist, Oliver.
---
The Legend of Zelda: A Link Between Worlds
Collector's Edition
This edition of A Link Between Worlds was only ever released for the GAME chain of stores, a retailer in the UK, whose branding also appears on the box. There wasn't much to it -- a download code for Link's Awakening DX and a humongous A0 poster (shipped separately) featuring the Master Sword. However, it also included a small treasure chest which played the signature treasure sound upon being opened and, as an additional bonus, stored up to five 3DS game cartridges.
Honorable Mentions
Featured here are editions which, for various reasons, did not make it onto the main list:
Okami HD The Mankaiouka-Dama Limited Edition was released exclusively in Japan through the e-capcom store in limited quantities. It included a fluorescent phone strap and a snow globe displaying Amaterasu, the game's protagonist, under a beautiful cherry blossom tree.
Undertale Collector's Edition, released exclusively on fangamer.com, included the game's soundtrack across two CDs, the game's sheet music, a colorful storybook, and a gorgeous, gold-plated music locket.
---
Do you own any of these editions? Know of any rare and unique collector's editions which deserve some publicity? Leave a comment below, and as always, for everything cool, stay tuned to GameSkinny!