With Christmas hurtling around the corner at break-neck speeds, you may be scrambling to find some good stocking fillers for your Nintendo Switch-owning friend or relative.
Or, maybe you're expecting to receive a Switch over the holidays and are wondering which essentials you should pick up with any spare money you have lying around.
Either way, you've come to the right place!
Here's a quick roundup of the best Nintendo Switch accessories, in a handy slideshow for your easy viewing, enjoy!
If you're looking for less traditional gift ideas this holiday season, why not have a look at a recent Nintendo merchandise gift guide, too.
---
Nintendo Switch Pro Controller
Rating: 4.6/5 stars (123 total ratings)
Price: $55.00
Buy it from: Walmart

The Nintendo Switch Pro Controller is the ultimate controller-related accessory, and with a $14 saving at Walmart, now is the perfect time to open your wallets.
Though there's a certain novelty and freedom to using the Joy-Cons to play your favorite games, once you make the step up to the Pro Controller, you'll find it difficult to look back.
The Pro Controller is perfect for retro fans due to the directional D-pad, but is also ideal for bigger titles like Splatoon 2 and Super Smash Bros. Ultimate.
The 8Bitdo SN30 Pro controller is a common alternative, though it's not much cheaper at $45.
---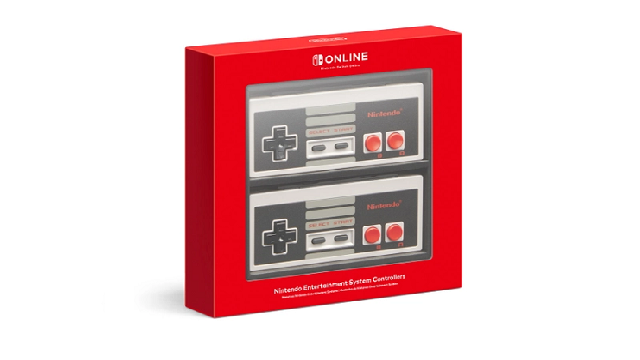 Nintendo Entertainment System Controllers
Price: $29.99
Buy it from: Nintendo
Our previous pick, the Pro Controller, might be the best-in-show controller for AAA titles, but for those looking for a hit of nostalgia, you can't go wrong with the official NES controllers.
These modified Joy-Con alternatives are currently half price on Nintendo's official US store, but they do require an active Nintendo Switch Online subscription to purchase.
The D-pad and classic design make these NES controllers must-buys for retro gamers, but don't expect them to replace your regular set of Joy-Cons any time soon.
Alternatively, there are SNES controllers due to become available in January, so fans of that era may want to hold off until these go on sale.
---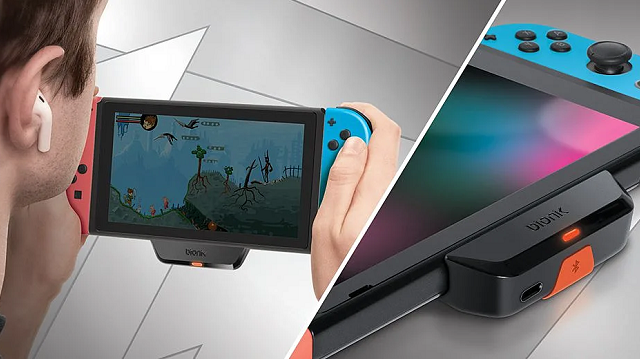 Bionik BT Audio Sync
GameSkinny Rating: 9/10
Price: $39.99
Buy it from: Bionik
Bionik's BT Audio Sync gadget is a must-have for anyone with a fancy pair of wireless headphones or earphones.
The Nintendo Switch doesn't have native support for wireless headphones, unfortunately, but that shouldn't stop you from enjoying your favorite games as you see fit.
You can even use the included USB dongle to connect your headphones while the console is docked!
We reviewed the BT Audio Sync earlier this year and gave it a very impressive 9/10 rating, praising it's simple, speedy setup and crystal clear audio quality.
Genki have also released their own alternative, but it is $10 more expensive.
---
HORI Compact PlayStand
Rating: 4.7/5 stars (1045 total ratings)
Price: $12.99
Buy it from: Amazon
The HORI Compact PlayStand is a relatively inexpensive accessory, but it makes our list for one simple reason; it fixes one of the Nintendo Switch's few design flaws.
Though the Nintendo Switch has a built-in kickstand that allows you to comfortably play in tabletop mode, the position of the USB-C port used to charge the console prevents you from charging while using the kickstand.
The HORI Compact PlayStand lets you game and charge to your heart's content for the low price of $13 and is adjustable to three different angles — there are even Mario and Zelda-themed versions available at no extra cost!
---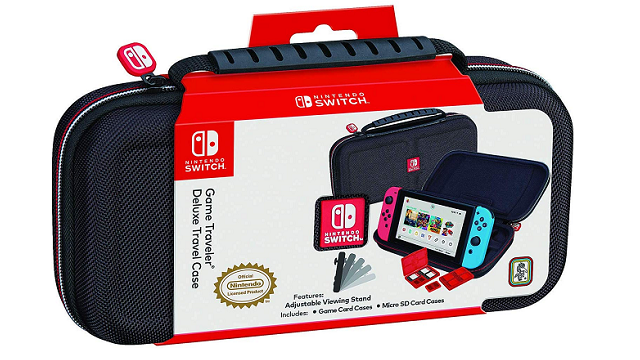 Deluxe Travel Case
Rating: 4.5/5 stars (1412 total ratings)
Price: $14.99
Buy it from: Amazon
If there's one accessory that absolutely every Switch owner needs, it's a case. Even if your Switch only comes out of its dock once a year for Christmas or Thanksgiving, you'll want to know it's safe and protected in transit.
This Game Traveler Deluxe Travel Case is an excellent option because it's sturdy, includes dedicated space for game cartridges, and doubles as an adjustable stand.
For the low price of $14.99 (currently $5 off), that's a bargain for some peace of mind!
Of course, the market for Nintendo Switch cases is wide, weird, and wonderful, so there are plenty of other options available at a similar price-point, such as this case by ButterFox, which features extra carrying space for a second pair of Joy-Cons and more game cartridges.
---
amFilm Glass Screen Protectors
Rating: 4.7/5 stars (17165 total ratings)
Price: $8.99
Buy it from: Amazon
Speaking of protection, gamers that do take their Switch out of the dock and play in handheld or tabletop mode regularly should definitely consider investing in a screen protector.
These amFilm ones are made of glass for extra toughness, and you get two for the low price of $9.
Is there really any point suggesting an alternative to these? Just look at those numbers; seventeen thousand reviews, with an average of 4.7/5 rating, it's clear to see that these are a fan favourite for good reason.

(Okay, fine, these iVoler ones are only $7 for three, so if you're really trying to save the pennies then these are better value for money, but still have almost 2000 positive reviews.)
---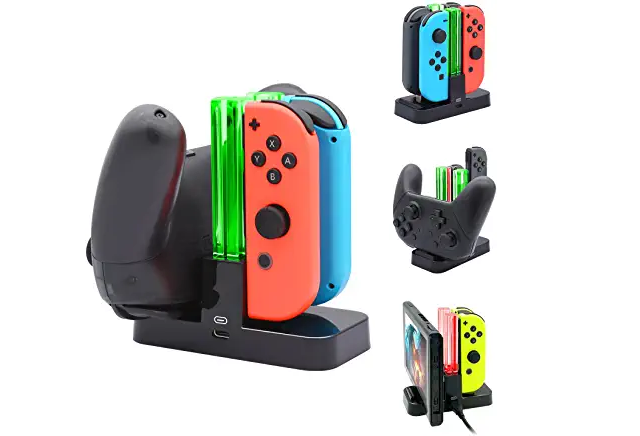 FASTSNAIL Controller Charger
Rating: 4.6/5 stars (677 total ratings)
Price: $15.99
Buy it from: Amazon
Once you start buying extra sets of Joy-Cons and Pro Controllers, a charging tower for your controllers starts to become a necessity — especially if you're entertaining often or playing party games with the family on a regular basis.
The last thing you want is for a low battery warning to spoil your evening!
We've selected the FASTSNAIL Controller Charger as our frontrunner, and it's clear to see why. Offering increased flexibility due to a separate USB-C port, you can charge up to 4 Joy-Cons or top up your Pro Controller or even the Switch console itself.
There are plenty of similarly priced alternatives without this functionality, including options from OIVO and FASTSNAIL, but they're only a few bucks cheaper.
---
Switch LAN Adapter
Rating: 4.5/5 stars (241 total ratings)
Price: $23.77
Buy it from: Amazon
For competitive players — particularly those interested in Super Smash Bros. Ultimate — a LAN Adapter is often top of their wishlists.
LAN Adapters like the officially licensed one (currently on a slight discount at Amazon) will usually provide a more stable connection for online gaming than Wi-Fi will.
This can be the difference between winning and losing in online multiplayer games where reaction time is everything.
It is worth pointing out that despite a 20% sale on at Amazon, the officially licensed LAN Adapter is still quite expensive and many people opt for a cheaper, third party option like this UGREEN Adapter, which will do the same job for just $14.
----
It's hard to go wrong with any of these Nintendo Switch accessories. Let us know of any others you think might be just the thing in the comments, and have a happy holidays.