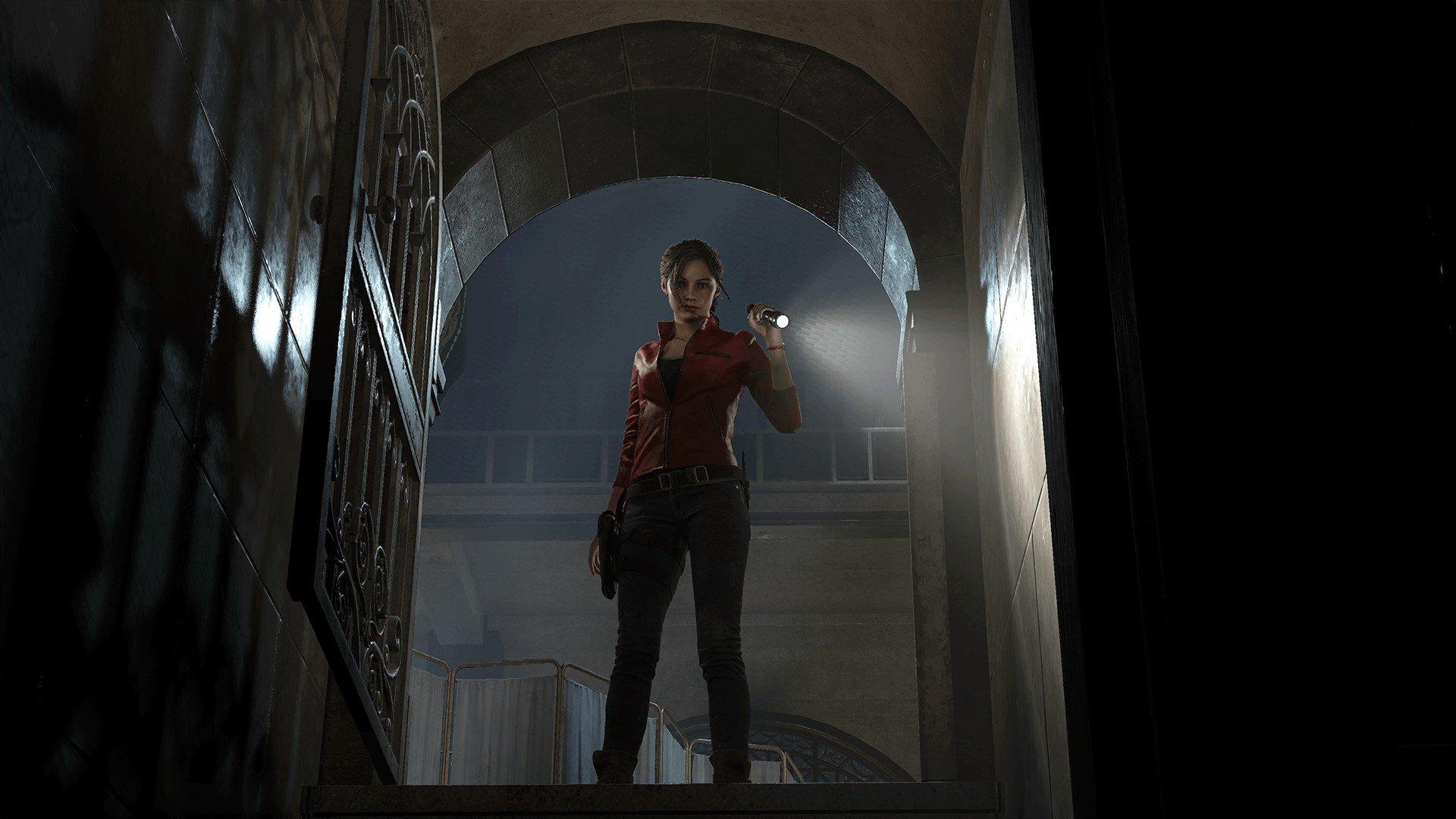 The PlayStation 5 might not have much of a native horror library just yet, but thanks to the system's backwards compatibility you're able to play any and every fright-filled PlayStation 4 title on Sony's newer system.
Luckily the PS4 library is extensive, and there's plenty for you to choose from between lower, more atmospheric horror games to those of the more blood-pumping variety. Let's get to the list.
Related articles:
---
Alien: Isolation
It's hard to believe Alien: Isolation is old enough to have been released right at the transition between the PlayStation 3 and 4 (and released on both). It's even harder to believe that Sega and developer, Creative Assembly, haven't returned to the world of this incredible and, even now, distinctively intense survival horror title.
Isolation is a direct sequel to the original movie, where players take the role of Amanda Ripley, daughter of Sigourney Weaver's famous Ellen Ripley character. 15 years after the events of Alien, Amanda is haunted by more than just the ghosts of her past as she finds herself in an Alien-infused nightmare aboard a space station. The retro-future set designs are stunning, but it's the cat and mouse gameplay that makes Isolation remain one of the intense examples of its genre.
---
Resident Evil 2
Capcom's Resident Evil series lands a few spots on this list, but with their complete remake of the second game, the company showed they still have a knack for horror. As with the original PlayStation game, you'll have to complete both Leon and Claire's campaigns to get the whole story.
The mix between survival horror and all-out action is damn near perfect. Capcom's been good at remaking their old catalogs, but Resident Evil 2 is especially noteworthy. It has plenty to offer nostalgic gamers who loved the original but also makes a great choice even for those who never touched the series before.
---
SOMA
Frictional Games doesn't have a huge library of games, but their two key releases are Amnesia: Dark Descent (see below) and the brilliantly moody sci-fi horror, SOMA. Originally released on the PS4 in 2015, it could be argued this is a horror-tinged "walking simulator".

SOMA is wonderfully intelligent and harrowing interactive fiction. The emotional impact of the story hasn't lessened in the intervening years, its presented conundrums over the nature of existence are hard to forget.
---
Observer
Cyberpunk is never out of style, but one of the least used aspects of this sci-fi subgenre is how well it melds with dismal, oppressive horror.
Made by Blooper Team, who did the also fascinating Layers of Fear, Observer casts players Daniel Lazarski, a special brand of detective who can hack people's minds as well as machines. Obsessed with finding his estranged missing son, Daniel finds himself trapped in a grungy run-down apartment complex that devolves into a techno layer of hell. The fact Daniel is modeled after and voice-acted by Rutger Hauer is icing on the cake.
The original PS4 is still an excellent and evocative trip, but for the shiniest (well, high-res grungiest) version, there's also Observer: System Redux specifically released on the PS5.
---
Hellblade: Senua's Sacrifice
Vikings have long been a favored subject in video games, but seldom has a game shown the utterly horrific effects of that much-lauded and glorified violence the people were known for. God of War showed it off, but also dug into it with fervor. Hellblade, however, shows the brutal truth of a lifetime of violence and abuse on an individual.
Senua is a broken warrior, laid low by years of torment from Viking conquerors. Her love was murdered by them, her mind is fractured, and her struggle seems never-ending.
---
Resident Evil 3
The remake of the third game in the original Resident Evil series continues the story fluidly forward, making it a natural progression after playing RE2. While it's not the best of the series, Capcom's eye for detail and successfully balancing between nostalgia and modern-day design sense makes it an excellent survival horror-meets-action endeavor.
The big hook in Resident Evil 3 is the continuation of the chase elements as characters Jill Valentine and Carlos Oliveira struggle both independently and together to survive against not just a constant onslaught of the dead, but the relentless pursuit of the mysterious and horrific Nemesis.
---
Until Dawn
In the relatively brief and recent resurgence of FMV-style games, Until Dawn remains noteworthy for the way it takes the tried and true slasher genre interactive while still managing to stay within the boundaries of its cinemative roots.
There hasn't been any game since that manages so successfully to create an interactive horror movie experience. Admittedly, the emulation of slasher films works because it lets the cheesy acting and writing of Until Dawn to feel like a perfectly natural and even expected part of the fun.
---
LIMBO
Both of developer Playdead's catalog is expertly disturbing, fascinating, and worth playing, and their second game, Inside, is a gem too.
Limbo, however, is definitely the more horrific of the two. A side-scrolling puzzle platformer, the game hits its horror notes easily thanks to the fact that all the nightmarish situations, monsters, and absolutely brutal death sequences are all perpetrated against a young boy (probably don't play the game with the kiddies around).
Limbo has been on a lot of platforms since its original release way back in 2010 and it's nice to know it can continue to disturb more players on the new generation.
---
Blasphemous
One of two retro-inspired 2D metroidvanias on our list, Blasphemous plays with horror on a nearly unique level. Everything in this game's world is horrible (or wonderful, depending on your point of view) to behold.
The thinly veiled inspiration of Dante's Inferno concerns the obsession-driven quest of a unknown knight. He's fighting demonic and godly forces that seem to have flown right up from the lowest circles of Biblical Hell, and the player is fighting a difficulty level to match.
Blasphemous is bizarre and clever in its deliverance of hefty piles of gore, horrific monsters, and absurdly violent means to dispatch them. Just don't expect an easy time here.

---
Amnesia: Rebirth
Amnesia started something in the horror game genre. Instead of standard survival horror games where ammunition and weapons were merely limited, here there's none at all.
Hiding and evading the dread that walks these halls is the only means of survival, and it created a subgenre where tension and paranoia were essentially gameplay mechanics. The two games have been re-released twice now, but if you've never tried these slower-paced nerve-wracking tales of terror they are definitely worth adding to your hard drive.
---
Resident Evil 7
Resident Evil 7 marked such a huge departure from the traditions of the series that it almost seemed like a different game entirely. Switching from third to first-person perspective might appear to be a radical change, but the end result was nothing short of gory, horrific magic.
Bringing the series back to the roots of a mansion of madness actually ended up making it feel more in line with the original and that new perspective amped up the claustrophobia. There's a lot going on as you work your way through each member of one of the most screwed up families in all of horror gaming, and after that, there's plenty of additional DLC that branches the story out even further.
Given that the upcoming Resident Evil 8 seems to latch directly onto the end of this one, now is the perfect time to dive back in.
---
Perception
A labor of love for the small team at the Deep End Games (led by former Irrational Game's Bill Gardner), Perception is a short, but intriguing twist on the haunted house theme.
While the house itself is pretty garden-variety gothic horror, the protagonist is not. Cassie, our heroine, is blind and the game translates her use of echolocation and psychic visions into a visually fascinating low-fi wave of vibrations reflecting off the objects around her.
It's a memorable and intense graphic solution for translating Cassie's world and sense of ever-building dread. The story is well-written, Cassie is appealing, and Perception is a good example of an indie game that deserves a second chance at finding its audience.
---
White Day: A Labyrinth Named School
For a flair of Korean horror, White Day checks the boxes for the genre. A remake of a remake, the game has a long history. Originally released in 2001, in an admittedly very different form, the final version on PS4 is a first-person horror adventure that takes players into those most horrifying of all locations: high school.
A love-lorn boy sneaks into school after hours to leave his crush a present but instead finds himself trapped in a supernatural, angry ghost-addled nightmare. It's cheesy and fun, with plenty of sneaking around, finding items, and solving puzzles.
---
Haunted Dungeons: Hyakki Castle
For something completely different, here's a gem that merges horrific Japanese folklore monsters, classic grid-based first-person dungeon crawler gameplay, and some intriguingly creative mechanics.
The game allows the four-character party to split up to explore, solve puzzles, and even fight monsters. While it's not by any stretch the most cutting edge game in our list, Hyakki Castle makes excellent use of its settings, lore, and especially wonderfully macabre collection of monsters and characters. It's well worth playing for fans of classic RPGs who want something very different.
---
Carrion
Horror is a broad genre that doesn't just mean having to be the hapless victim. Sometimes, you just want to be the monster. Carrion is the amazing game that lets you do it.
Imagine if the creature from the Thing had been captured and trapped in a massive underground lab, where scientists relentlessly experimented on it. Then imagine violently escaping, trying to find a way out, all the while growing stronger, evolving, and taking revenge on all those pesky humans who hurt you.
Carrion is a metroidvania-style game with distinctly 16-bit graphics, but thoroughly addicting in every way. The way the monster moves is a marvel of animation, the puzzles are great, and the violence is almost too satisfying. If you missed Carrion the first time around, don't make that mistake twice.
That's the end of our horror game list, how do you feel about the lineup? Sound off in the comments below with some of your favorite horror titltes you can play on PS5.