It was pretty disappointing when earlier this week we learned that both Kingdom Hearts III and the Final Fantasy VII remake likely won't be released in 2017. The news came straight from the source when director Tetsuya Nomura revealed some details about the game's development in an interview with Famitsu magazine.
"I think we'll have you guys wait a little longer for both Kingdom Hearts III and Final Fantasy VII Remake, I do apologize for that, but we'll make up for it by making it into something that will meet expectations."
Well shoot.
Before you fall into a pit of despair, though, there is some good news. Square Enix will still be releasing a few Kingdom Hearts titles in 2017, and now there is plenty of time to catch up on all of the other games in the franchise.
First up, what about those new releases?
2017 Releases
Kingdom Hearts 2.8 / Kingdom Hearts HD 2.8 Final Chapter Prologue
Coming out later this month on Jan. 24. It will include three games, a HD remaster of Kingdom Hearts 3D: Dream Drop Distance, as well unique content in the form of a cinematic Kingdom Hearts χ Back Cover and the game Kingdom Hearts 0.2: Birth by Sleep – A Fragmentary Passage.
So if you missed the chance to play Dream Drop Distance on 3DS, now is your chance. Apparently, Kingdom Hearts 0.2: Birth by Sleep – A Fragmentary Passage will have some essential story pertaining to Kingdom Hearts III, so think of it as a little taste before we get the full meal.
Kingdom Hearts HD 1.5 and Kingdom Hearts HD 2.5 Remix
PlayStation 4 will also see the re-release of Kingdom Hearts HD 1.5 and 2.5 Remix on March 28. 1.5 includes the remastered original game and 2.5 has a remastered Kingdom Hearts II.
Souped up graphics are only going to serve the original games and make them an even more enjoyable experience for the player. Kingdom Hearts is an interesting series in that it has more spin-offs than base games at this point. And speaking of those original titles…
The Retro Experience
Kingdom Hearts and Kingdom Hearts II.
If you're not quite ready to take a deep-dive into the storied franchise (or don't have a PS4), you might want to take a few steps all the way back to the beginning.
For a truly retro experience, dust off the PlayStation 2 and pop in Kingdom Hearts and then Kingdom Hearts II. Playing these games again, or for the first time, will give some indication as to why the third installment is so anticipated.
Fingers crossed that remakes of these two will finally make their way to the Vita (like some other Square Enix titles have) and the Xbox One.
The Mobile Game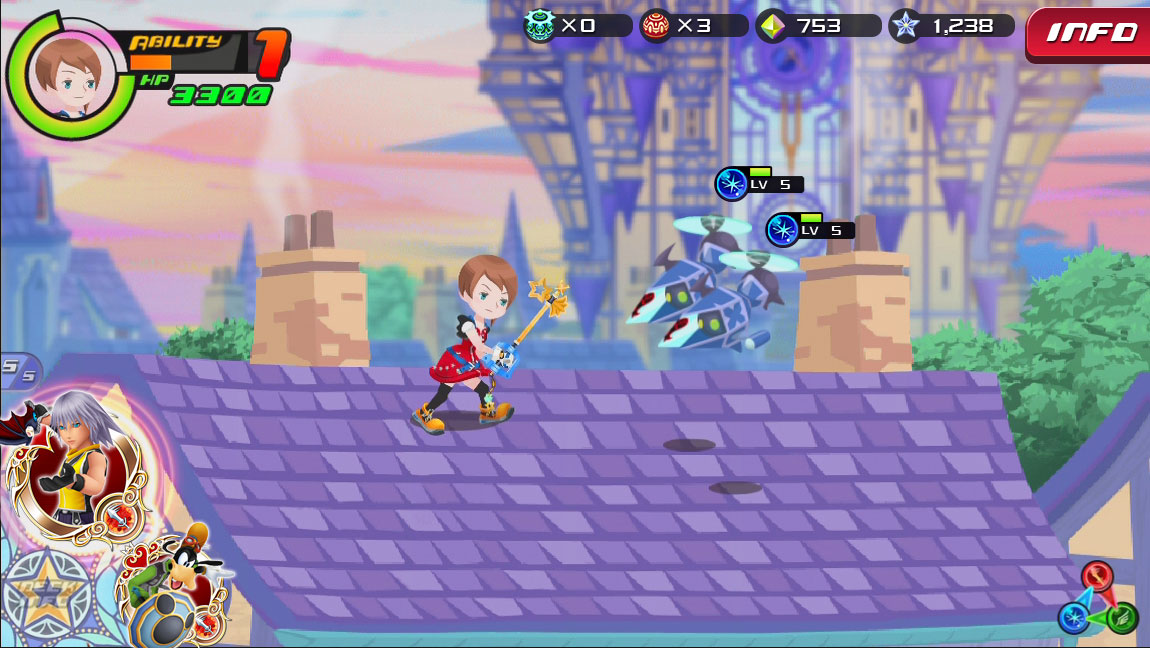 Kingdom Hearts Unchained χ
Kingdom Hearts Unchained χ is another installment to the franchise and can be played on both Android and iOS. It is the mobile version its preceding browser game Kingdom Hearts χ. The story is set "at the very beginning of the Kingdom Hearts story in the era before the Ancient Keyblade War," according to its description on Google Play.
This title is good for fans of the series who might not have a whole lot of time to catch up on the old games but still want to get back into the Kingdom Hearts frame of mind. Might as well put that phone to use serving its true purpose, gaming.
Which game is your favorite installment of the Kingdom Hearts franchise? Are you looking forward to Kingdom Hearts III? Let me know in the comment section below!
About the author