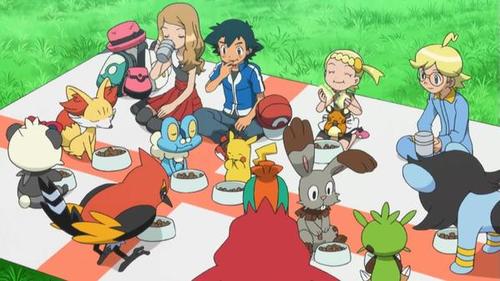 We're deep into summer now, and the weather is perfect for going outside and playing Pokemon GO (tracking issues aside). So why not combine your next outing with a picnic? There are plenty of easy Pokemon-inspired recipes out there that are perfect for on-the-go eating, and approved by Professor Willow to give you all the energy you'll need for a hot, sunny day of Pokemon hunting!
So start making your grocery list, get your bike ready, and find a nice spot off of Route 209 to post up, farm Dratini, and enjoy these Pokemon recipes.
---
Pokeball Apples
We'll start with a few easy Pokemon recipes that are perfect for families to make all together. This snack, courtesy of Benzi Rae, is easy enough for even the youngest Pokemon trainers to help out with.
All you need to do is cut a few bright red apples in half, core them, and cut a circle into the halves with a cookie cutter. Then, peel half of your apple section, and finish the snack with a line of chocolate syrup. Repeat for as many Pokeball apples as you want. This healthy snack is perfect for kids and adults alike, and is sure to power your Pokemon quest with gusto.
---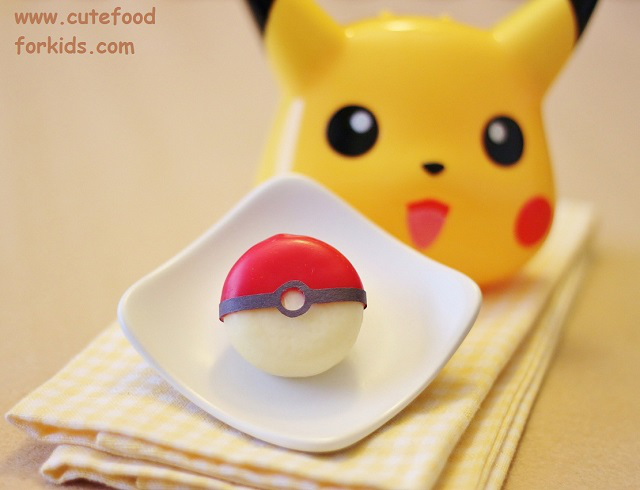 Babybel Pokeball
This picnic-ready Pokemon recipe comes from cutefoodforkids.com and is an incredibly simple and quick way to give that basket of Babybel cheeses some Pokemon-inspired flair.
As you can probably gather, all you need to do to make these is cut strips of black construction paper into strips, then punch a hole in the middle to create the button. Then, using a knife, cut the wax in half and create a half-moon cut in the middle with a straw or hole punch. Finally, simply tape the strip to the wax and you're done! This recipe is quick and easy, but the visual effect is incredibly striking. Plus, at the end of the day, it's cheese. And everyone loves cheese.
---
Pokemon Pizzas
A cheese pizza is a blank canvas, primed to receive the art of anybody talented or driven enough to attempt to innovate. Pizzas are also easy to make at home and perfect to bring to picnics to share, so it's no real surprise that YouTuber Rosanna Pansino created a few Pokemon pizzas for her Nerdy Nummies program.
These Pokemon pizza recipes are easy to replicate, simply requiring artful placement of pepperoni and olives for the Pokeball pizza, and careful cutting of pineapples and pepperoni for the Pikachu pizza. To be honest, you can use the techniques in this video to create your own Pokemon inspired pizzas through any deliberate arrangement of toppings, so feel free to get creative!
---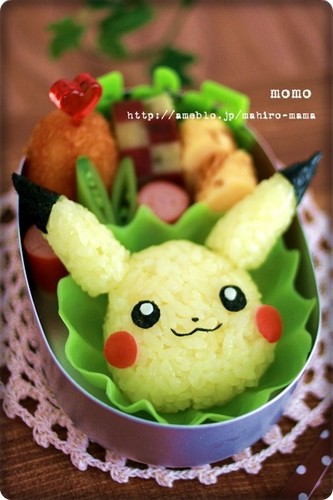 Pikachu Bento
Bento boxes are wonderful, artful ways to prepare on-the-go meals, and though they can look intimidating at first, they are actually very easy to make.
The centerpiece of this bento box created by washoku.guide is a beautiful Pikachu onigiri, a rice ball decorated with sausage slices, nori seaweed, and cheese. Though the recipe is easy enough to be kid friendly, careful knife skills are needed to create Pikachu's iconic face.
First, you'll need to cook some white rice, and mix in yellow furikake (a Japanese seasoning mix) to get the rice the right color. Then, using plastic wrap, shape the rice tightly into the shape of Pikachu's face and ears. Cut the nori into pieces for the nose, tips of the ears, mouth, and eyes, with cheese for the pupils and sausage slices for the cheeks. Arrange the facial features, then connect the ears to the face with uncooked spaghetti pieces.
Once you've done that, you can add other snacks (possibly the Babybel Pokeballs!) to the box as you see fit. The great thing about bento boxes is that they are inherently customizable, and can be changed to fit anybody's tastes!
---
Pokepuffs
We're going to end with something more difficult. There are no end to the recipes for cookies and cupcakes with Pokeball designs, but any avid trainer will be able to tell you that the perfect on-the-go dessert for Pokemon trainers are Pokepuffs.
You'll need some baking chops to tackle this recipe since it requires you to make a crumb, a cream puff, icing, and two different types of whipped cream, but for those that persevere, these Pokepuffs are the perfect cap to a Pokemon GO picnic.
Have you tried any of these recipes, or do you have any favorite on-the-go Pokemon recipes for energy while playing Pokemon GO? Let us know in the comments, and be sure to tweet us any pictures you may have taken of your Pokemon recipes!