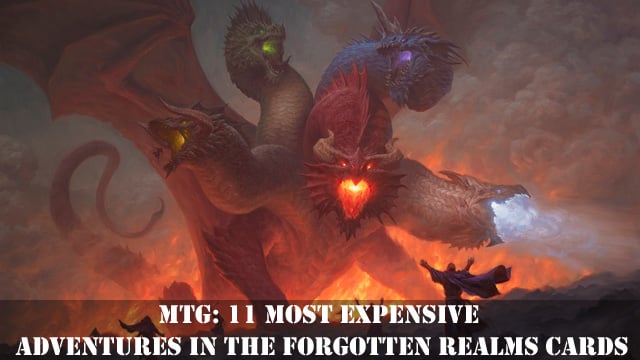 It's natural that the Magic: The Gathering set based on Dungeons & Dragons lore will have a lot of commander cards. Adventure in the Forgotten Realms expansion has about 30 commander cards, while the previous standard set had only around 20.
So don't be surprised that most of the money in the Forgotten Realms set is being invested in those legendary creatures. The EDH format influences prices on the Magic market like no other, so cards that you wouldn't expect to see in other competitive formats may take all the attention from the rest of the seemingly better cards.
Anyhow, check out these 11 most expensive MtG cards from Adventure in the Forgotten Realms set, and make your own opinion of the current situation.
Note that the listed prices correspond to the date of this article's publishing: July 07, 2021.
---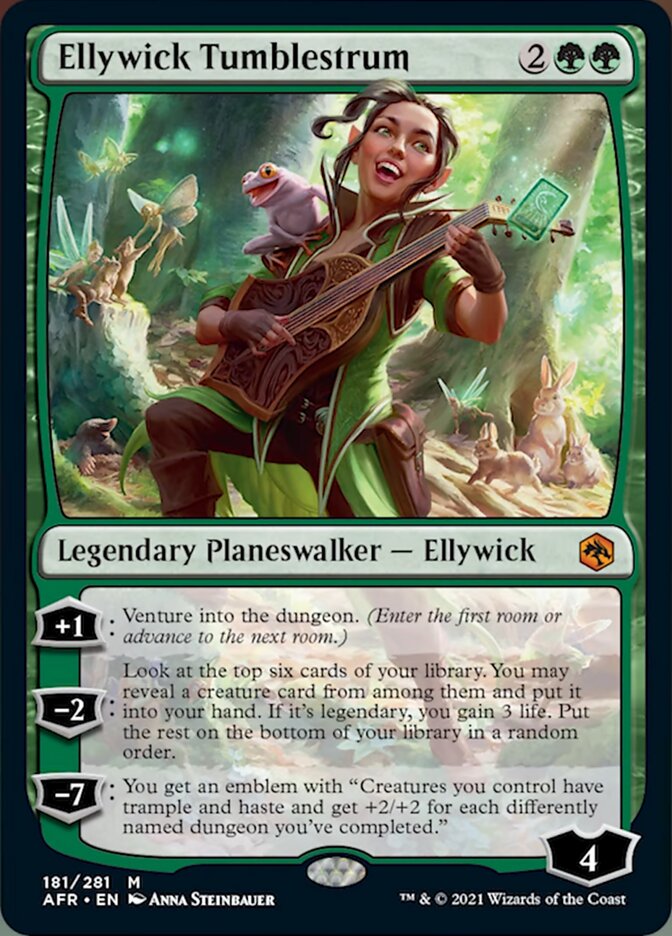 Ellywick Tumblestrum
Regular art price: $13.89
Borderless art price: $27.47
Venture into the dungeon mechanic is the most D&D thing Magic players have ever had the chance to try out. This new thing is clearly influencing the market, but that doesn't mean that all dungeon cards will suddenly explode in price.
The new Ellywick planeswalker has a neat design that is reminiscent of Vivien from the previous few sets. This does make her a contender for specific dungeon-based builds in standard and commander.
Will this translate into a lot of sales, though? Probably not, as this is a very niche and untested type of product that will take time to settle in.
---
Minion of the Mighty
Regular art price: $16.25
Showcase art price: $27.96
This Kobold is a totally different story, as it offers players a new way to put powerful dragons on board without paying those gigantic mana costs.
There are already a few exciting combos in standard, historic, modern, and commander formats that all look to be very easy to execute and thus make Minion of the Mighty a very attractive card to buy.
Since it's only a rare and not a mythic, it probably won't see a steep increase in price. It may get over the $20 a piece if dragon combo decks really work out this time around.
---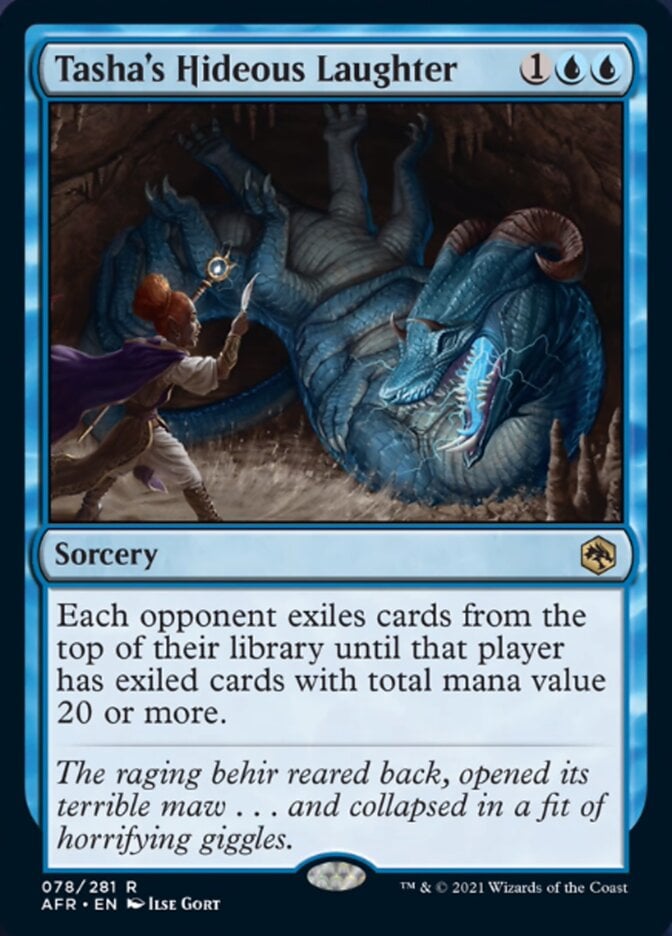 Tasha's Hideous Laughter
Regular art price: $18.79
Extended art price: $39.00
This pseudo-mill card sees traction across all competitive formats. It has a potentially very powerful effect that could mill an entire aggro deck in just a few turns.
The pre-order price started at $40 and then corrected itself to about $20 a card. This is normal practice, and as soon as the new season begins, the price may go back to its initial price of $40.
Then, it could go either a little higher or lower depending on its success in relative formats. The median and most expected price for Tasha's Hideous Laughter would be around $30.
---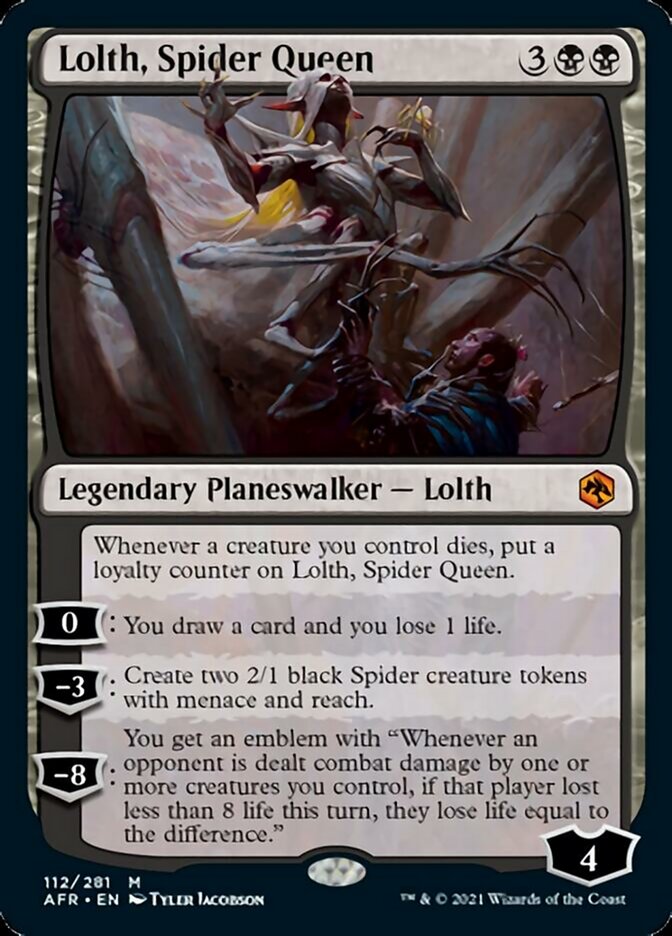 Lolth, Spider Queen
Regular art price: $20.31
Borderless art price: $32.54
The new Lolth planeswalker is a tricky one, as it's quite costly at five mana, and its ultimate ability isn't too strong. Yes, you can activate it early on by sacrificing your creature tokens, but these types of decks usually don't run cards that cost more than three to four mana.
This puts Lolth in a rather narrow situation, where it can be considered only for commander decks, albeit not in a role of a commander. Currently, it is being added to many Chatterfang, Squirrel General lists.
All this makes Lolth a rather unpopular choice for investing, although it does get the compulsory $20 planeswalker price tag.
---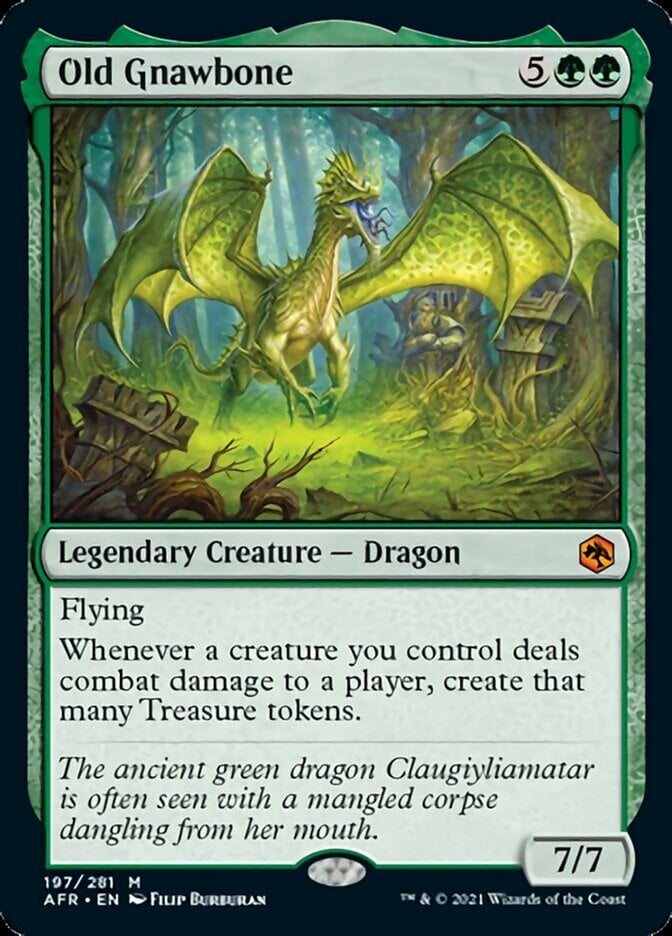 Old Gnawbone
Regular art price: $21.08
Borderless art price: $33.74
Commander players alone are already pushing this green dragon into an expensive territory, since it finds no support in any other formats except EDH.
It's a cool card that can produce a lot of treasure tokens, and is being currently recruited into Korvold, Fae-Cursed King lists, but players don't see it as a commander card, which may influence its price.
Most likely the current $20 tag will correct itself to about $15 in the coming months or even lower than that.
---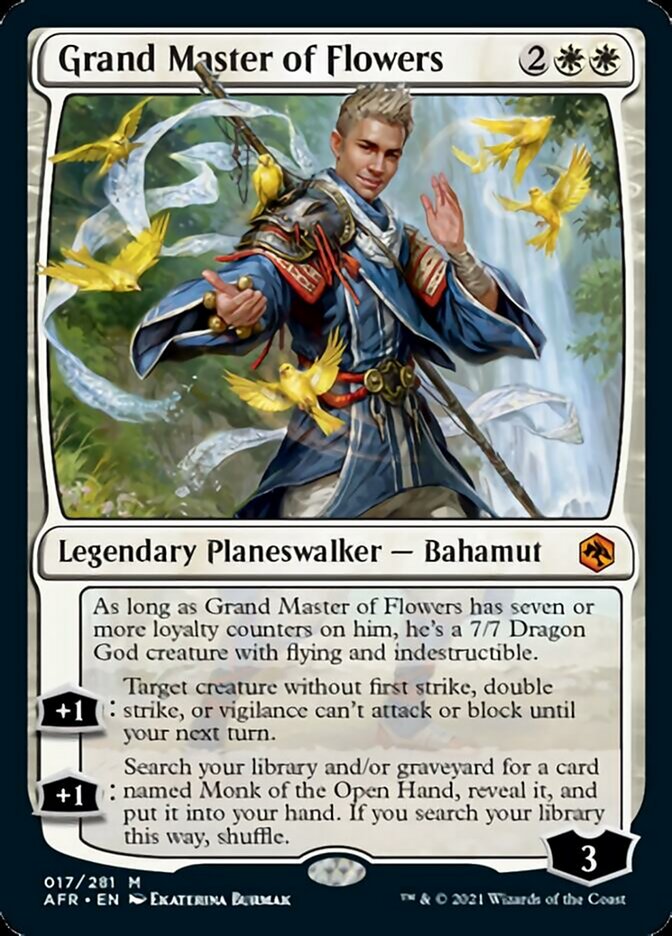 Grand Master of Flowers
Regular art price: $21.54
Borderless art price: $33.68
Mtyhic planeswalkers without ultimate abilities may seem underwhelming, but the passive ability on this new Bahamut planeswalker is quite interesting.
You can play him earlier than turn four using mana accelerators and add four more loyalty counters in just two turns with the help of Kasmina, Enigma Sage. Then, you could turn him into a 7/7 indestructible creature on turn five. This requires a lot of set-up, but totally possible.
Currently there is no clear indication which decks and formats would like to play it except commander. Assuming it's going to be an interesting planeswalker that doesn't impact formats too much, it should go down in price to about $10 a piece.
---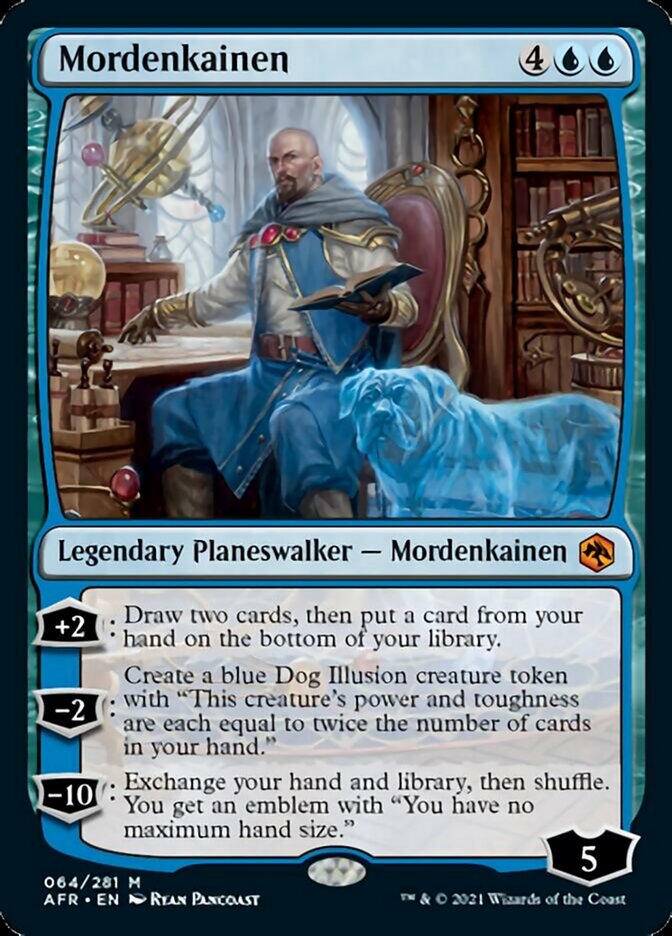 Mordenkainen
Regular art price: $21.77
Borderless art price: $49.99
How many 6-mana planeswalkers or greater do you know that have any significant impact across the formats? Not that many.
Mordenkainen definitely has a deep connection with the D&D lore, but as it stands it's just too expensive and its abilities don't seem to go anywhere.
There isn't much love for this planeswalker not even in commander, and not even mentioning other formats. All this will surely make the price drop significantly, so expect it to lose 50 ~ 70% of its current value.
It may find itself in a position only as a collectible for true D&D fans.
---
Circle of Dreams Druid
Regular art price: $21.99
Extended art price: $33.30
An elf that produces a lot of mana is a good deal, even if it costs three green mana, which is a bit steep. But nonetheless, Circle of Dreams Druid is a terrific card that will make rounds in various competitive formats.
Lathril, Blade of the Elves commander players will snatch these like hot cakes. It is also a decent addition to Elves tribal decks in modern, standard and historic.
It can be compared to Heritage Druid that currently stands at $10 a piece, but it is not legal in standard, historic, or even pioneer, which provides space for Circle of Dreams Druid. This means that it may keep its current price tag of $20.
---
Demilich
Regular art price: $23.97
Extended art price: $35.47
Demilich is the most pushed card in the entire Forgotten Realms set. It will go into Mono-Blue and Izzet decks across all competitive formats and make an impact in all of them.
Its main selling point is the potential zero mana cost and recursive ability that allows it to come back from the graveyard. That is a big deal and everyone will want to play it.
It is being compared to Arclight Phoenix, but Demilich is simply better in many regards, so it can and probably will grow in price in the next few months.
---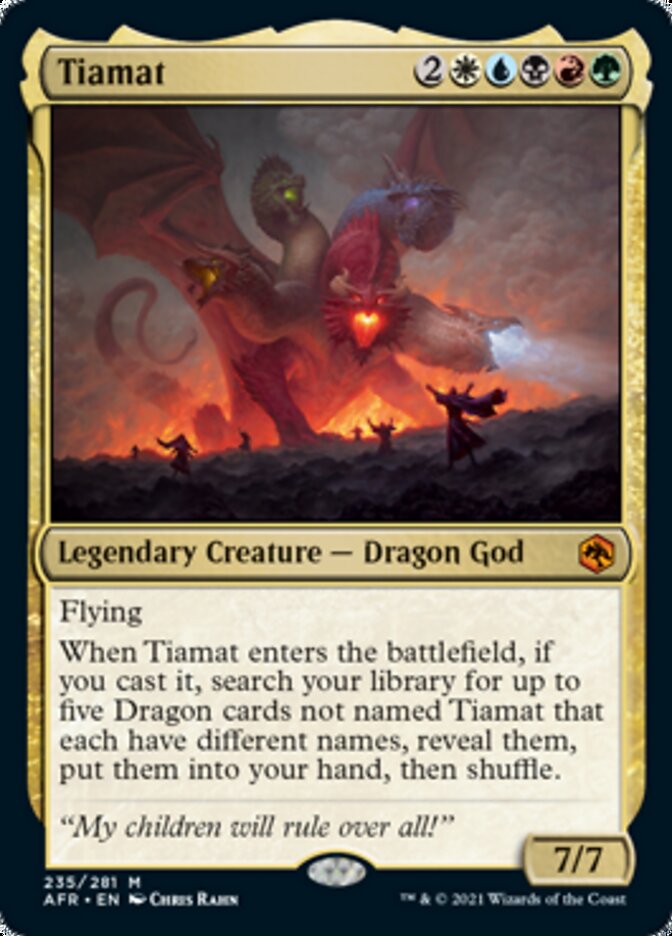 Tiamat
Regular art price: $25.13
Borderless art price: $50.48
Tiamat has already been proclaimed the best commander card in the Forgotten Realms set, and rightfully so. It has a powerful ability that will make dragon tribal players really happy.
The prices have been going up and down for Tiamat in the last couple of weeks. It started at $20, went up to $40, and corrected itself at $25. During the release week it may spike to $40 once again.
The big deal about Tiamat is that it also influences the prices of other dragon creatures in MtG. So there is a lot of room for that price growth in the coming months.
---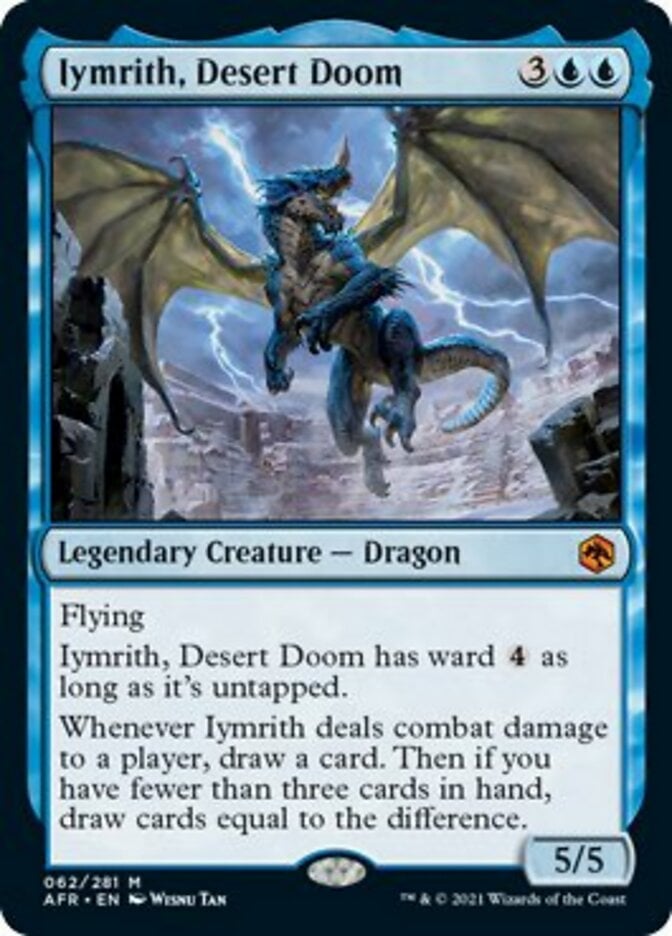 Iymrith, Desert Doom
Regular art price: $29.13
Borderless art price: $43.84
While Tiamat has a clear role of a commander, Iymrith, also being a powerful dragon, can be played alongside it in various formats.
The price for Iymrith has been steadily rising day after day, which indicates a huge interest from all corners of Magic: The Gathering community.
This is perfectly justifiable, as Iymrith looks to be a future staple in many control decks, as well as, other archetypes.
Those are the most expensive cards in Adventures in the Forgotten Realms. For more Magic: The Gathering content, card lists, and guides, head over to our MtG hub page here.