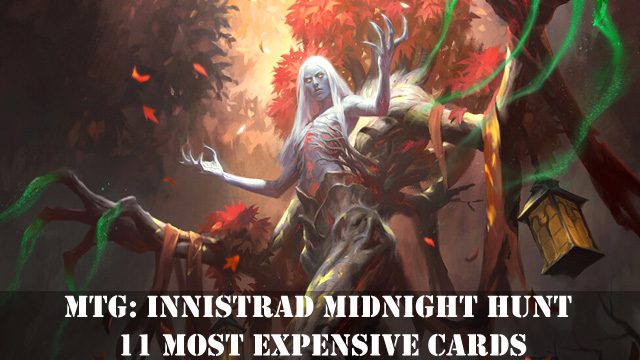 Innistrad: Midnight Hunt is out now and there is a lot of hype surrounding this long-awaited Magic: The Gathering set.
It offers players 277 new cards, many of which belong to one of the five main tribes of the Innistrad plane: werewolves, zombies, vampires, humans and spirits. This means that creature types will have a lot more value than any other cards in this expansion.
There are a few promising planeswalkers as well, so keep an eye out on those, too. But for more detailed overview of the most expensive Innistrad: Midnight Hunt cards, check out the rest of this guide.
Note that the listed prices correspond to the date of this article's publishing: September 17, 2021.
---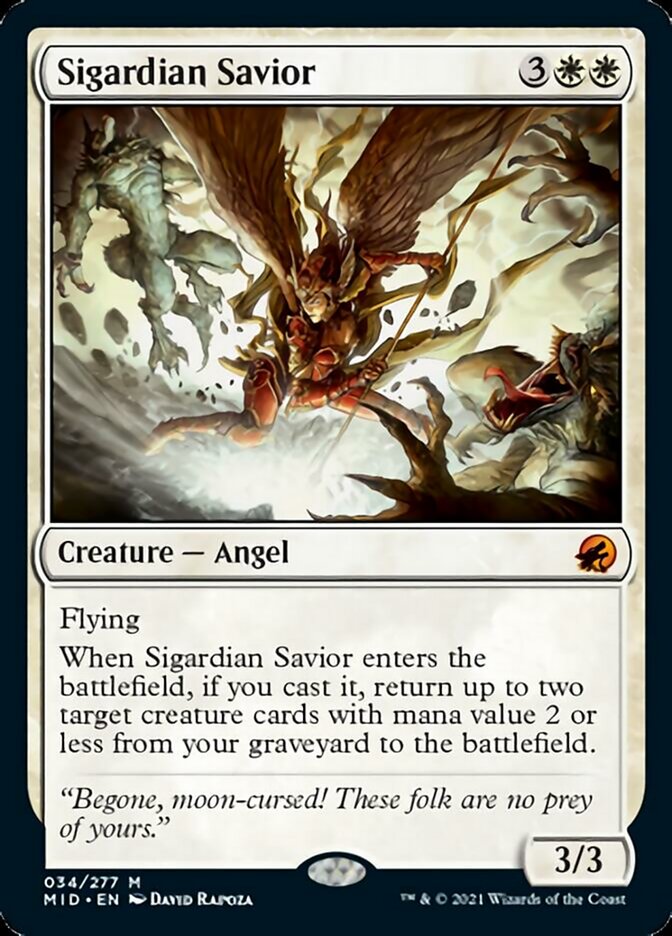 Sigardian Savior
Regular art price: $7.40
Extended art price: $10.27
This card may look expensive at five mana, but it is a perfect card for that five mana slot in any white aggro deck in standard and commander.
Other formats don't seem to be interested in it that much, which does make it a bit of a dark horse to bet on. So be very skeptical about any financial gain here.
It should perform well in competitive formats, but don't expect it to get any higher than $5 a piece, unless somebody finds out that you can execute some winning combo with the help of it.
---
Jerren, Corrupted Bishop
Regular art price: $7.56
Extended art price: $9.31
Jerren has a huge text box with lots of things to offer, but all of it doesn't seem to go anywhere specifically. The transformation cost is too high, and even then, you don't get too much benefit.
For now, the only demographic interested in this card is the EDH crowd. They love this card, and there are plenty of lists trying to break it into the format. If it turns out as everybody hopes, then you will see it go up in price, but if not, then the $5 tag is inevitable.
---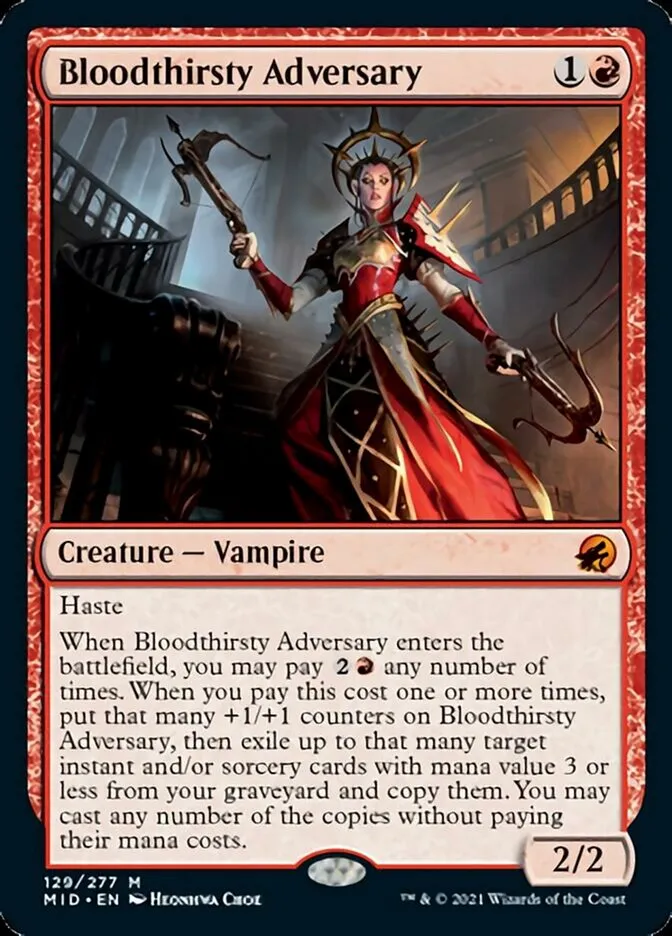 Bloodthirsty Adversary
Regular art price: $7.83
Extended art price: $10.39
Just like Sigardian Savior, this is another aggro-friendly card that makes all standard and commander players very excited.
However, this card has lower mana cost and it's red, which makes it much more interesting in terms of financial value. It should perform well enough on competitive level, so don't be surprised to see it go up to $10 per card or even higher, depending on the performance of Mono-Red Aggro decks this season.
On top of that, Bloodthirsty Adversary is a Vampire, which is one of the five main tribes of the Innistrad: Midnight Hunt set.
---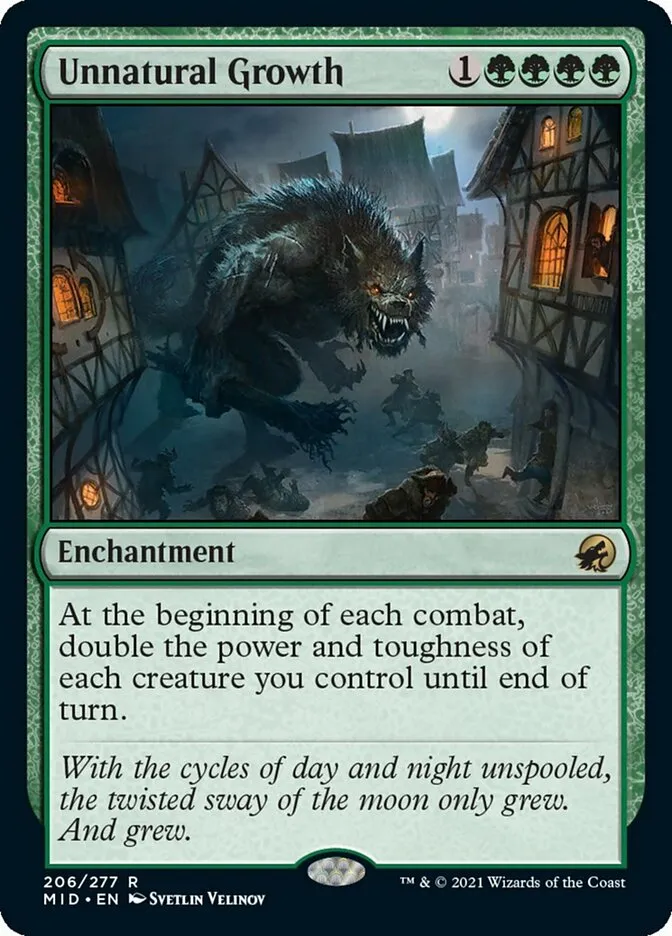 Unnatural Growth
Regular art price: $10.36
Extended art price: $19.05
What a bombastic card! It offers huge upswings of power, but it is also quite costly at five mana.
This one is the current favorite of many EDH and modern players that are looking for these kinds of upswings for their Mono-Green Stompy and Gruul decks.
But even with all the initial praise, ultimately Magic community doesn't really see this card go up in price. On the contrary, many expect it to settle at around $3 margin, which is so typical for these types of cards that get overhyped during the pre-release.
---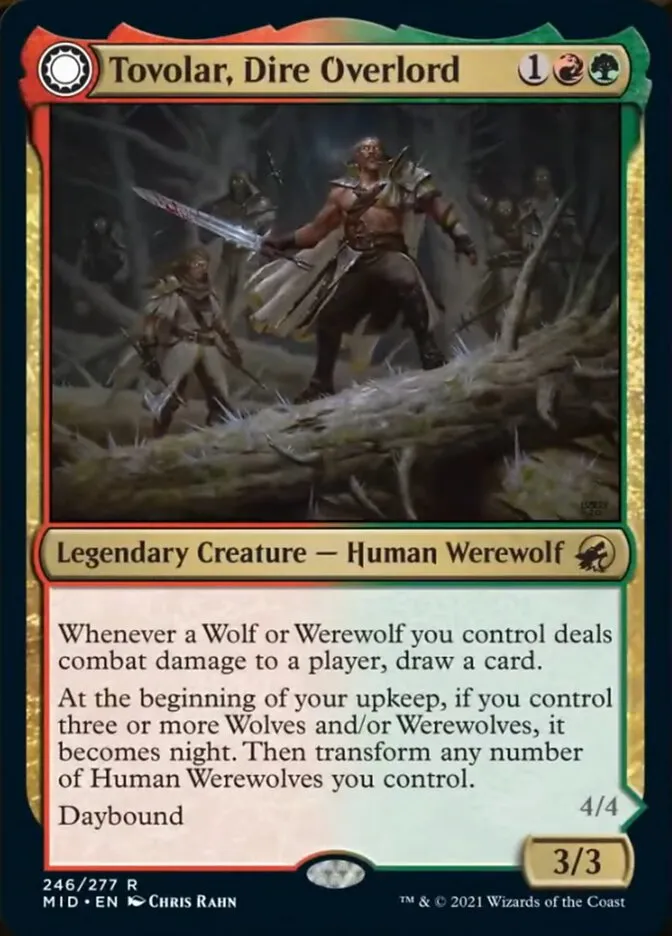 Tovolar, Dire Overlord
Regular art price: $11.21
Extended art price: $20.36
The Werewolves archetype in commander format has been in a period of stasis, as there were no good werewolf commanders for a long time. Now, Tovolar takes his well deserved spot as one of the most anticipated commanders ever.
This card also gains some serious traction within standard and modern formats, which is a good indication for all investors. If Tovolar, Dire Overlord performs exceptionally well in commander and other formats, which is very much probable, then it will go up to $15-20 a card.
It may even trump the prognosis and break the price even higher. It all depends on the performance.
---
Moonveil Regent
Regular art price: $12.41
Extended art price: $27.99
Moonveil Regent is an unusual card for sure. That's why there is some uncertainty as to its evaluation on the market.
There is interest in commander and standard formats, as well as, historic and pioneer. We're talking specifically Boros and even Mardu Aggro lists that often run two and three color spells.
It could arguably do well in Mono-Red lists as well. After all, drawing a card after casting a spell is not such a bad deal. But this still makes everyone unsure, so be prepared for some ups and downs with this one.
---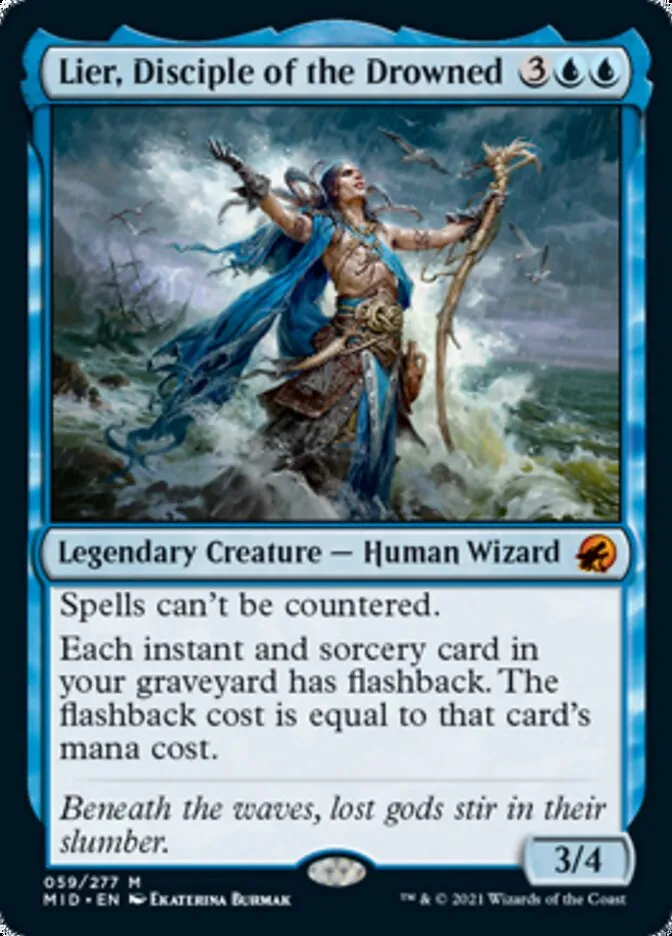 Lier, Disciple of the Drowned
Regular art price: $13.48
Extended art price: $12.27
Here is another exciting commander for EDH players that will most likely see play in various blue combo decks. Standard and pioneer players also like the idea of using this card in their Izzet decks, when they can freely cast their burn spells and feel protected from all the counterspells.
However, the truth is that this card might be just a very good sideboard card in most formats except commander. This obviously diminishes its market value. So everything here depends on its performance in commander tournaments.
---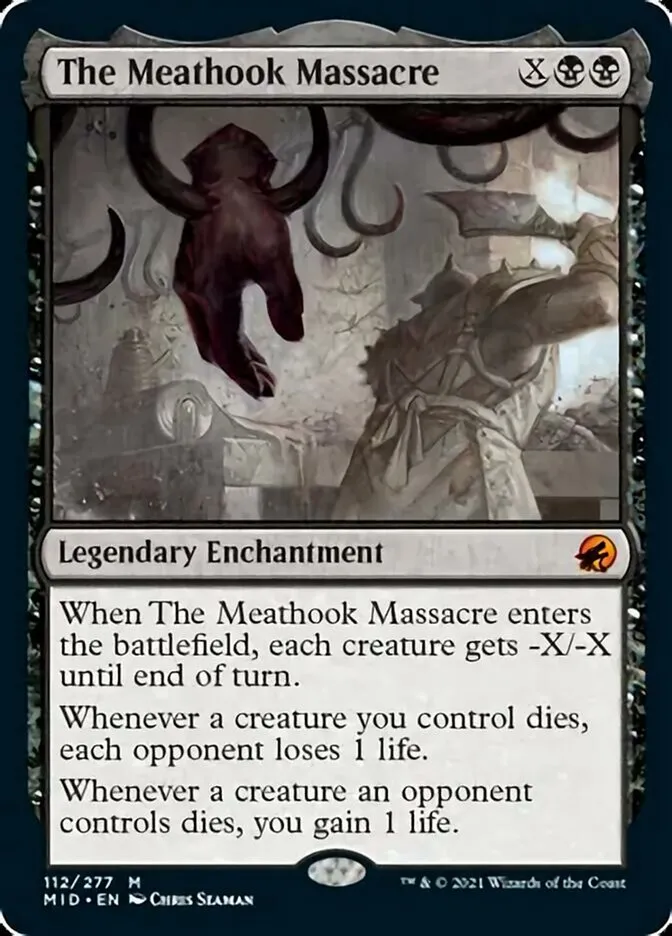 The Meathook Massacre
Regular art price: $17.18
Extended art price: $22.11
This is definitely one of the most interesting mythic rares in Innistrad: Midnight Hunt with huge potential for commander format, as well as, standard, modern, and historic.
Actually, it may be a tad underpriced at this point, so as soon as this hits the shelves, expect it to rise to about $20 or above. It's just a really powerful effect that completely neglects hexproof and indestructible effects, which is a big deal.
It will be huge in Aristocrats decks that are currently extremely popular amongst casual EDH crowds.
---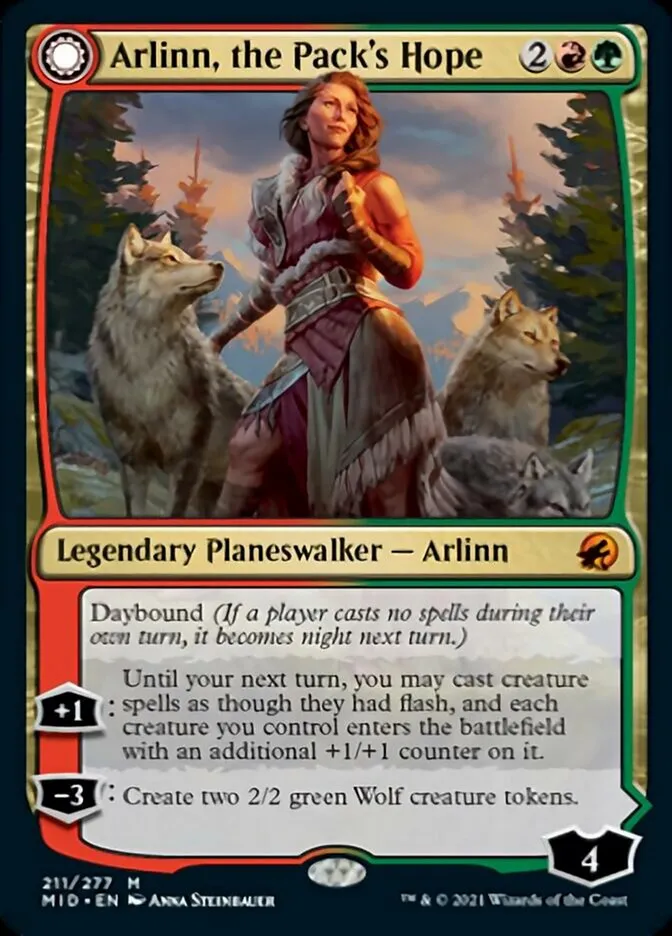 Arlinn, the Pack's Hope
Regular art price: $17.24
Extended art price: $20.02
Just like Tovolar, the new Arlinn planeswalker is going straight into all werewolf-themed decks in commander, standard, modern, and even pioneer.
Both of its sides are very strong and people seem to like it very much across all competitive formats. Does this mean that it will take over the market? Probably not, but it's going to be on a strong footing somewhere around $10 mark.
But again, if it performs exceptionally well in werewolf tribal decks in commander alongside Tovolar, then the price might get higher than everybody expects.
---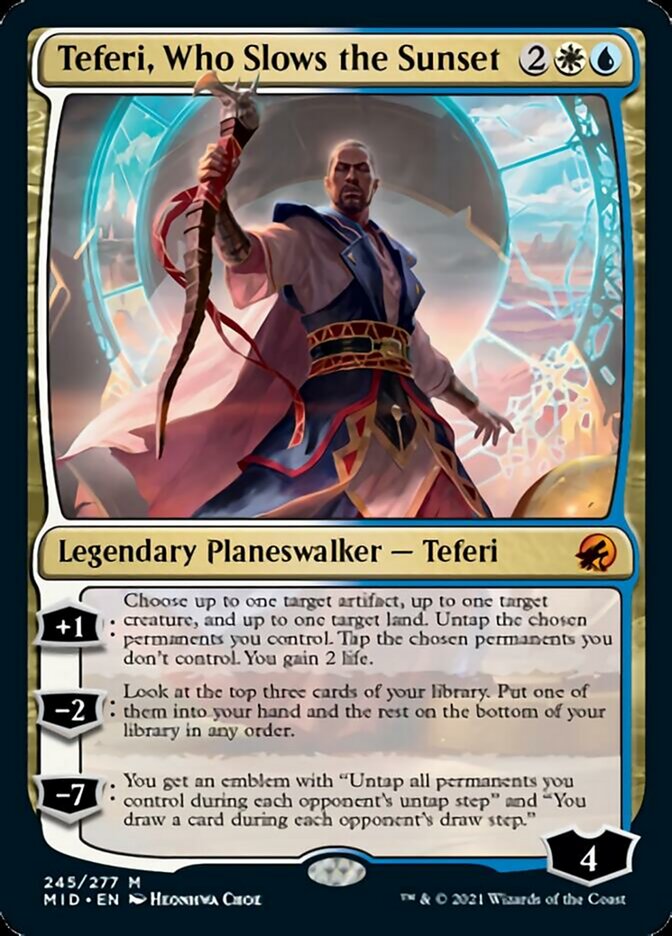 Teferi, Who Slows the Sunset
Regular art price: $22.74
Extended art price: $27.17
As usual, Teferi planeswalkers always look very strong financially at the pre-release. But Wizards of the Coast have learned their lesson, and they don't dare printing another overpowered Teferi planeswalker like it was the case in the past few years.
The only other Teferi planeswalker that still holds up strongly is Hero of Dominaria, but every other iteration has fallen in price. Teferi, Who Slows the Sunset looks good, but it is still weaker than many of its previous incarnations.
All this means only one thing, this card will go down in price!
---
Wrenn and Seven
Regular art price: $25.37
Extended art price: $35.39
After a huge success of Wrenn and Six, there was a lot of hype concerning the new Wrenn and Seven planeswalker. But this one is tad too expensive, even when you take into account its quite powerful activated abilities.
It most likely won't see play in modern, which is a huge red indicator for investors. Commander and maybe standard players will like it more, but it looks like there won't be too much demand for such an expensive planeswalker.
You've already probably guessed that the price will decrease as soon as it shows up on the players' tables.
Those are the most expensive cards in Innistrad: Midnight Hunt. For more Magic: The Gathering content, card lists, and guides, head over to our MtG hub page here.