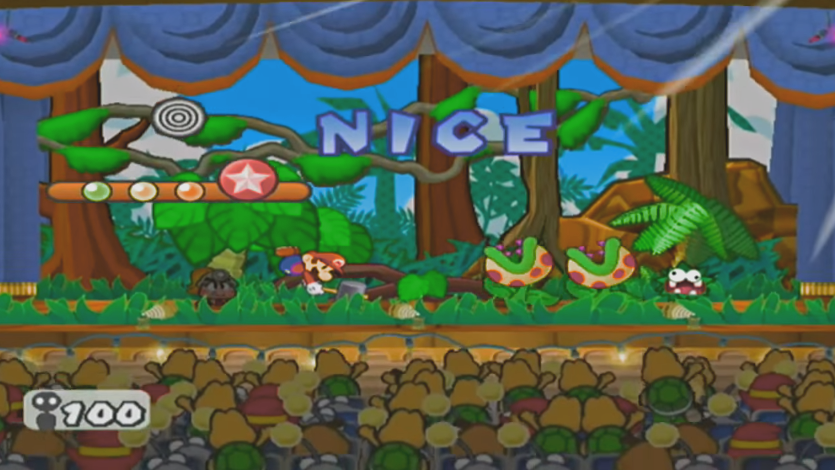 Paper Mario is one of Nintendo's most beloved spinoff series, and it's not hard to see why. Every game, even the iffy ones, are oozing with charm and character. And every game has at least one big standout moment that grabs your heart, breaks new ground for the series, or is just incredibly fun and ridiculous.
With Paper Mario: The Origami King lurking just over the horizon, we've combed through the Paper Mario series and picked out five of the best Paper Mario moments ever.

---
Meeting Your First Partner
Meeting Goombario in the original Paper Mario might seem like a strange choice for one of the best Paper Mario moments, but it was a sign of something big and new for the famous plumber and a big step up from his previous RPG adventure.
Don't get me wrong. Super Mario RPG is a great game with plenty of memorable characters (looking at you, Geno). It's also very much a Mario-meets-Squaresoft game.
All of Mario's new partners and friends in Super Mario RPG, and even the villain, are slightly random. A talking cloud-mellow, what's basically Pinocchio in blue, and an evil sword thing determined to supplant Bowser as Chief Bad.
There's nothing wrong with that. Heck, it's the kind of adventurous experimentation a lot of games need anyway — but Mario embarking on a brand-new adventure with Mario characters by his side like we see in Paper Mario is something special.
Here was the start of a journey delving into the Mushroom Kingdom and putting its stars at the forefront instead of leaving them as supporting cast. And more than that, it gave everyone much more personality, even former enemies.
The irony of a Goomba idolizing Mario (how many of your forebears has his squashed, Goombario?) is uniquely Paper Mario, but even aside from setting the game's comedic tone, it showed there was a lot more to the Mushroom Kingdom than just jumping high.
---
Peach + TEC
The first Paper Mario introduced a side story for Peach. It was an interesting way to give Peach a new level of relevance while showing off life under Bowser's occupation, but it also felt somewhat non-essential.
Peach outwits Bowser's cruel and dense guards to find information that helps Mario on his quest. Maybe it would have been different if Peach's segments were more common.
Either way, non-essential is definitely not how you could describe Thousand Year Door's side story for Peach. It's miles ahead of the original, and aside from being probably more relevant to the overall story than Mario's own actions, it actually managed to be touching as well.
Slight spoilers follow.
Peach is once again held captive in an enemy stronghold. This time, she strikes up an unusual friendship — unusual because it's with a computer, the X-Naut main system TEC XX. It's friendship for Peach but something more for TEC, who falls in love with the Mushroom Kingdom's most eligible princess. That's a strange scenario that could easily just seem farcical.
But repeated conversations and interactions where TEC proves his devotion, plus that bittersweet dancing mini-game and TEC's final sacrifice, make it touching and add a great deal more weight to Peach's role in Thousand Year Door, particularly when considering what TEC knows about the X-Naughts' plans.
Yes, it's technically a series of best moments, but Peach and TEC's story is still one of the best Paper Mario moments.
---
Bowser Doing Anything in The Thousand Year Door
Mario and Luigi: Superstar Saga started Bowser on his road to comedic relief. But Paper Mario: The Thousand Year Door proved the Koopa King's talents were decidedly not strongest in the evil villain department.
TTYD shifted Bowser from the primary antagonist role he occupied in the original Paper Mario to that of wannabe bad guy always left behind.
Bowser never catches up to Mario, let alone Peach, until the very end. Which is just fine, since it leaves plenty of room for a variety of antics between him and Kammy Koopa.
These are definitely some of the game's — maybe even the series' — funniest moments, whether Kammy's mourning the loss of her brown bag blimp lunch after Bowser refuses to take a ride or Bowser's terrorizing the inhabitants of Rogueport.
His role in TTYD also made Bowser playable for the first time ever in Mario games, which is kind of a big deal. It probably isn't a stretch to say the Bowser segments were the precursor for the Mega Mushroom. You have two goals: destroy as much as possible and get swole while doing it.
These aren't touching like Peach's segments. They're just fun because breaking things is fun and breaking things as Bowser is even more fun.
---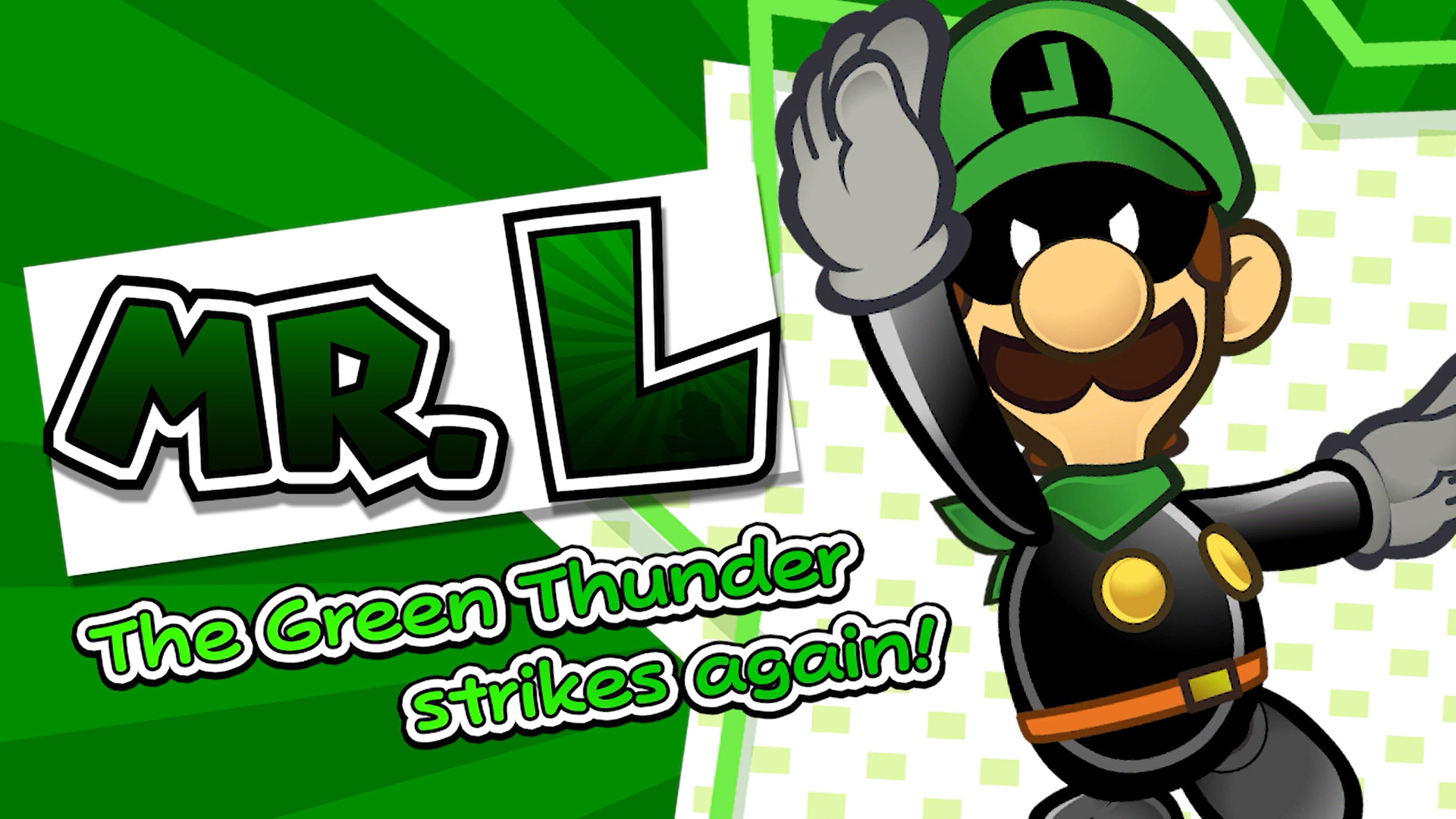 Luigi as Mr. L
Poor Luigi. He's been in the limelight just as long as his sainted brother, but despite having his very own (and very fun) spinoff series, Luigi never gets the same kind of love and attention. Paper Mario adds insult to injury most of the time.
In the original, Luigi quietly stews in his own jealousy while Mario's off on a grand adventure. His only reward for tending the home fires, making sure meals are cooked, and generally whiling the time away by pining for a better life is leading the parade on Mario's return. Mario's parade — not his.
In The Thousand Year Door, Luigi tries setting off on his own adventure paralleling Mario's. He's off to rescue Princess Eclair in the Waffle Kingdom. Do we get to hear about it? Only in long bouts of exposition.
Super Paper Mario finally sees Luigi come into his own. He's briefly playable, but more importantly, he's a recurring enemy. He even has a big destiny and important role to play, as foretold by the ancients.
Granted, Count Bleck brainwashes Luigi and turns him into Mr. L. to "help" him fulfill that destiny. But you gotta know Mr. L constantly harassing Mario, attacking him, and trying to be the hero was really just the true Luigi crying out for validation and love. Poor Weegee.

---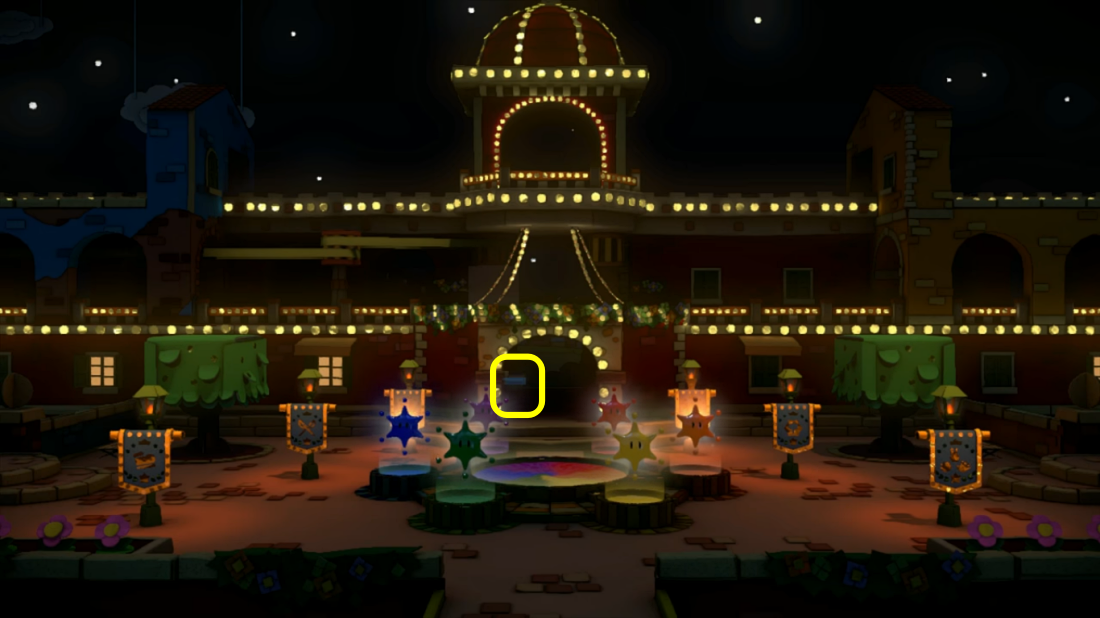 Paper Mario Color Splash's True Ending
Paper Mario: Color Splash was bound to be a divisive Paper Mario game, but it still has its fair share of good moments.
Spoilers ahead, of course.
Conceived in that odd period where Nintendo insisted it knew what fans wanted and needed because the Wii and DS sold well, Color Splash continued Sticker Star's unfortunate — and unnecessary — trend of trying to distinguish itself separate from RPGs. The result was still ultimately an RPG (go figure), but one with a few vital points taken out.
The trade-off was getting to enjoy the gorgeous environments and colorful characters Mario encountered this time around. Huey might not get the most attention, being cursed as the obligatory tutorial character. But he's one of the best side characters since The Thousand Year Door. That's largely down to having more personality than the likes of Kersti, who was basically just a Starlow rehash, or the Pixls who just… existed.
Huey's a scrappy lil' guy with a wide range of emotions, some quick-witted retorts, and a penchant for breaking the fourth wall in as dry a way as possible. Maybe it's because you're in his world, restoring color that he represents, but Huey also seems more closely tied to Mario and the Color Splash journey.
So you really feel it at the end when that one thing happens, much more so than the end of Sticker Star. It's the first time since TTYD where Paper Mario managed to pluck the heartstrings again, even more so because you don't necessarily see what happens next unless you get the secret ending.
There are no Disney-style Mario tears to bring Huey back to life this time. It's a subtle moment where Huey (in the yellow circle) rejoins the fabric of his world, and this story comes to an end.
---
Our picks for the best Paper Mario moments are just the beginning. The series is brimming with memorable moments, so sound off in the comments and let us know yours! Paper Mario: The Origami King is set to release on July 17, here's to hoping for many more memorable moments to this new entry to Mario's most unique spin-offs.