If you play games on a PC then you need a gaming mouse. While it's true that there a number of titles where a controller is the better option, you'll always find that first-person shooters, strategy games (real-time or otherwise) and MOBAs will either benefit from or require a mouse.
There is, however, a huge range of gaming mice to choose from, and picking one isn't always easy - especially as deciding which is the 'best' mouse often comes down to personal preference. More often than not, the most popular gaming mice are produced by three companies: Razer, SteelSeries and Logitech.
This article looks at each gaming mouse manufacturer, analyzes two of their most popular products, and decides which company ultimately deserves the title of 'King of the gaming mice.' This covers several different types of mouse, including ambidextrous, wireless and genre-specific. There's also an honourable mention for some of the other manufacturers who are challenging the top three's dominance in the market.
---
SteelSeries Rival 300
High-end gaming mouse
Costing around $80, the SteelSeries Rival 300 may be one of the cheaper 'high-end' gaming mice available on the market, but this isn't a sign of inferior quality. This mouse features a cutting edge PMW3310 optical sensor that offers precise movement thanks to its true 1:1 tracking.
The Rival also has a highly adjustable CPI. For those who don't know, CPI stands for Counts Per Inch and indicates how many times the mouse sensor will read its tracking surface (i.e. the mousepad) for every inch it's moved. This is commonly referred to as DPI or Dots Per Inch, although CPI is a more accurate term as DPI is an expression from the printing world. Basically, it's a representation of a mouse's sensitivity – the lower the CPI, the further you have to physically move a mouse to move the cursor on the screen.
The Rival's CPI can be adjusted from 50 to 6500, depending on a user's sensitivity preference. There's even a button under the scroll wheel that allows pre-selected CPI settings to be changed on the fly. This can be very handy if you're playing a FPS and you need to quickly lower the sensitivity when sniping someone.
The Rival also comes with a ton of other customizable settings, including the ability to program its six buttons, polling rates (how often the mouse reports its position to a computer), angle snapping (creating smoother movements), and acceleration/deceleration speeds (the speed the cursor moves in relation to how fast/slow you move the mouse).
Away from the technical side of things, the Rival also excels in the comfort and looks departments. Side grips, ergonomic buttons, and a great overall shape mean this mouse will allow for hours of use without causing hand cramps. It's also possible to fully customize the Rival's illumination with up to 16.8 million colors, four brightness levels, and three lighting effects.
Overall, the Rival 300 is an excellent mouse - its only problem may be that it doesn't know exactly where its place is in the market. The high price may put off those unlikely to use all its features, and having 'only' six programmable buttons (including the LMB and RMB) may not be enough for hardcore gamers.
You can buy the SteelSeries Rival 300 here for $60.
SteelSeries Sensei Raw
Ambidextrous mouse

When talking about gaming mice it can be easy to forget the fact that not everyone is right-handed, which is where the ambidextrous SteelSeries Sensei Raw steps up to the plate. But just because this mouse works equally well for Southpaws as it does for right-handers doesn't mean it compromises on design or features.
Despite the original Sensei winning numerous awards, SteelSeries' award-winning mouse did have some problems; its metallic finish didn't always allow for the best grip, the driver software wasn't great, and at $90 it was far from a bargain buy.
By removing the original's built-in processor, the price of the Raw dropped to $6,0 while still making it possible to switch between two CPI settings on the fly. The new rubberized coating means the grip is improved and longer gaming sessions don't cause unpleasant hand sweating. Plus, the accompanying software has been vastly upgraded.
The Raw is great for those who use a claw or claw/palm grip style and has SteelSeries' usual customizable illumination options. Not only is the Raw the best ambidextrous mouse on the market - definitely recommended to all leftie gamers – but it's also a brilliant all-round mouse. You can see why it's so popular on the eSports scene.
You can buy the SteelSeries Sensei Raw here for $40 (on offer!).
---
Logitech G602
Wireless mouse
There was a time when no serious gamer would ever consider using a wireless gaming mouse. Often laggy and unresponsive, these mice were reserved for those people whose PC gaming never extended beyond Candy Crush or MineSweep. In recent years, however, wireless mice have pretty much caught up with their wired cousins in terms of performance, while at the same time their battery life – once a major issue – has improved dramatically. And nothing shows how far wireless mice have come more than the Logitech G602.
This mouse eradicates lag thanks to its 500Hz, or every 2 milliseconds, polling rate provided by the 2.4 GHz wireless connection. Furthermore, the G602's battery life can be boosted up to 250 hours when in Performance Mode - eight times the average life of similar wireless gaming mice, according to Logitech. For those not fond of changing peripherals' batteries, there's also an Endurance Mode which switches the polling rate to 125Hz, or 8ms, that Logitech promises will provide 1440 hours of use.
The G602 is a fairly chunky and hefty mouse, aimed at those who prefer to use a flatter, palm grip. There are six thumb buttons on the side which, while not as many as some MMO-specific mice, still make it a good all-rounder. One caveat with these with these buttons, however, is that it can be difficult to distinguish between them in the heat of the moment.
As well as having a total of eleven buttons, including up and down CPI toggles, Logitech's mouse also features some great software, a durable build, and is available at a bargain $53. The G602 is easily one of the best wireless mice around, especially for the price.
You can buy the Logitech G602 for $53 here.
Logitech G300S
Budget mouse
Not everyone wants to pay a lot of money for a gaming mouse. While the prices of these peripherals do vary from about $50 to over $100, it's not easy to find a good example under $40 (when not on offer). The exception to this rule comes in the form of the Logitech G300S; the best gaming mouse you can buy at this price range.
Surprisingly for a mouse this cheap, the G300S features nine programmable buttons and on-the-fly CPI switching. It also has an ambidextrous design, meaning that while it may not be in the same class as the SteelSeries Sensei Raw, it's still an excellent choice for southpaws looking for a cheaper product.
Sensitivity wise, the GS300S goes up to 2500 CPI - which should be enough for most FPS gamers - and its polling rate of 1000Hz will keep things accurate. It also features configurable lighting that allows users to assign a particular color to a specific profile. So whatever profile you're using (from the three allotted) will be indicated by the LED color on the mouse.
Overall, the G300S is perfect for casual gamers on a budget who still want plenty of buttons, profiles and configuration options to play with. The only issue people may find is that it can feel a bit light and floaty for some tastes.
You can buy the Logitech G300S for $30 here.
---
Razer DeathAdder 2013
All-around gaming mouse
Put simply, the Razer DeathAdder 2013 is the best all-around mouse you can buy, which is why it's been my mouse of choice for the past year. Why is it so great? Because it manages to somehow attain an almost mystical balance of comfort, features, reliability, durability, sensors, weight, size, and price.
The DeathAdder's best feature is, arguably, how incredibly comfortable it is to use. The shape means it's one of the few mice that can be used with a claw, palm or hybrid grip. The subtle contours, left and right button grooves, and textured side pads make this a joy to use, while the matte plastic finish feels beautiful and lets users keep a firm grip. I use my DeathAdder for up to fifteen hours a day, 5 days a week, and not once have I experienced any hand cramp or discomfort.
Its 105 gram weight is perfect – not so light that it feels floaty and not so heavy that it feels cumbersome. And the mouse buttons have a perfect actuation force, making them easy to click yet not so sensitive that you'll find yourself hitting them by accident.
The DeathAdder isn't lacking in the features department, either, as it boasts a 6400 CPI optical sensor, polling rates up to 1000Hz, a huge scroll wheel, lift-off tracking, surface calibration, green LED lighting, and five programmable buttons (the LMB always stays the same). On top of all this, the DeathAdder uses cloud storage for storable profiles and configurations, rather than onboard device memory, meaning you can store a near-infinite number of settings as well as allowing for longer, more complex macros.
The cherry on top of Razer's DeathAdder cake is the fact that you can find this mouse for around $55 – an amazing price for what is: in my opinion, the best gaming mouse you can buy today.
You can buy the DeathAdder 2013 for $55 here
Razer Naga Epic Chroma
MMO mouse (wireless)
MMO mice are, obviously, aimed at fans of Massively Multiplayer games. That means these mice tend to have more buttons than your average numeric keypad. The Naga Epic Chroma is no exception, featuring a massive 19 programmable buttons, including a 12-button thumb grid.
Being the size that it is, this mouse is really only usable with a palm grip. But as it follows a similar design to the DeathAdder, the Naga is very comfortable, even when used for 10-hour Guild Wars 2 sessions. And even though it has twelve buttons next to your thumb, their size and shape makes it easy to select the right one. They also use mechanical switches, giving each button a nice clicking action.
One major feature with this mouse is that is can be used wirelessly while still keeping its 1000Hz polling rate. It also comes with a dock - which doubles as a wireless receiver - that gives the mouse about 20 hours of use. Furthermore, plugging in the USB charges the Naga as you use it, so no more waiting for it to power up.
You also get the same cloud-storage system as the DeathAdder, an in-game MMO configurator, 16.8 million color customization options, a mouse wheel that can tilt from side to side, a 8200 CPI sensor, and a built-in 32-bit ARM processor.
The Razer Naga Epic Chroma really is the Rolls-Royce of MMO mice, meaning that it doesn't come cheap. Usually retailing around $130 (although it's $105 on Amazon), it's a case of 'you get what you pay for.' This is the best mouse in the MMO category, as well as an excellent wireless peripheral.
You can buy the The Naga Epic Chroma for $106 here
---
Honorable mentions
Of course, there are many other companies that make good gaming mice, but they don't quite have enough quality products at the moment to challenge the top three. Here are some of them, along with one of the best gaming mice they have to offer.
Roccat
Roccat Nyth
Said by some to be the best modular gaming mouse ever made; Roccat promotes the multi-button Nyth as an MMO mouse, but it works equally as well with other genres. The modular, 12-button thumb zone and hot-swappable side grips mean you can physically customize this mouse exactly how you want it. The Roccat Nyth is available here for $100.
Corsair
Vengeance M65
The M65 from Corsair is one of the greatest gaming mice you can buy for FPS games. The large buttons, simple layout, 8200 CPI sensor, and dedicated sniper button really show the M65's first-person shooter credentials. It's also got selectable response times and works with both palm and claw grips. The Vengeance M65 is available here for $55.
Mad Catz
R.A.T.7
Mad Catz is known for its quirky-looking, highly customizable gaming mice, and the R.A.T.7 is one of the best the company has to offer. It may be getting on a bit (and its looks aren't for everyone) but this mouse is so customizable that it even comes with its own Allen wrench - kept inside the mouse itself. And if it's too light/heavy for you, simply add or remove the included weights. You can buy the Mad Catz R.A.T.7 here for $94.
Mionix
NAOS 7000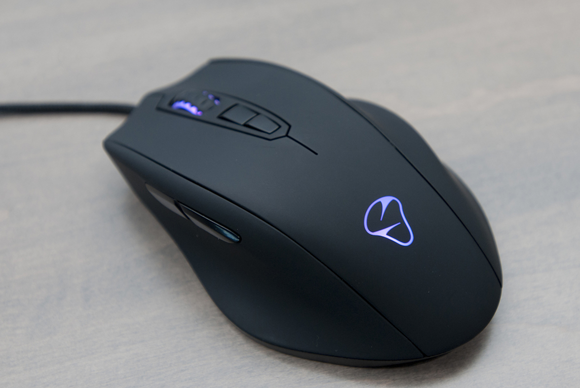 If you prefer to use nothing but a palm grip on your gaming mouse, then Mionix's huge NAOS is the peripheral for you. This incredibly comfortable device has space for all five fingers and features a 32-bit ARM processor alongside 128kb of built-in memory. Despite all the bells and whistles, this mouse retails at an incredibly low price. You can buy the NAOS 7000 here for $55.
---
And the winner is...
In the words of the Highlander: "there can be only one." While he wasn't talking about which gaming mouse company was King, the same principle can be applied here. Picking a winner is far from easy, and as there's so little to chose from between Razer, SteelSeries and Logitech. The decision pretty much comes down to personal preference. Ultimately, though, I'll have to declare the winner to be...*drumroll*

Yes, Razer just barely beats the other two companies to the top spot, thanks partly to its DeathAdder 2013 – an almost perfectly-balanced, near-faultless mouse. Combine this with its Naga, Ouroboros and Mamba range, and you can see why Razer is the industry leader and King of the gaming mice.