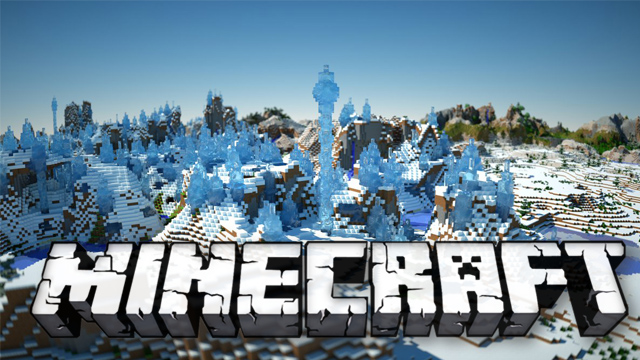 When it comes to snow biomes in Minecraft you know that it's not going to be filled with villages and temples - these structures simply don't generate there. It is a special kind of biome that generates mostly naturally beautiful and quite places, unless you look deep into the underground. This is where all the fun takes place.
Here, you will find some of the best snowy Minecraft seeds with the typical frozen rivers, igloos and icy spikes on the surface, and exciting strongholds with end portals and treasure rooms, deep ravines and abandoned mineshafts beneath the surface.
---
Seed: 5855666058316996616
Version: 1.9
Spawn at the edge of the beautiful ice spikes biome. Very close to the spawn point you will find a ravine, at these coordinates 142 68 137 to be exact. It is full of valuable resources, such as iron and coal.
There is a spider spawner nearby as well (200 64 73). Inside the spawner, you will find a chest with a golden apple and 4 redstones. Both of these items are extremely valuable.
More than that, behind the entrance to the spawner you will see an igloo on the surface (173 67 34). Get inside and dig down to find the entrance into the secret underground room. There is a chest with another golden apple!
---
Seed: -2174970145073131300
Version: 1.8.9
Spawn amidst a large snow plains biome with a multi-level ravine at the following coordinates 274 64 -78. The cave system within the ravine is very rich and takes you to all kinds of places. For example, at 167 20 -139 you will find an abandoned mineshaft.
Also, you can locate an entrance into a dungeon full of zombies and skeletons by teleporting to these coordinates 195 68 -146. If you need resources, then head to 234 27 -83 for a vein of gold ore.
---
Seed: -4039626060691161202
Version: 1.7.2
Spawn on the surface of a small patch of plains biome completely surrounded by snow plains. The green area includes a small village, which apparently couldn't spawn on the top of a snow biome. There is no blacksmith here, but this Minecraft seed is excellent for a beginner-level survival game.
---
Seed: 106762004
Version: 1.8.1
Spawn in the middle of the spruce forest that stands close to a massive snow plains biome. You will find a large ravine at the following coordinates 603 66 527. On the bottom, you will see an abandoned mineshaft with a chest that includes 7 redstones and 3 gold ingots.
If you want to find a village with NPCs, then this snowy Minecraft seed offers two of them. The first one is located at 1239 71 388, while the second one can be found at 1661 66 212.
---
Seed: 7352190906321318631
Version: 1.8.3
Spawn at the border of an ice spikes biome and a forest. At the very beginning of the snowy area close to the spawn, you will find a deep ravine. It can be used to locate an underground stronghold. However, if you feel lazy, then just follow our instructions.
Teleport to 230 37 -671, where you will find an end portal. If you look around, you will notice that this stronghold is huge, so it's easy to get lost. Don't waste your time and go to these coordinates 227 43 -707 where you can locate an entrance into the stronghold and a huge library.
If you're looking for some goodies, then go to 173 36 -698 in order to find two treasure chests with 3 diamonds and 5 iron ingots.
---
Seed: 1573998212
Version: 1.9
You will spawn in the snowy area with a great view on a frozen beach. There is an igloo close to the spawn (324 63 156), but this one, unfortunately, doesn't have a secret room beneath. However, you can teleport to these coordinates 465 29 103 for a zombie spawner and an abandoned mineshaft nearby (405 30 101).
---
Seed: -1826678330
Version: 1.8
Behold the rarest of sights! You will spawn in the jungle forest that stands right next to an icy spikes biome, which is a total paradox in reality, but a mere reality in Minecraft (620 75 -470). There is also a huge mesa biome in an opposite direction and a jungle temple at 1280 75 640 with two chests holding 10 gold ingots and 4 iron ingots.
---
Seed: 3079807
Version: 1.7.8
Spawn in the midst of a snow plains biome with a whole slew of river streams covered with ice. There isn't much to this Minecraft seed except a zombie spawner at the following coordinates 106 72 89. So, if you want to spice up your survival game, then get in there and fight some zombies!
---
Seed: 6939799821747251819
Version: 1.8
You will spawn close to an extreme hills biome with an NPC village nearby. These mountains are vast, tall and covered with snow. If you decide to check out the blacksmith at the village surrounded by the hills, you will find three diamonds and a few other basic things to help you get started.
---
Seed: 2657472522487126021
Version: 1.7.9
Spawn in the thick of a forest biome. If you travel to the west of the spawn area, you will find cold taiga biome (148 75 237). Then, keep going west until you reach a snow plains biome with a few seldom patches of icy spikes (-311 80 330). And, finally, at these coordinates -480 78 500 you will locate a full-fledged ice spikes biome with a deep ravine nearby.
What is your personal favorite snowy Minecraft seed? Share it in the comments section below.