Most Minecraft mods utilize texture packs in one way or another. It's a great way to transform the look of the blocks and create a whole new world. If you consider creating mods yourself, then you need to be familiar with the most used resource packs by the Minecraft community.
This selection includes some packs that completely change the shape of the biomes, while others perform a subtler function by simply increasing the resolution of the blocks. So no matter what it is that you want to do in Minecraft, these texture packs will help you accomplish any of your tasks.
---
Equanimity 32x
This texture pack has a lot to offer, but what you may be really interested in are the water blocks -- these are absolutely gorgeous here. Also, the metal blocks are some of the best-looking of all other resource packs.
You can use them to craft heavy doors or even gates to protect your settlement from any kind of danger. And, if you install an Optifine mod on top of the Equanimity texture pack, the blocks will look simply stunning.
---
Faithful 1.11
What if you don't want to change the look of the blocks, but only their resolution? Here is a texture pack that doesn't change the design of the vanilla Minecraft blocks, but simply makes them more detailed.
After you install the Faithful resource pack, you will immediately notice that the game looks more polished and detailed in contrast to its default mode.
---
Invictus
Invictus, previously known as Soartex, is the resource pack that is specifically designed for those who like to create minimal interiors. This pack will perfectly fit those modders who enjoy creating modern houses and villas in Minecraft.
It offers lots of highly detailed blocks for tables, anvils, wood planks, planters, etc. The creators of the pack promise that the level of refinement will definitely strike you.
---
Mine Theft Auto
Everybody knows Grand Theft Auto series of video games. This cool texture pack not only adds thematic GTA blocks and items, but also sounds.
Obviously, you could create an entire GTA-themed world map in Minecraft using this resource pack. However, it also proved to work great when constructing modern day neighborhoods, since it has all the necessary blocks for it.
---
Pixel Perfection
The best thing about Pixel Perfection is that it completely changes the way The End or Netherworld looks, and not just the vanilla Minecraft environment.
There aren't that many texture packs that go as far as change the look of the mobs and other entities either, but this one does everything perfectly, hence the title of the pack.
---
Lithos:Core 32x
What is Lithos? It's many things! First of all, it adds little visible cracks and weary effects to the blocks that have been damaged. Secondly, it allows you to combine different blocks and create your own unique ones, and then when you break them down, you get your old blocks back.
And lastly, it adds a new look to your crops and plants. You will see their growth in more detail, and that is every Minecraft farmer's dream.
---
Pixel Reality
As the title of the pack suggests, it provides you with incredibly realistic Minecraft textures. This is a great alternative for those who can't use hefty graphics mods such as SEUS, but still want to make their Minecraft environments look more real.
As you know, texture packs simply change the old blocks for new ones, so it doesn't put too much work on your processor, unlike mods. So, if you have a low-end PC, this texture pack is the best for you.
---
Soartex Fanver
Here is another iteration of the Soartex resource pack, but this time it is made by the fans themselves. It has been greatly updated and now features tons of some of the coolest-looking blocks in Minecraft.
The main feature of this texture pack is that the blocks look balanced -- they're neither too cartoony nor too realistic. It's a very fine piece of work and that is the secret behind why Soartex packs have been some of the most favorite among the Minecraft modders.
---
Firewolf
Firewolf is made to improve one very narrow area of Minecraft -- naturally generated blocks, whether those are grass blocks, or dirt, or stones...
However, what makes this texture pack special is an immense resolution of the blocks -- 128x128. Most of the Minecraft modders simply don't need the block resolution higher than 64x64, since the blocks already look much better than the vanilla version. But if you want extra detail and gloss, then you should definitely install Firewolf.
---
Default-Style Christmas Pack
It's that time of the year when you want to feel the spirit of Christmas in everything you do -- especially Minecraft modding.
This Christmas-themed texture pack has everything you need to create a perfect Xmas atmosphere with hundreds of both interior and exterior items. Even the mobs look happier in their brand new festive attires.
---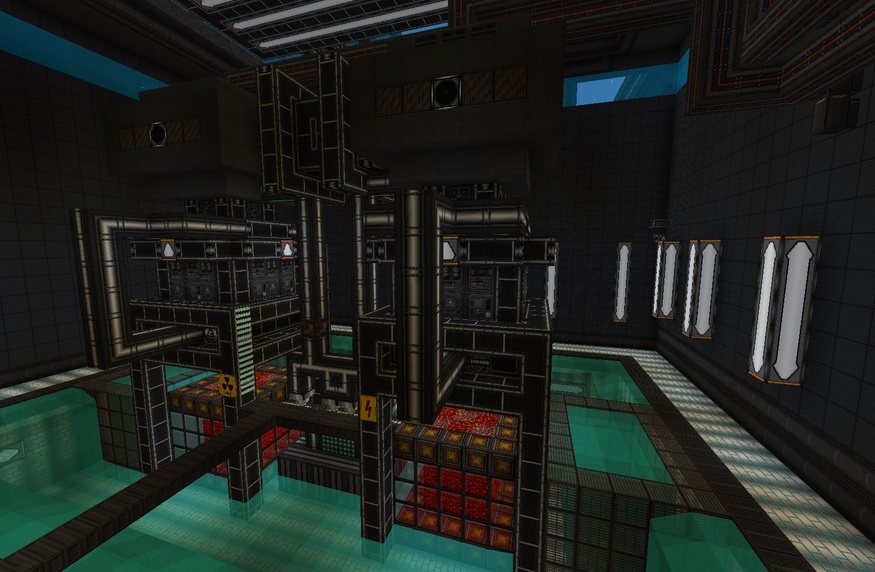 Norzeteus Space 1.11
If you are one of those people who would rather spend a few hours in space rather than beside the Christmas tree, then here is the best Minecraft texture pack for you.
With the help of Norzeteus pack you are no longer the resident of Earth -- now you are located on a strange planet filled with robots, weird machinery and dreadful mechanical castles.
Now, after you've seen these great choices, which of the 11 packs inspired you the most? Leave your feedback in the comments section below.