The latest PC Minecraft update 1.11 has introduced the new neutral mob, llamas. Since its release, players have been more excited and hyped for the furry spitting creatures than a bunch of teens at a One Direction concert. One of the primary features introduced along with them is the ability to beautify the llamas with various colored carpets.
So without further ado, let's have a good old fashioned llama beauty competition and countdown the five most majestic llamas in Minecraft 1.11.
---
5. Magenta
The first on our list of top 5 llamas is the Magenta decoration. This decor is one of the more unique carpet designs and gives the llama a very Arabian Nights or Aladdin feel to it.
While you wouldn't catch me dead trekking across the desert on a magenta llama, it is sure to be a favorite among the community. Just equip your llama with a magenta carpet and you are good to go.
---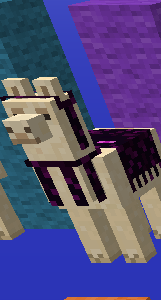 4. Purple
Taking 4th place on the list is Purple. The purple is one of the more common and basic decors in design but it's darker color really sticks out in comparison to the other more vibrant colors on offer.
If this sounds like a design for you, stick a purple carpet on your llama and presto you've got this nice and simple design.
---
3. Blue
While its design is quite similar to that of the magenta, it is still unique compared to many of the others. A blend of dark blue with yellow patterns makes this decor quite appealing to the eyes.
I'd be more than happy to gallop around in a Minecraft world with llama's following me with this design. To get this design you just need to place a blue carpet on your llama.
---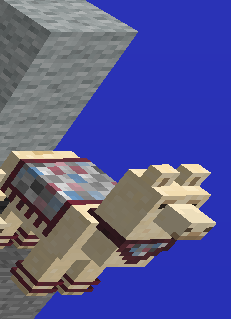 2. Light Grey
The Light Grey design gives the feeling of being a real cowboy or lone wanderer. Not only is this design appealing but the llama is even wearing a bandana around its neck. How cool is that!?
The Light Grey design is definitely one of the most unique of the decors available for the llamas but there is one more that looks even better -- only by a thread though. To get your own cowboy like llama simply equip it with a light grey carpet.
---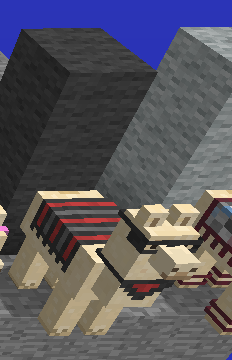 1. Grey
First place goes to the Bandit llama! Come on now, who wouldn't want a bandit llama? This thing is brilliant and without a doubt the most unique of the decors available for the lovable creatures.
I could just imagine travelling to a friend's little village and going to their house and shout "Stick them up this is robbery!". All you would need is a bandit skin for your character and you are set to go! To get yourself a bandit llama, all you need to do is give it a grey carpet.
---
And there you have it, the top 5 most majestic llamas in Minecraft 1.11. From the Aladdin style magenta to an attractive blue design and even the brilliant bandit llama, there is bound to be a design to suit everyone's taste. You will need to remember that the llamas wool has a total of four different colors depending on the biome they come from, ranging from white to brown.
What do you think of the list? What are your favorite decors for the llamas? Let me know in the comments below!