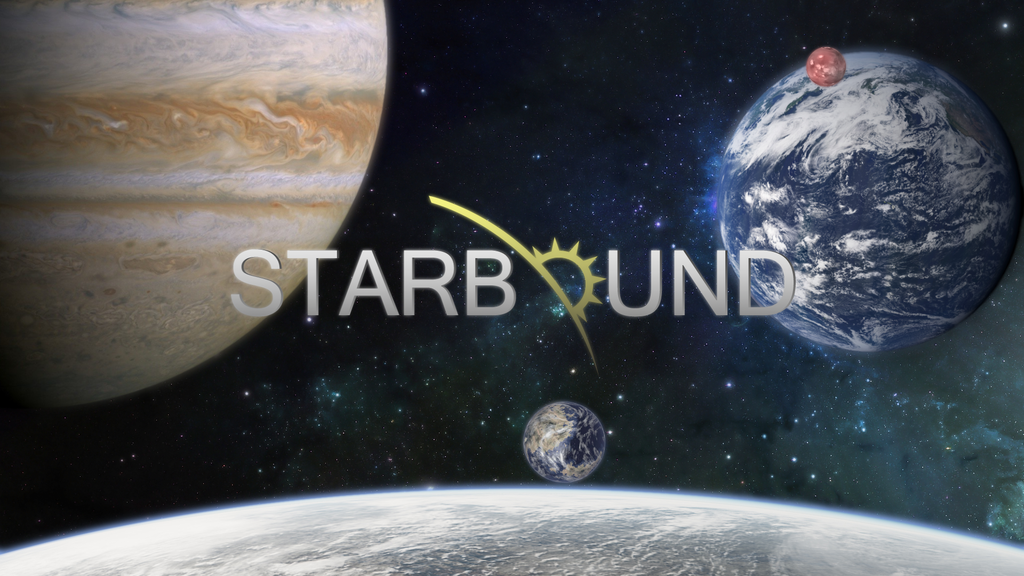 Experience the power of procedurally generated content in Starbound, as you embark on a journey to explore the confines of the universe.
As the game's developer says on Starbound's official page on Steam:
In Starbound, you create your own story - there's no wrong way to play! You may choose to save the universe from the forces that destroyed your home, uncovering greater galactic mysteries in the process, or you may wish to forego a heroic journey entirely in favor of colonizing uncharted planets.
However, as players explore the myriad of possibilities this game has to offer, there is a dedicated community working on improving the Starbound experience and making sure it suits the needs of its larger audience.
We are talking about modders.
There are hundreds, if not thousands, of modifications available for you to download and customize your intergalactic journey.
In order to make it easier for your to choose the mod that works best with your play style, we have compiled a list of eight mods you must check if you are an avid Starbound player.
---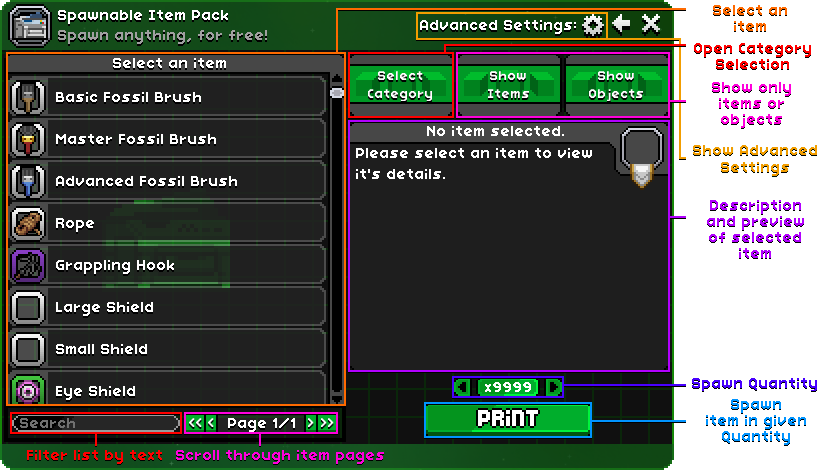 Spawnable Item Pack
Download it on: GitHub
Exploring different worlds, in order to look for supplies, is one of the core elements of this game, but some players see it as a limitation.
If you simply want to get as powerful as possible, without enduring the labor of extracting items from different worlds, then this mod is for you.
It allows you to spawn any item in the game for free, so material goods will not impede your progress toward becoming the most powerful force in the galaxy.
---
Enhanced Storage
Download it on: The official Starbound MOD repository
If you are looking for ways of becoming a bit more powerful, without undermining the game's core experience, then this mod may help you find a balance that suits your taste.
It mainly focuses on your ship's storage, but provides many other changes as well:
1.) Stored items in a container will be kept inside after smashing.
Items from world-generated containers can simply be picked up by smashing the container when the container was not opened before.
2.) Increased container space for all storage containers.
The number of slots depends on the used area of each container to maintain balance between small and large containers.
It is possible to increase the container space even more with an add-on mod.
3.) Items in a container can be sorted.
Sorting priority: Rarity -> Category -> Name -> Count -> Rot time.
Pressing the sort button again toggles the priority of Rarity (uncommon essential).
So if you're an intergalactic hoarder -- or just need some more space for that epic space journey you're about to embark upon -- make sure you check this mod out.
---
Fracking Universe
Download it on: The official Starbound MOD repository
This mod will change most of the major aspects of the Starbound experience.
While the major features are listed in the image above, the developer of the mod also offers insight on the most important mechanic of this modification:
The primary focus [of this mod] is gene-engineering your own plants, each with their own qualities and uses to make play more interesting. Want a plant to allow you to hover when eaten? Done. Need protection from radiation? There's one for that, too. The sky is the limit!
Pretty nifty, right?
---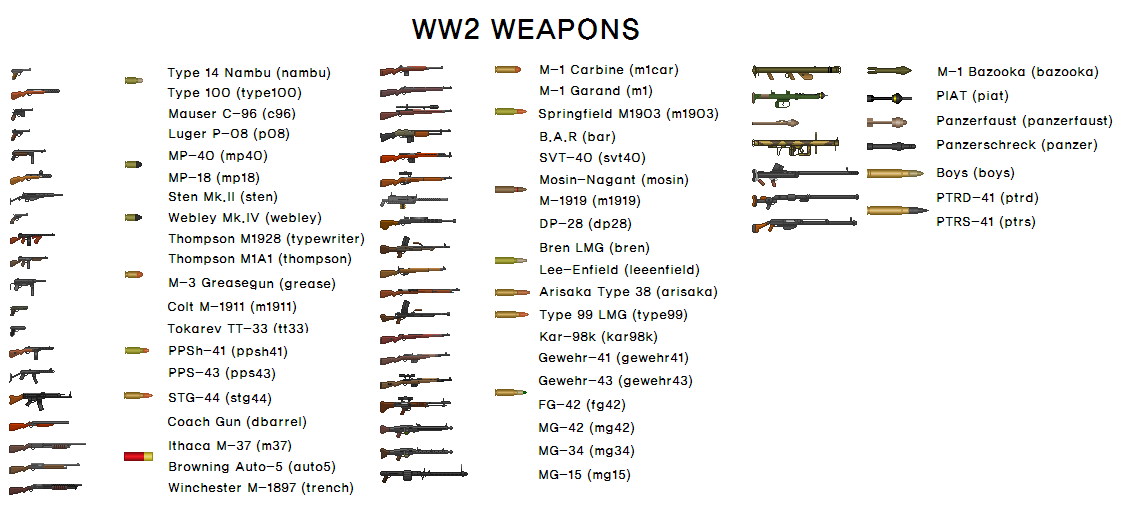 Barrett's Armory Season 2 : Cold War 0.55
Download it on: The Starbound official MOD repository
Are you a Starbound player but also love Call of Duty?
This mod offers you the chance of combining both games in one, as it adds several weapons from World War II to the arsenal of Starbound.
Above is a list of the arms added to the game via this mod.
According to the developer, updates are on the way and of course, that means more guns.
---
Sergal Race
Download it on: Nexus Mod
This mod adds a new race to Starbound, but that is not all. It also adds many elements to the experience, including new weapons, armors, objects, ships and much more.
If you are interested in this mod, however, its creator has advice for you:
This mod absolutely requires a character creation extension mod so that you can actually select the race. Make sure you don't have a previous version in your mods folder before installing!
---
Marauder Equipment Mod
Download it on: Nexus Mod
Not every mod needs to be a drastic change to the experience of the base game. Some may alter the game, but just by making small changes to it.
This is the case for this mod. Enjoy four new sets of weapons and armors that will add some novelty to your intergalactic endeavors. Craftable with any crafting table, these sets are made with some of the very best materials you can find in Starbound. With this mod, you'll be the talk of your solar system.
---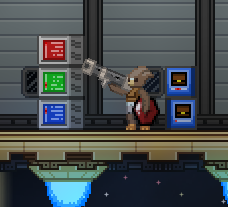 Creative Mode
Download it on: Mod Nexus
Back to the land of mods that change the game in its entirety.
Inspired by Minecraft, this mod grants to the player unlimited resources. Creativity is now the only boundary to determine how far the community can go with its in-game projects.
If that was not enough, the mod also adds overpowered weapons and indestructible armors, so you do not need to worry about combat and can focus only on building the largest projects possible.
---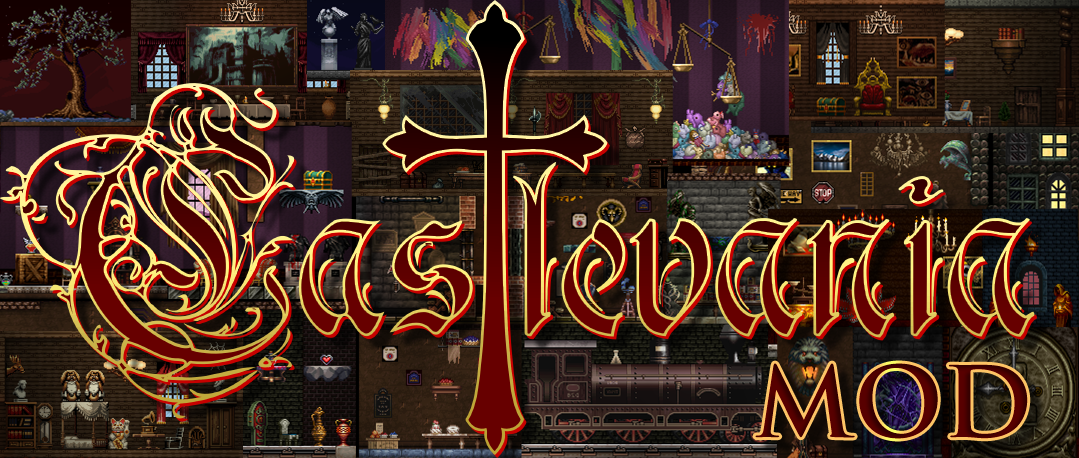 Castlevania
Download it on: The Starbound official MOD repository
Do you miss the old days of the Castlevania franchise? This mod will give you the nostalgia you seek, replacing maps and items from Starbound with the elements of Castlevania.
As the developer lists, there also are minor changes that come with the mod:
Invisible light sources
Invisible scanner
Invisible X or switch
Vanilla items for sale:

pickaxes, fossil brushes, light augments, upgrade and manipulator modules, tech cards, etc.

Invisible back and head gear
---
A game with procedural programming can produce an infinite amount of content to fill its universe, but despite all of the weapons, landscapes and planets that constitute the galaxy of Starbound, in the end, it is all about the player.
Sometimes the user may want to tweak the experience and if you fall in this category, we hope this list has provided you with interesting content to continue to cultivate your love for Starbound.