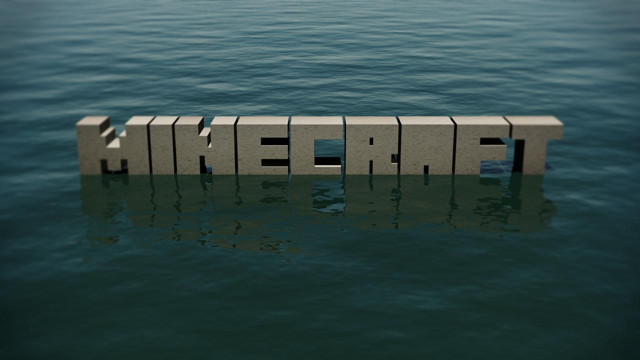 Exploring Minecraft can be terribly time-consuming, but at the same time, it can be absolutely fun. Every player will find something to call their own in each seed, regardless of their ability, skill, or fantasy.
However, if time is too precious and you can't waste it looking for all the villages and temples on your own, here is a selection of top Minecraft seeds to help you out.
Look through these amazing finds, and when you see what you like, just enter the seed number into your client and start playing immediately. Let's go!
---
Seed: 659619385200650
Coordinates: -196 66 62
Biomes: Ocean, Plains, Desert, Savanna
It's all about diversity of biomes in this survival Minecraft seed! You start on the ocean shore that hosts 11 monuments and an entire mushroom island at coordinates -582 63 728.
Here are the coordinates to all eleven ocean temples in this area:
296 216
248 -376
184 648
-264 1128
696 -808
-1304 680
1144 -856
1192 -1144
1192 -280
1352 -1288
-1320-792
There are also four villages in this seed set in various biomes. The closest village to the spawn point has three diamonds inside the smithy's chest, as well as some obsidian. Here are the coordinates to all four villages:
-344 24
-664 -264
-712 248
-1352 88.
---
Seed: 551562264568266428
Coordinates: -233 64 -109
Biomes: Plains, Jungle
Double jungle temple Minecraft seed! Right after you spawn, go to coordinate -505 77 1108 for the first of the seed's two temples. It is the one with the best loot:
3 diamonds
3 emeralds
18 gold ingots
The other temple can be found at coordinates -843 74 532. There are no emeralds here, but you get to have some of the other expensive stones, so it's worth the travel:
---
Seed: -860131648790973722
Coordinates: 224 68 85
Biomes: Plains, Roofed Forest, Extreme Hills
You will spawn a few hundred blocks away from a massive woodland mansion at coordinates 844 71 -575 that stands next to snow-covered hills. The hidden chest at coordinates 766 75 -538 holds some redstone for you.
If you travel in the opposite direction from the spawn point, you will encounter a village at coordinates 1 66 -725. The blacksmith keeps some amounts of obsidian inside his chest, and a few other useful things.
---
Seed: 246222971752208703
Coordinates: -242 69 260
Biomes: Plains, Roofed Forest, Extreme Hills
Go a bit to the east from the spawnpoint for another woodland mansion at coordinates 326 67 76, which stands on the water. Be extra careful inside the mansion -- it is infested with zombies.
Not far away from the mansion there is a small village at coordinates -202 71 -402. Below the settlement, you will find two zombie dungeons, one right under the other at coordinates -203 39 -401 and coordinates -203 17 -400. Check out some of the stuff that is kept in the treasure chests:
9 redstones
1 diamond horse armor
1 iron horse armor
3 iron ingots
Enchanted Book - Mending
---
Seed: -894884856946624
Coordinates: -37 73 -212
Biomes: Birch Forest, Jungle
You spawn at the edge of a massive jungle biome that holds four jungle temples. Each temple has a set of two treasure chests, so you ought to find them all by following these coordinates.
-1001 101 -217; -1366 74 -492; -890 76 -873; -777 80 -1339.
When you end up getting all the chests in your possession, here's what you will have:
1 diamond
1 emerald
1 diamond horse armor
14 gold ingots
11 iron ingots
---
Seed: 517383207068332593
Coordinates: 203 67 24
Biomes: Jungle, Roofed Forest
You will spawn on the border of a jungle and desert biome. In the east, at coordinates 1494 63 652, you'll find roofed forest shelters and a gigantic woodland mansion that is over a hundred blocks tall.
Underneath the mansion you will find an abandoned mineshaft with a chest holding a golden apple at coordinates 1559 44 574.
---
Seed: -463299469521835479
Coordinates: 243 62 187
Biomes: Swampland, Roofed Forest
you spawn right next to a small village that stands on a swampland. There is a blacksmith with some basic items in his chest, but the real goods are hiding underground in the dungeon at coordinates 354 31 204.
Should you head upward in the north-eastern direction, you will find a glorious woodland mansion standing at coordinates 1533 71 -952.
---
Seed: -056667532182171
Coordinates: 830 65 4
Biomes: Ocean, Savanna, Plains
You'll spawn on a small survival island and travel a bit north to the following coordinates: -249 66 -375. There is another island with a village that almost entirely stands on the water.
But the best part is the blacksmith's treasure chest that contains:
1 diamond
8 obsidian
1 gold horse armor
---
Seed: 995468833571928
Coordinates: 55 70 148
Biomes: Plains, Desert, Swampland
In this seed, there's a village and desert temple at your spawnpoint! You don't need to travel anywhere, just enter the seed into your Minecraft client and you will have access to a village with a blacksmith and a desert temple with all of its loot:
2 emeralds
1 diamond horse armor
1 gold horse armor
2 gold ingots
Enchanted Book - Blast Protection II
Enchanted Book - Depth Strider I
---
Seed: 315126085984875
Coordinates: 9 63 -109
Biomes: Plains, Desert, Mesa
You'll spawn in the center of a large mesa biome with a desert strip at its edge, which generates a desert temple at coordinates 696 64 43. It's a rare sight that you simply can't miss... oh, and the loot, too:
1 golden apple!
1 gold horse armor
1 iron horse armor
7 gold ingots
Enchanted Book - Feather Falling I
Enchanted Book - Depth Strider III
---
Seed: 432164794597324
Coordinates: 172 70 246
Biomes: Plains, Taiga
There's a taiga village at your spawnpoint! And another one a bit to the north at coordinates -380 74 -246. There's also a third one to the north at coordinates -716 64 -1325. So, this seed has three villages in total that are very similar in design -- except only the last one has a blacksmith.
Also, it connects to an abandoned mineshaft that has two chests at coordinates -776 23 -1156 with the following items:
6 redstones
3 iron ingots
Enchanted Book - Fire Protection I
---
Seed: 56850137381554619
Coordinates: -98 71 234
Biomes: Taiga, Jungle, Plains
One of the best ways to collect precious items in Minecraft is to raid jungle temples. This survival seed offers multiple jungle temples that spawn relatively close to each other. Here are the coordinates:
-827 74 -394
-1002 83 -729
-1371 74 -137
-1403 79 216
You can quickly go around and snatch all the chests, and doing will give you the following resources:
5 emeralds
1 iron horse armor
28 gold ingots
11 iron ingots
---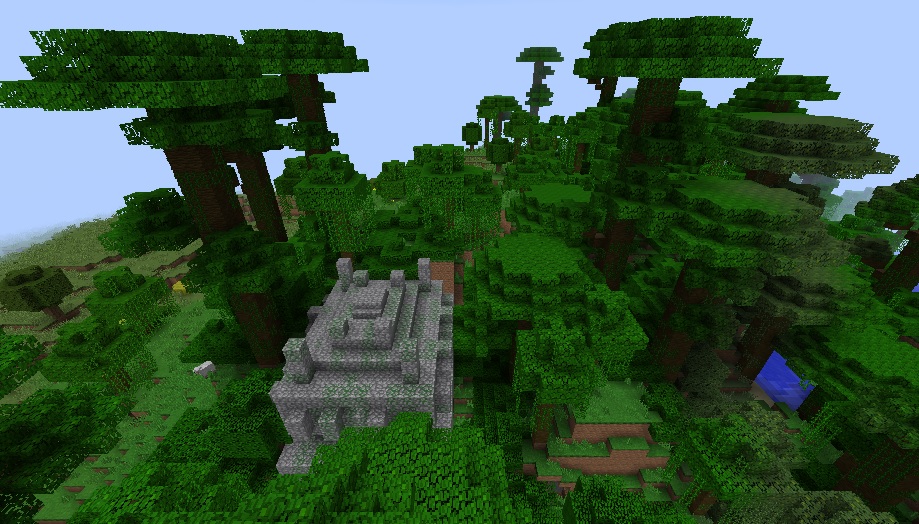 Seed: 261098439348775723
Coordinates: 217 72 202
Biomes: Jungle
In this jungle Minecraft seed, you will find two temples that are positioned relatively close to the spawn point. The first one can be seen at coordinates 149 83 -137. It holds goodies such as:
1 emerald
16 gold ingots
5 iron ingots
The second jungle temple is a bit further at coordinates -187 67 7, and it's got something extra for you:
1 diamond
1 diamond horse armor
---
Seed: -808067027274996
Coordinates: -253 71 -82
Biomes: Miscellaneous
This survival Minecraft 1.11.2 seed offers a whole variety of biomes within a reasonable reach.
You will spawn on the border of ice plains and taiga biomes. The ice plains cover the entire southern part of the area. And in the eastern direction, you will locate extreme hills and forests. On top of that, in the western part of the map there is a way into the ocean -- and across that is a desert biome.
To the north you will find a massive jungle biome thaneighborsrs a massive mesa plateau.
---
Seed: 798398567533724
Coordinates: -83 68 154
Biomes: Desert, Ocean
Spawning near a huge desert island with a village and temple, you'll find civilization at coordinates -264 64 633. There is a church and a smithy, who has some gold inside his chest.
The desert temple is on the opposite side of the island at coordinates 57 68 1034. The four chests in its secret chamber contain:
2 golden apples!!
1 diamond
1 gold horse armor
Enchanted Book - Smite III
---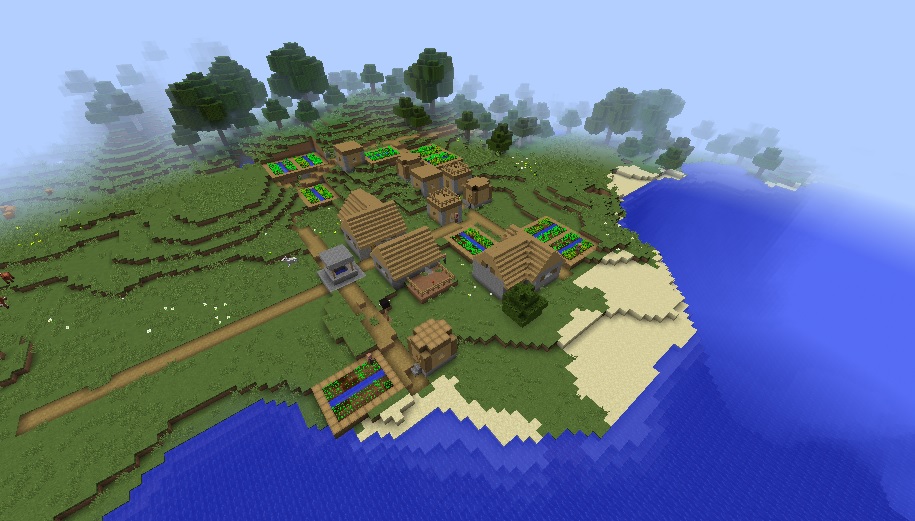 Seed: 749043640376377
Coordinates: -191 68 249
Biomes: Forest, Plains
Tripple village seed at spawn! You start in the small forest patch that is surrounded by three villages at coordinates -312 65 88, 40 72 52, and -456 67 632.
One of the villages has a blacksmith, who's keeping diamonds and obsidian in his chest, so check him out. Another one has an entrance into the zombie dungeon at coordinates -431 12 644. Here's what you will find there:
1 golden apple!
1 gold horse armor
Enchanted Book - Sweeping Edge II
---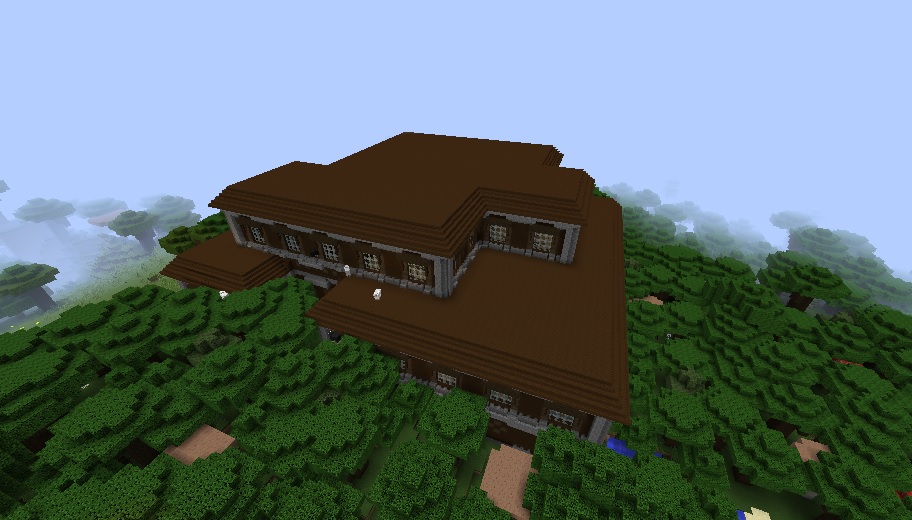 Seed: 895239466782101330
Coordinates: 120 95 23
Biomes: Mesa, Roofed Forest
You'll spawn on a mesa plateau with an adjacent roofed forest that hosts a woodland mansion at coordinates 557 73 -627. It's of an unusual composition with its ground floor being literally buried underground.
Usually, mansions are tall buildings, but this one is rather wide than tall. It also has a storage room with chests on the first floor.
---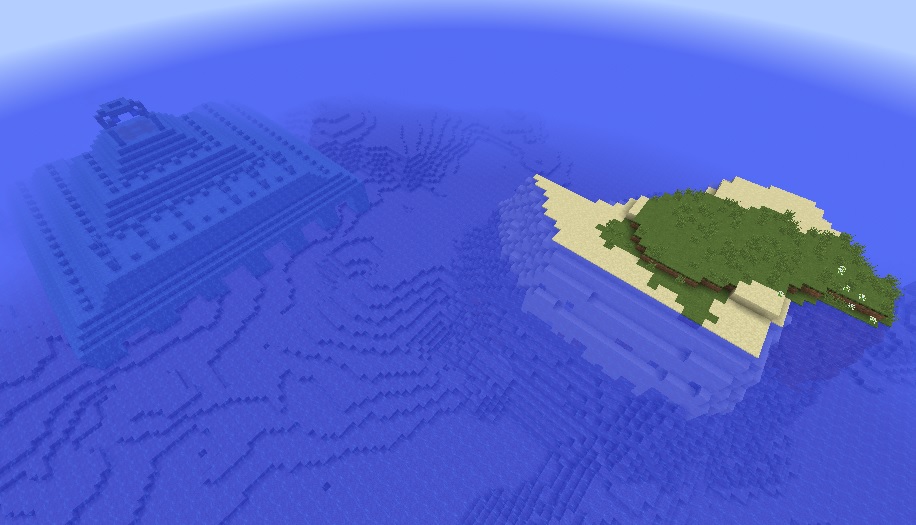 Seed: -575577443555714
Coordinates: 11 64 141
Biomes: Ocean
There's an ocean monument at spawn! You appear on a tiny survival island that stands right next to an underwater temple.
This is very convenient and gives you a whole lot of gold from the get go. Just make your way to the central chamber at coordinates 36 42 180 and mine some gold.
---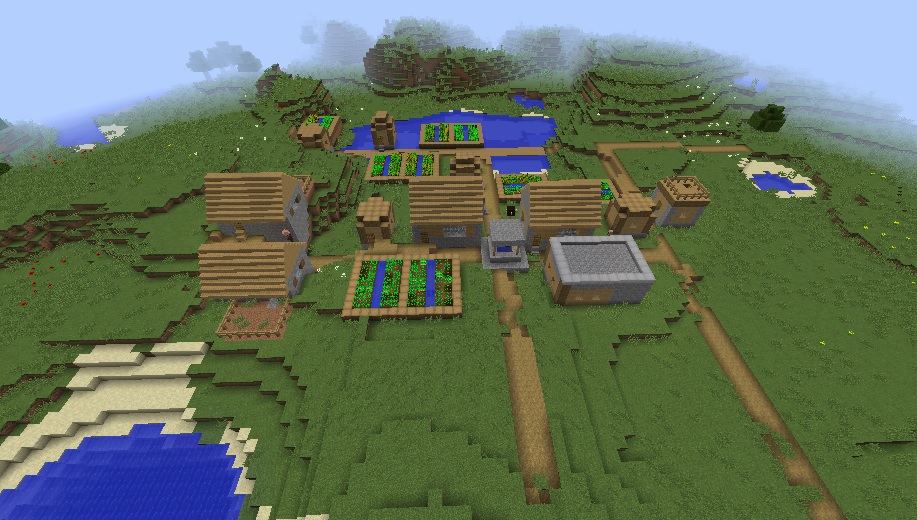 Seed: 411283021707174
Coordinates: 41 69 261
Biomes: Plains
This seed has a village with a blacksmith at spawn! It's such a great feeling when you spawn right next to a village with a smithy that has everything you need for mining, such as iron pickaxe and iron boots.
Take that gear and make your way to the zombie dungeon at coordinates 158 32 193 and get hold of some nice loot:
2 golden apples
4 redstones
---
Seed: -4639984693818443209
Coordinates: -235 85 -70
Biomes: Desert, Flower Forest
If you like unusually structured villages, then this Minecraft seed is for you. It is spread all over desert hills with blacksmith standing above the rest of the buildings.
But the most exciting thing is the patch of flower forest nearby that creates a wonderful landscape in contrast with dry desert.
---
Hopefully, you have found a seed that you've been looking for in this Minecraft seeds selection. Leave a comment below which seed you liked the most so that others can explore it as well.