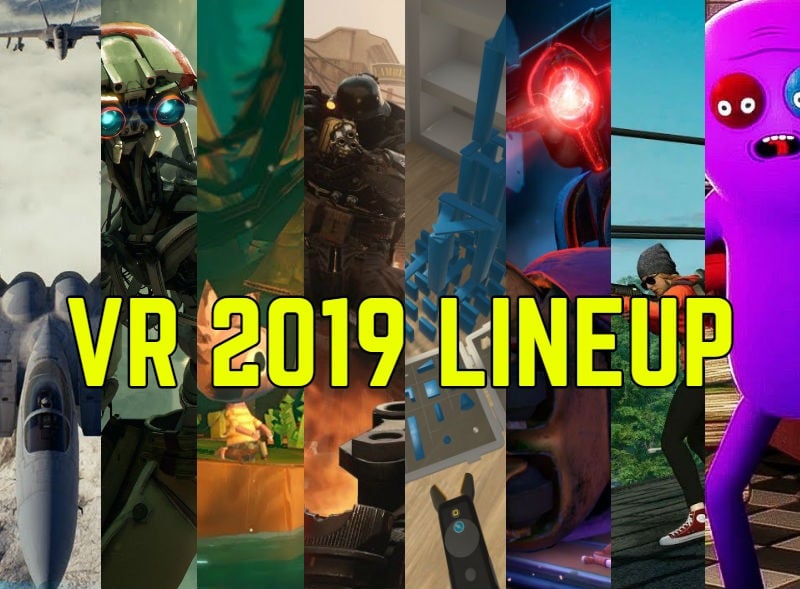 Any given trailer for a VR title these days still gets hit with the running gag about how 5 people will love the game when it releases, but the notion of VR remaining firmly underground is about to be strongly challenged in 2019.
A whole lotta killer games have already arrived since our article earlier in the year looking at whether PSVR in particular is worth investing in at this point.
Between horror games like The Persistence, shooters like Firewall Zero Hour, and platformers like Astro Bot: Rescue Mission, there's just no reason not to jump into the VR fray anymore.
There's plenty more slated to land in the next month before the year's over as well, such as Arca's Path coming soon and two Persona dancing games arriving in early December.
That's just the beginning though, as 2019 is unquestionably going to be the year VR breaks out into the mainstream. In the slides ahead we round up the 11 most anticipated tiles in every possible genre!
While many of the upcoming games in our top 11 picks will be available for the PSVR, we've broadened out our search across the entire VR lineup, including Oculus Rift, HTC Vive, and Windows Mixed Reality.
---
Star Child
Release date: December 31st, 2018
Platform: PSVR
Yes, Star Child does in fact arrive one single day before it officially becomes 2019, but you'll forgive us, right?
This looks like the new unexpected VR game that's going to provide a totally different experience than you'd expect, much like Moss did for PSVR at the beginning of the year.
Based on the trailer, it seems like we're in for some crazy platforming and giant boss-dodging action in a unique alien landscape.
---
Borderlands 2 VR
Release date: December 14th, 2018
Platform: PSVR
OK, OK, we're cheating even more with Borderlands 2 VR! This one comes out December 14th, a half month before its officially 2019, but that's not going to stop us from putting it here.
This is easily my own most anticipated title as it provides another opportunity to face off against awful dad Handsome Jack and interact with the amazingly psychotic Tiny Tina yet again.
Who else absolutely cannot wait to joy puke your face off in virtual reality? Of course, with this version of the game arriving soon, it leads to a more important question... where the hell is Borderlands 3 already?
---
The Mage's Tale
Release date: Very up in the air
Platform: PSVR (already out on PC)
This full VR RPG set between The Bard's Tale 3 and 4 is actually already out now on Steam, but it was actively in development for a PSVR port in early 2019.
Sadly, the fate of this one is now very up in the air sadly, with InXile just being bought out by Microsoft.
We can't imagine they'll be keen on letting their new acquisition release a game on a rival console, but there's been no official word yet on whether this is actually cancelled or not, since it had already been announced and was deep in development.
---
Age Of Wushu 2
Release date: TBA 2019
Platform: PC
This upcoming Chinese action MMO will include something you haven't seen in the massively multiplayer realm before.... a VR element for exploration (although sadly not for combat).
There's not a ton of info yet on exactly how the VR sections will work and how you will switch back to non-VR during combat, but you can officially color me intrigued.
Seeing virtual reality aspects worked into more games will go a long way towards see VR get adopted on a wider scale.
---
Ace Combat 7
Release date: January 18, 2018
Platform: PSVR
Surprisingly, the number of air combat simulations in VR are pretty sparse on the PlayStation 4 right now. There's that super short Call Of Duty Jackal entry, and not a whole lot else.
Rather than a full VR game, Ace Combat 7 will include a series of VR-specific missions, but what we've seen so far looks very slick. Hopefully this is just the start of the virtual reality dog fights headed to Sony's flagship console.
---
Stormland
Release date: Unknown 2019
Platform: Oculus Rift exclusive
This is probably the one big VR release of 2019 that's getting the most buzz right now and its being developed by Insomniac Games and Oculus Studios.
Some of VR's biggest triumphs so far are games that change your perspective and offer a different kind of experience, and that's what it seems like we'll get as a broken down robot (the Short Circuit comparisons are coming strong and fast).
The combat here looks like a more fully realized version of Blasters Of The Universe, and that's a very good thing, and the visuals will make you think of Horizon: Zero Dawn, but minus the humans.
---
Gadgeteer
Release date: Early 2019
Platform: PC
While plenty of VR games these days are become ever more ambitious and working in fully movement, there are still plenty of great games where you remain more stationary and just interact with the environment.
That's what's on display with Gagdeteer (previously going by the code name Ruberg), which has you setting up and knocking down intricate chain reaction puzzles. I would expect this one to be a party hit like Keep Talking And Nobody Explodes.
---
Wolfenstein: Cyberpilot
Release date: Expected sometime 2019
Platform: PC, PSVR
VR has pretty consistently shown an affinity for spin offs offering new ways to experience a well known franchise.
With Cyberpilot, we'll get to saddle up in giant mechanical doggos to light Nazis on fire. What's not to love?
I do have to wonder how much of the over-the-top grisly imagery from Wolfenstein 2 will make it over in the translation, as that might become a bit much to handle in VR mode.
---
Trover Saves the Universe
Release date: 2019
Platform: PSVR, with PC likely down the line
Speaking of over the top, hoo boy, Trover Saves The Universe is going to strain the patience of anyone not fully onboard with the Interdimensional Cable episodes of Rick And Morty.
This is going to be pure, grade-A, weapons-grade nutso that will put all other attempts at bizarre gaming to shame by several orders of magnitude.
I still can't decide if this will be the best thing ever or if I'll be rolling my eyes and pulling my own hair out, but either way expect this game to make a splash.
---
Ghost Giant
Release date: Unknown (maybe 2019?)
Platform: PSVR
VR is tailor-made for this kind of experience, where you are just a pair of giant disembodied hands looking down on a virtual world and deciding how you are going to interact with it.
This seems like an excellent attempt to embrace the standard tropes of virtual reality games and expand on them, rather than try to hide them. With any luck, Ghost Giant will show all the other games how it's meant to be done.
---
Population: One
Release date: 2019
Platform: Crossplay between Vive, Oculus Rift, and Windows MR
If you aren't sick of Battle Royale mania yet, you should be excited by the prospect of this growing genre finally coming to VR.
Yep, you'll be falling from the battle bus, building structures, plundering empty buildings, and struggling to survive to the #1 spot as the circle shrinks all in glorious virtual reality.
If this catches on, I'd expect to see Fortnite add on a VR mode next year as well!
---

There are undoubtedly many, many more games set to hit the virtual reality market in the coming months, but these are the ones we're most excited to try out.
What did you think of our picks for the top 11 VR games slated to land in 2019? Did we miss any that should have made this list? Sound off in the comments below!