Minecraft is first and foremost a family-friendly game of survival. That's why Mojang has gone an extra mile to provide players with a new and improved social interactions screen in Minecraft 1.16.4 update.
This social interactions screen now allows players to chat only with players they want, which was impossible before. Now playing Minecraft with friends is not only fun but completely safe.
This is a great opportunity to open new worlds and explore all the best new Minecraft seeds for November 2020 together. In this month's selection you will find some amazing exposed mineshafts and strongholds, as well as some very lootable ruined portals.
---
Seed: 5308681593555013520
Coordinates: 50, -150
Biomes: Various
Spawn on an oversized survival island that consists of three biomes: taiga, plains, and mushrooms.
The plains section is occupied by a small village at coordinates 50, -200, which is more than enough to start a good survival game.
Not far away in the ocean you will find an ocean temple at coordinates 600, 300 with lots of gold inside.
---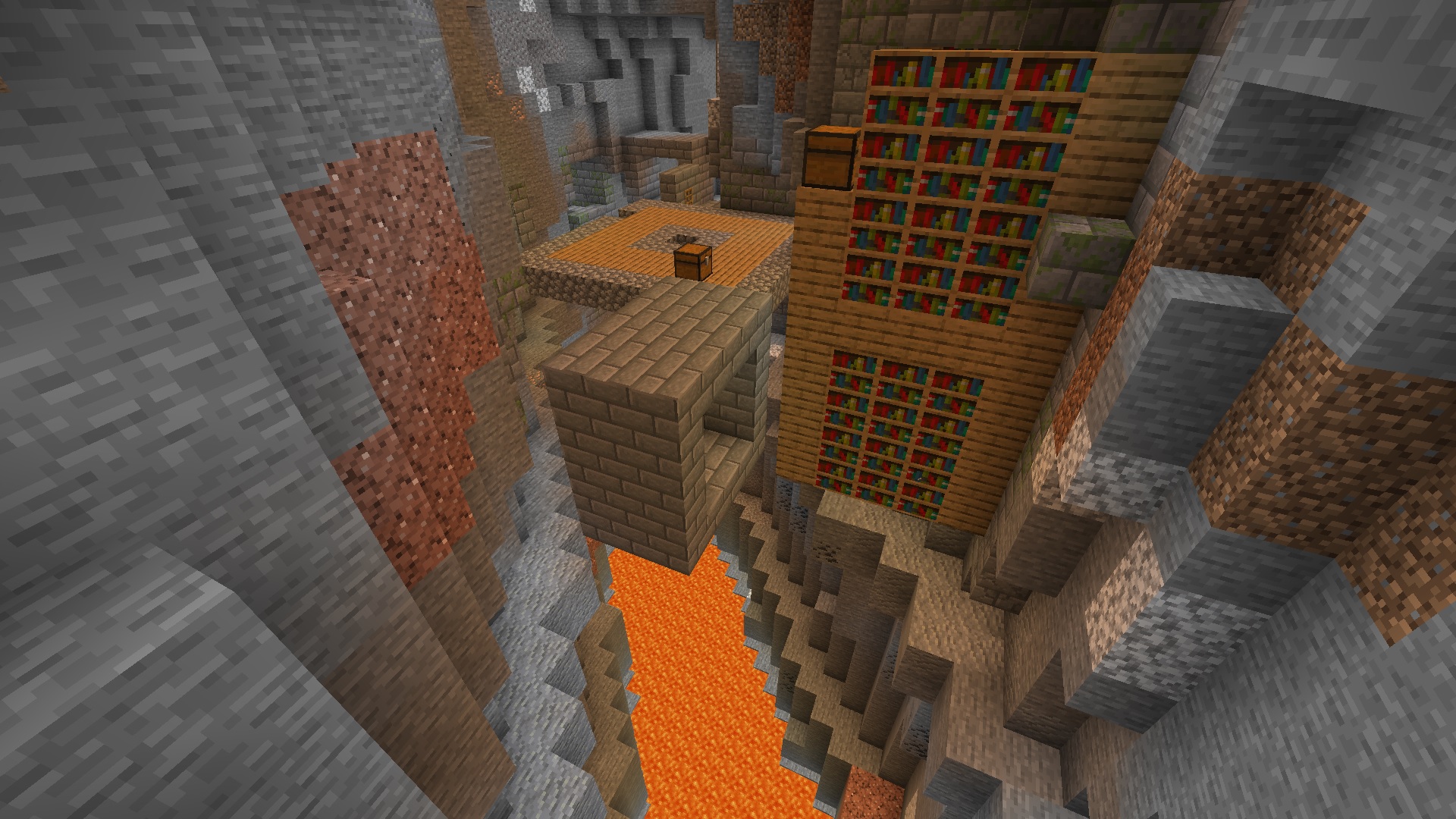 Seed: 3853685971531177621
Coordinates: -150, 100
Biomes: Forest, Plains
There is an exposed stronghold in the underground ravine located right under the village at coordinates -1150, -800.
On your way there you will encounter two more villages at coordinates -250, -200 and -900, -650.
All three villages occupy different biomes such as taiga, savanna, and plains. The stronghold is located under the plains one.
---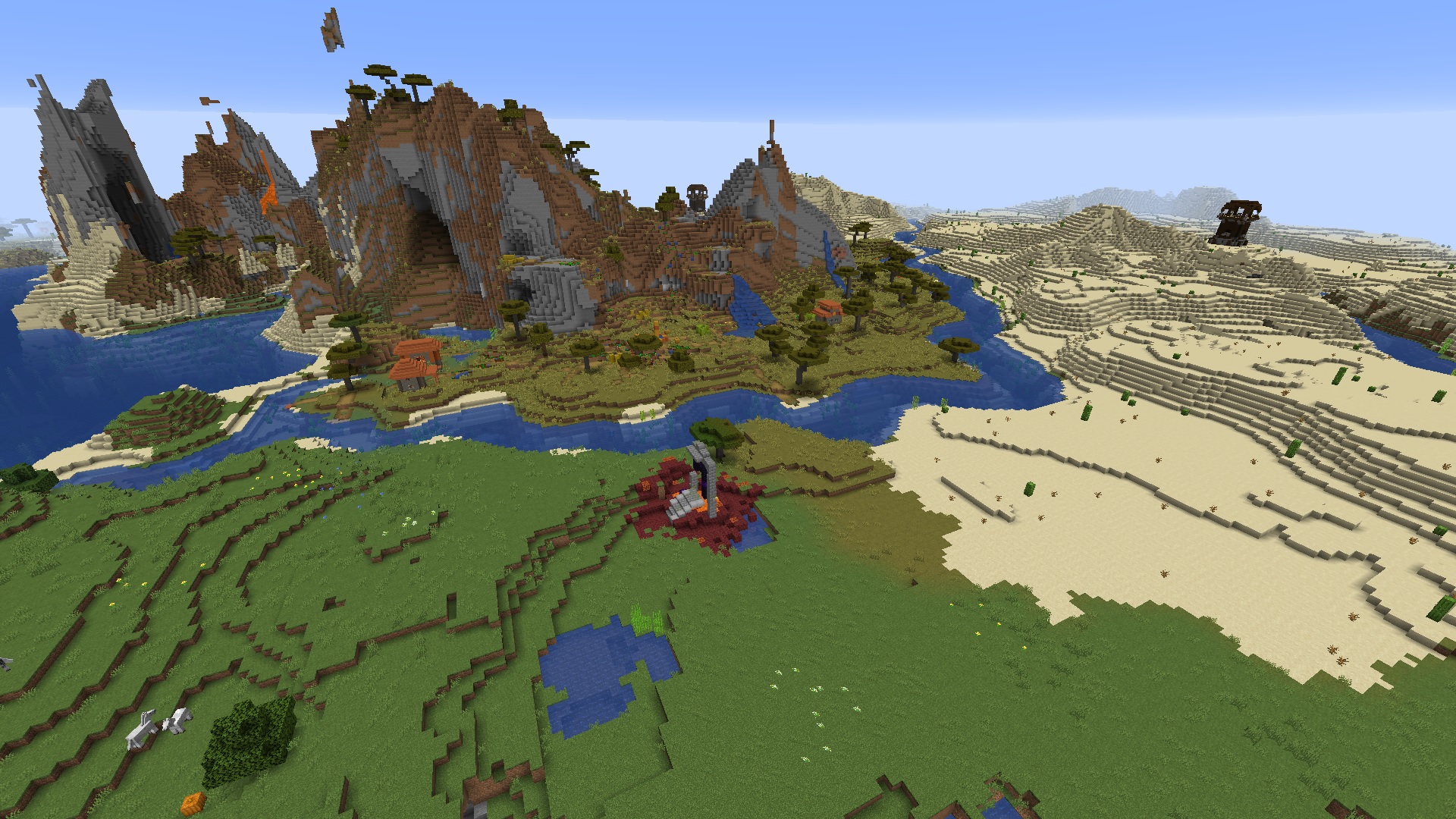 Seed: -8319794722483450039
Coordinates: 50, 50
Biomes: Savanna, Desert
As you spawn, you will notice a ruined portal and a village standing right in front of you.
Behind the savanna hills you'll be able to locate two pillager outposts at coordinates 300, 50 and 100, -150.
Between the two outposts there is also a desert temple standing at coordinates 250, -200.
---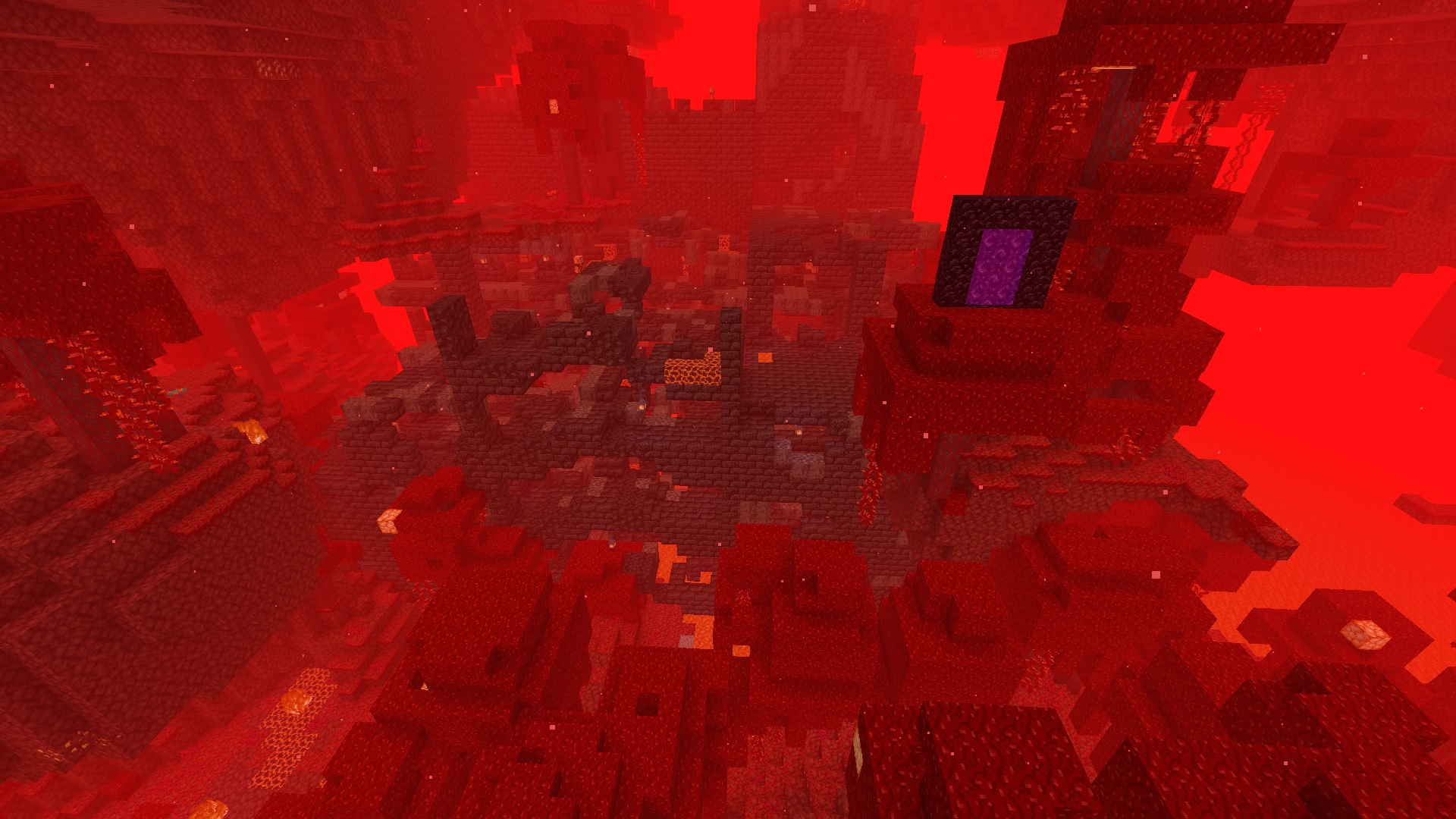 Seed: -6617340552471685239
Coordinates: 50, -200
Biomes: Crimson Forest
Walk in a straight line as soon as you spawn in the southern direction and you will arrive at a ruined portal standing at coordinates 50, 50.
Walk through the portal and you will end up on top of a bastion remnant structure known as a hoglin stable.
If you're looking to farm hoglins in your survival game, then this seed offers the quickest way to do so.
---
Seed: 895456309527627866
Coordinates: -50, -250
Biomes: Eroded Badlands
You will spawn to the north of a bryce mesa biome with a village standing at coordinates 50, 50.
The strange part is that this village has almost completely merged with the exposed mineshaft in the badlands.
Some of the minecarts and chests literally go through village huts in the most unusual fashion. So check this one out!
---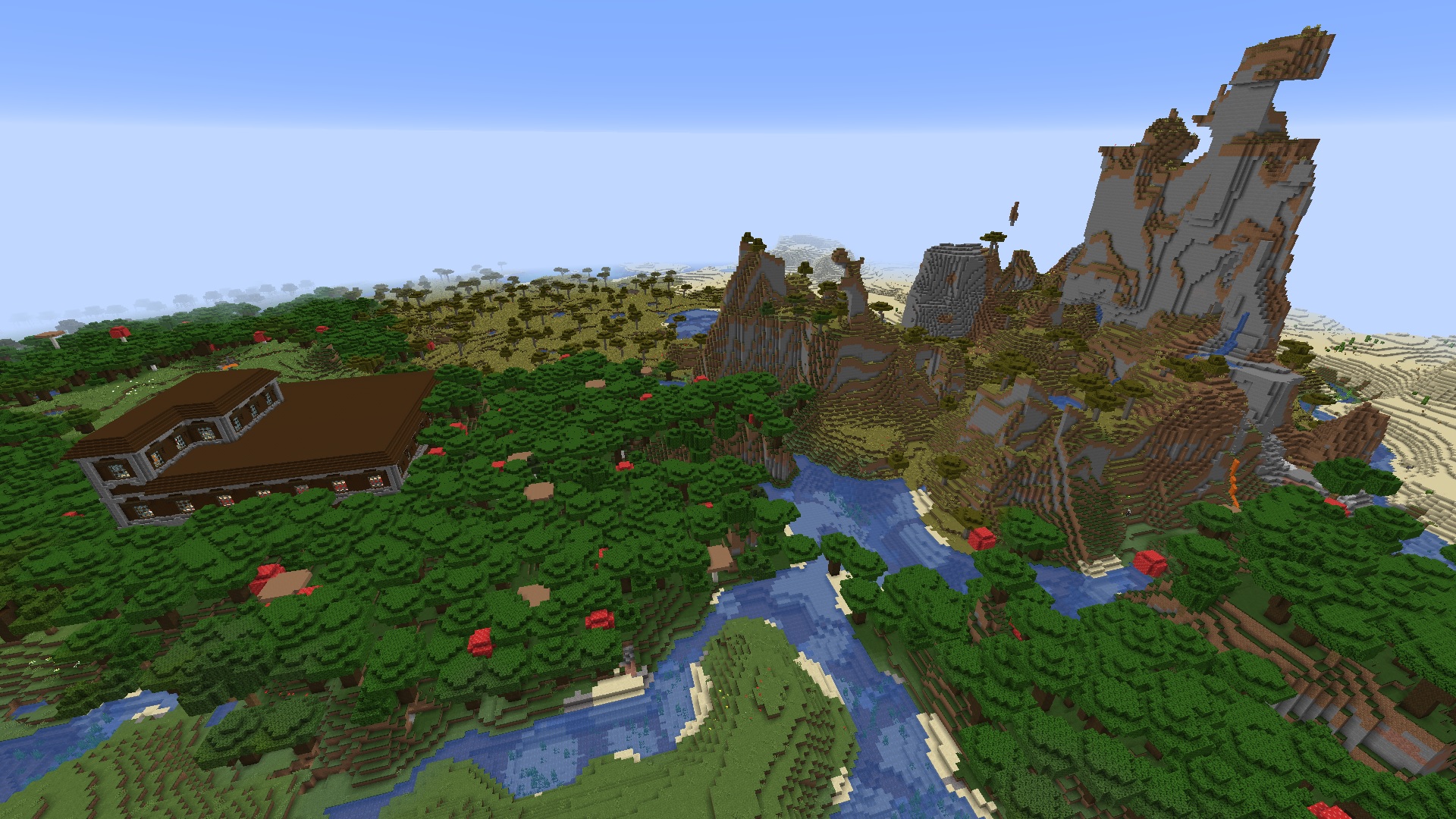 Seed: -6363583801763028913
Coordinates: -100, 150
Biomes: Roofed Forest, Savanna
Right after you spawn travel to coordinates 750, 450 for a woodland mansion that stands against some of the most beautiful shattered savanna plateau.
Right behind the hills you will also see a desert with a village and a temple standing at coordinates 1250, 200.
---
Seed: -6519887540484706008
Coordinates: 50, 50
Biomes: Plains, Ocean
Spawn right next to a lonely island village with blacksmith and ruined portal that stands right in the center of it.
To the south of island you'll find an ocean monument at coordinates -300, 250, which is a great source of gold chunks.
The closest village on the mainland is located on the snowy biome in the east at coordinates 600, -150.
---
Seed: 1463277688475477860
Coordinates: 50, 50
Biomes: Desert
Double desert village at spawn, and it's huge!
In total there are 50 buildings made of sand blocks and even containing some good chests.
If you get tired of the desert environment, then move a bit to the north. At coordinates -200, -250 you'll see a savanna village that occupies a nice little oasis.
---
Seed: -2219560822332611328
Coordinates: 100, 150
Biomes: Warped Forest
Spawn in a village with a ruined portal nearby. This portal will lead you straight to double nether fortress that is criss-crossed at the warped forest biome.
Both fortresses cover a seriously large area and can be explored for hours in search of loot and valuable materials.
---
Seed: -6697470799408429487
Coordinates: 100, -250
Biomes: Various
This seed offers a whole variety of biomes right at spawn. From the get-go you'll see a mushroom island, plains, ice plains, savanna and ocean biomes.
Further to the south and east there is mesa and taiga areas with villages and other structures.
But of course, the best part is the village and pillager outpost at spawn that stand very close to the mushroom biome.
---
Seed: 3046845397834670812
Coordinates: 150, 100
Biomes: Savanna, Desert
As you spawn, move in the northern direction until you arrive at a desert temple at coordinates -150, -250.
Behind the temple there is a sweet digging spot at coordinates -205, -175. Soon you will arrive at a double mob spawner of skeletons and zombies.
This is a real jackpot, as it also contains four treasure chests full of loot.
---
Seed: 5667669212233831421
Coordinates: 200, 250
Biomes: Ice Plains, Desert
Spawn on the ocean shore opposite to a desert village with a stronghold underneath at coordinates 1350, -650.
The stronghold intersects with an abandoned mineshaft, which in its turn is exposed in the underground ravine.
On your way to the opposite shore you will encounter three more villages at coordinates:
50, -200
850, -800
1650, -750
---
Seed: -3238745202829201740
Coordinates: 50, -200
Biomes: Forest, Ice Spikes
Double village on ice spikes at spawn!
The mixture of biomes in this seed is quite unusual, which makes village igloos spawn on warm territories.
To the south of the village you will find another igloo in the cold taiga biome with a basement at coordinates 300, 150.
---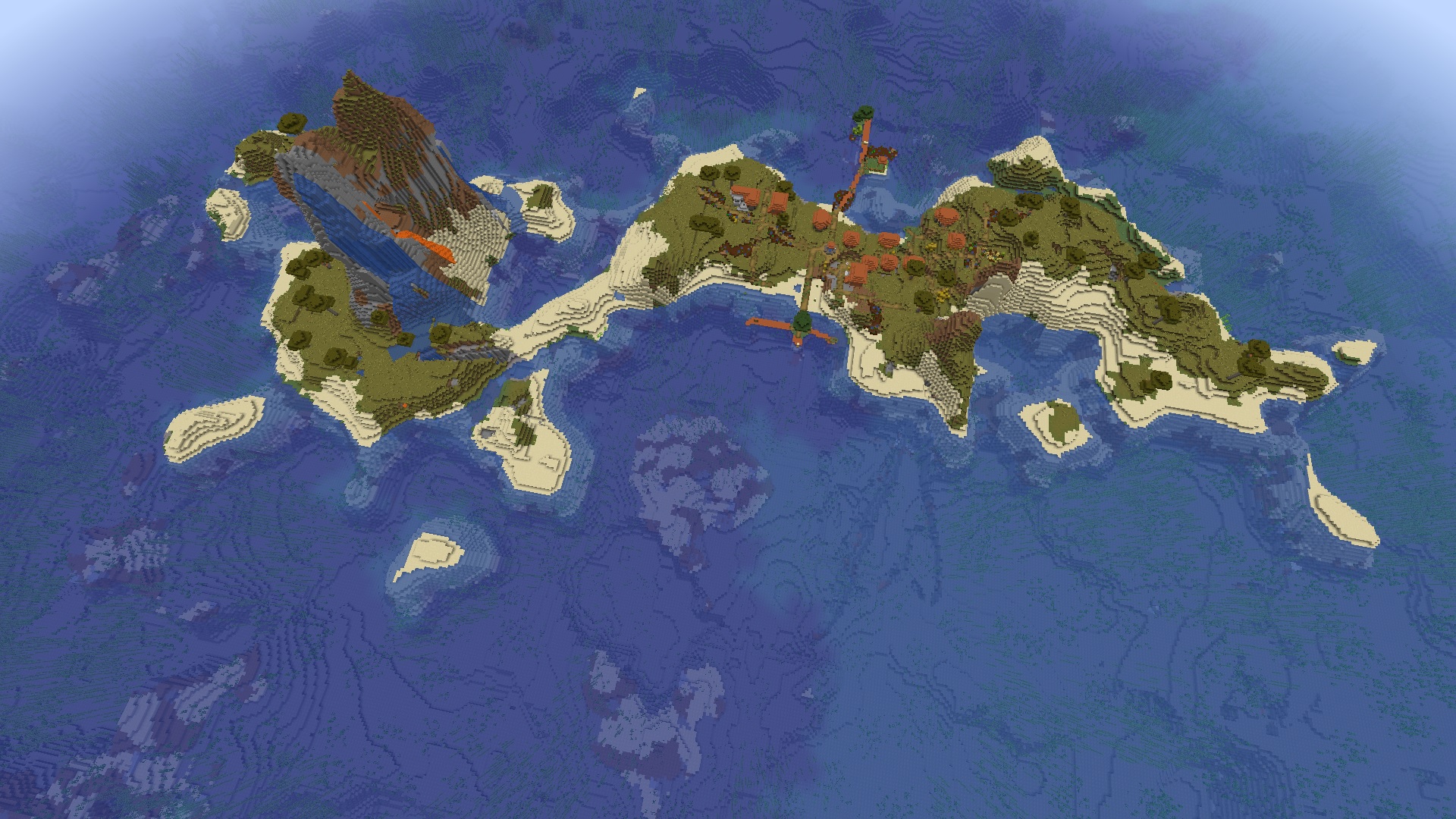 Seed: -8492433883738103510
Coordinates: 50, 50
Biomes: Savanna, Ocean
Here you will appear on top of a survival island with a few rare features.
First, it's a rather big island of an unusual shape. Second, it has its own little mountain with waterfalls and lavafall. Lastly, it has a savanna village, although not a very big one.
This is a really fantastic seed for everyone, who is looking for a quick survival game in the middle of the ocean.
---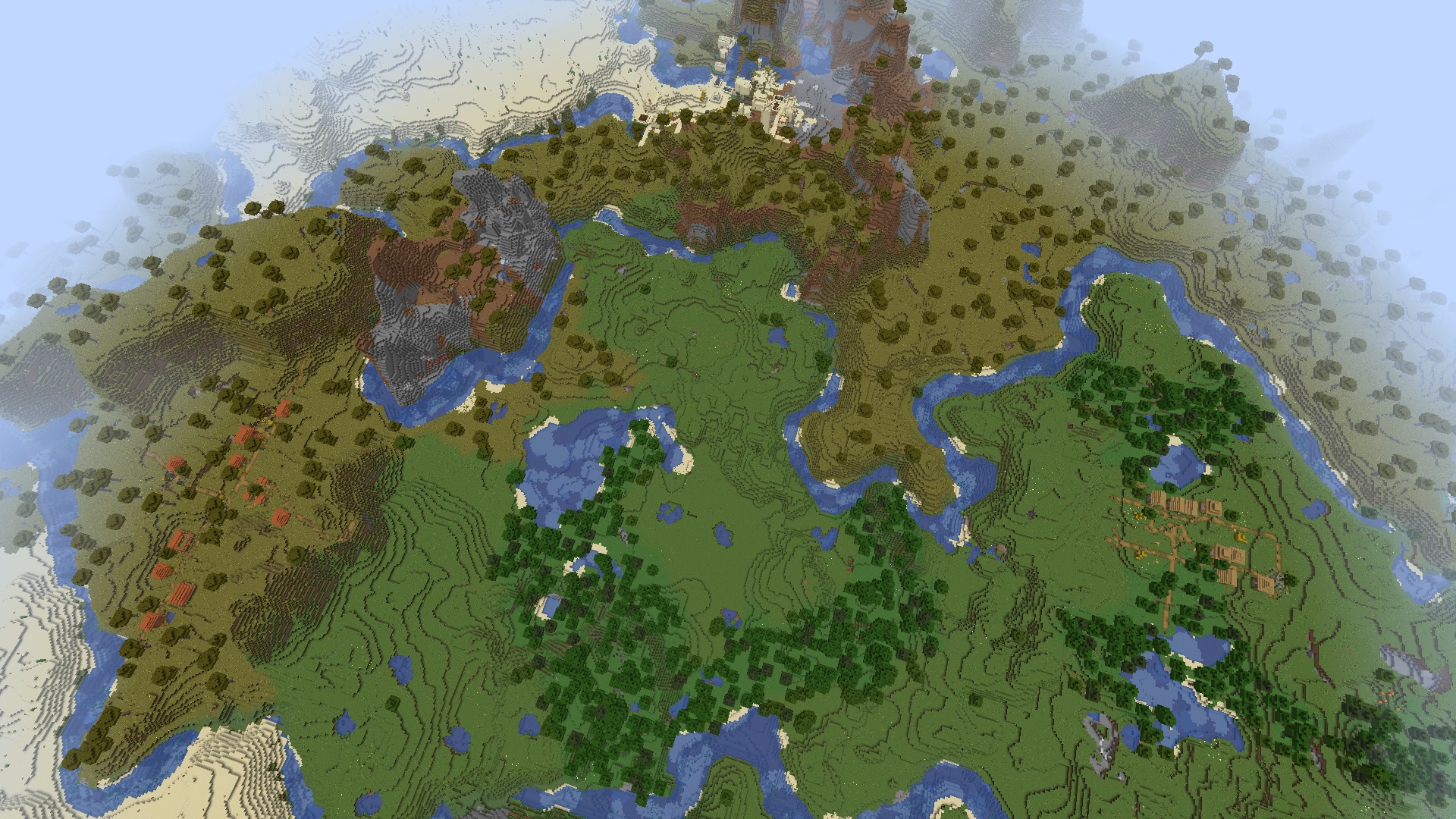 Seed: 1127715537068605316
Coordinates: -250, -100
Biomes: Savanna, Desert, Plains
If you are looking for a variety of biomes and settlements, then here is a Minecraft seed with three different types of villages near spawn.
The plains village is located at coordinates -300, -150, the savanna at coordinates 150, -300, and desert one at coordinates 50, 50.
The latter one also occupies the most picturesque area with waterfalls and hills.
---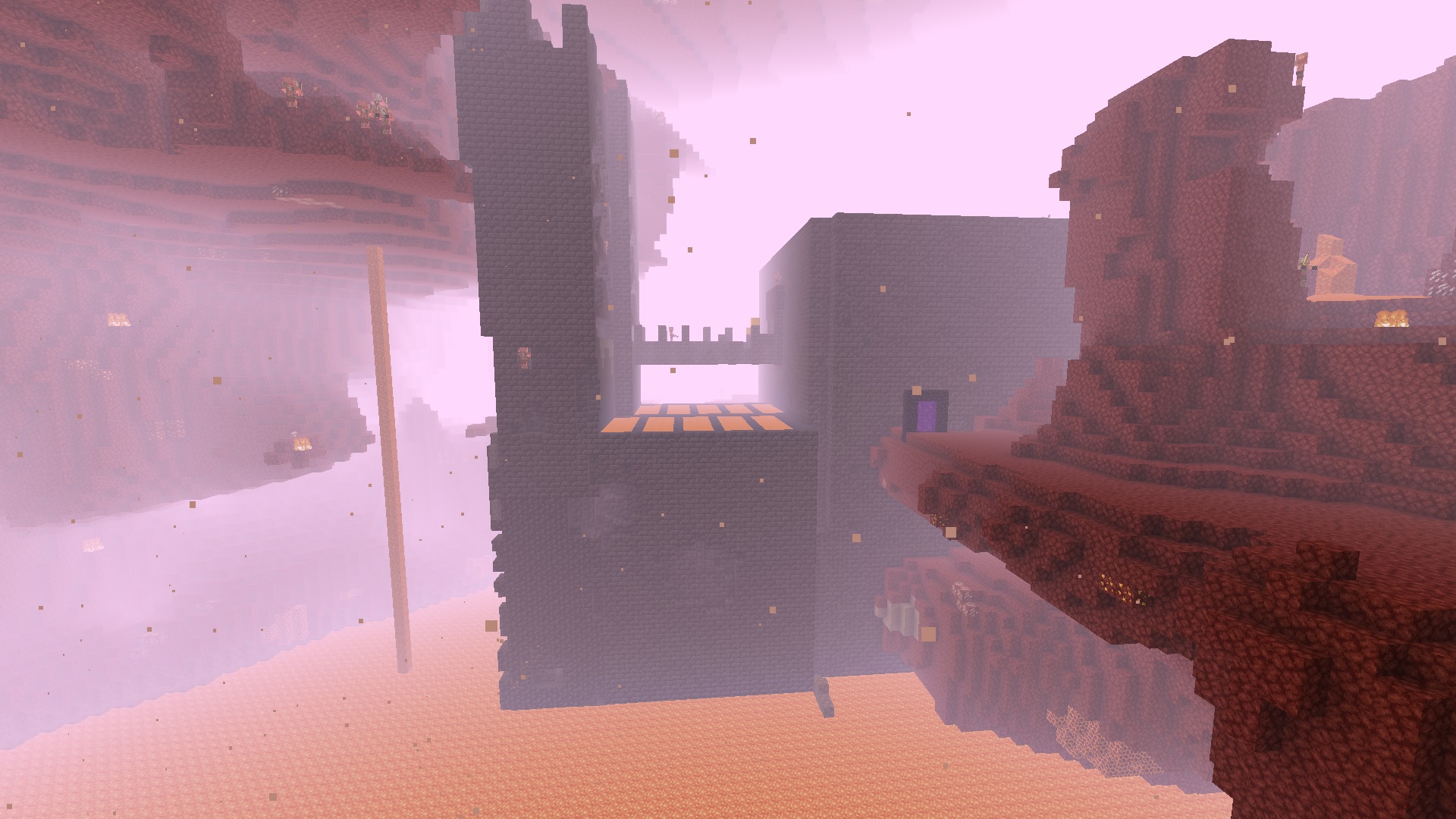 Seed: -8457624927666221378
Coordinates: 50, 50
Biomes: Nether
Spawn right next to a ruined portal with a desert village nearby at coordinates -200, 250.
The portal will get you straight to the walls of the bastion remnant with a treasure room that contains huge chunks of gold.
It's a great way to quickly get a lot of gold and other good loot for your survival game in the nether.
---
Seed: 1113036823412307766
Coordinates: 200, -200
Biomes: Mesa
Now here's something spicy, and probably something you've never seen before.
As you spawn, you will see a village hut right in front of you that is supported by nothing but a single cactus that serves as its main axis.
The plant grows right through the building, which is both rare and funny.
---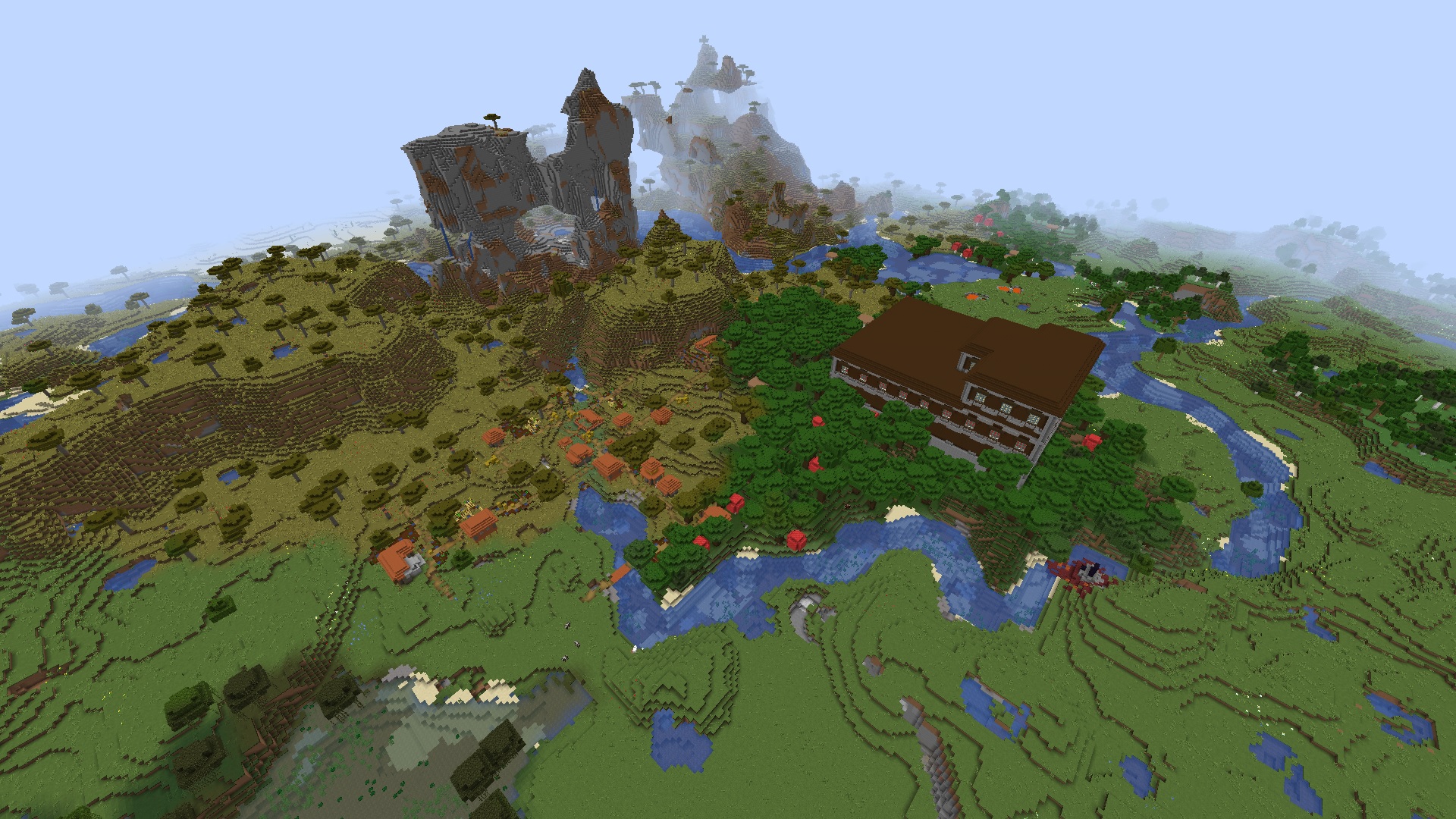 Seed: -5842883977777761720
Coordinates: -50, -50
Biomes: Plains, Savanna, Forest
Right after you spawn go to coordinates 250, 150, which is very close to your spawn.
There you will find a woodland mansion with an acacia village and ruined portal standing against a marvelous shattered savanna plateau.
At coordinates 100, -250 you can find another village close to a swamp with a witch hut.
---
Seed: -7849389163756481486
Coordinates: 200, 50
Biomes: Plains, Forest
This Minecraft seed offers something you probably won't see too often. There are four villages at spawn and a ruined portal!
The exact coordinates of all four villages are as follows:
50, 50
-150, 50
200, -150
-250, -300
The underground part of the latter village contains a massive abandoned mineshaft, so check it out as well.
---
Seed: 36591746972386544
Coordinates: 50, 50
Biomes: Soul Sand Valley
Finding a good ruined portal is difficult, but the one in this survival seed stands both at spawn and next to a nice little village.
More than that, the portal sends you straight inside a nether fortress that gives you a chance to explore it in full.
You can find lots of treasure chests pretty quickly, but do be careful with all the mobs roaming around.
That's it for this month's best Minecraft seeds for 1.16.4. Check out more Minecraft articles right here, including a huge catalog of awesome seeds for PC, PS4, Xbox One, and Nintendo Switch!