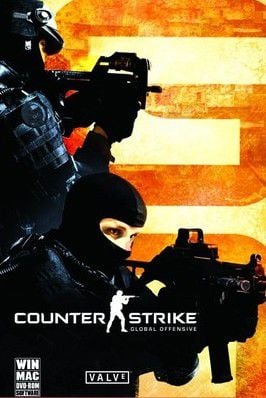 Counter Strike was one of the most popular multiplayer Steam games for its time, sporting competitive gameplay, fantastic multiplayer and unbelievably fast paced action. It wasn't until 2012 rolled by when Valve released a remake/new Counter Strike game, titled Counter Strike: Global Offensive.
Streamers and competitive gamers jumped on this game, making it one of the most played multiplayer games on Steam. And while some complain today because of "hackers" and "cheaters", Valve did make some changes to the game to make it harder to cheat. And if caught cheating, you get banned. Simplistic at its best.
And while competitive gaming has been around for awhile, it was only until recently that Counter Strike: Global Offensive came to television with TBS' eLeague. Putting the best names in eSports against each other each season to compete for the finals.
And while some teams don't make it to eLeague, some deserve credit for being a fantastic player. Which is why we are looking at the top five best plays in Counter Strike: Global Offensive!
---
5. It's High Noon -- MySQ
Usually, when you hear "It's High Noon" in Overwatch, you know that the best thing to do is to hide and wait for all of the chaos to end.
Sadly, these players didn't learn that on CS:GO. With a smoke thrown over to cover MySQ's position, he hides and waits for the other team to come out from the smoke. MySQ takes out three enemies with his revolver, causing his team to win the match.
---
4. Condensed Match - Fnatic vs Virtus.pro
Fnatic and Virtus.pro are possibly two of the best competitive teams to play against each other. With players like KRiMZ and JW (Former) against the likes of TaZ and pasha, you know that matches will be either close calls or demolitions. With Fnatic getting close in the beginning of the game, Virtus.pro fought back harder -- and ended up winning both matches.
---
3. CS:GO | AWP Ace! - Cyanide
Cyanide (A Twitch Streamer who plays with SovietWomble), is one of the best players on SovietWomble's stream, and he usually brags about it time from time. But with this clip, he shows he really does have skill. Wiping out an entire team with just an AWP, Cyanide gives his team the win, that really brought attention to Cyanide and helped elevate his career.
---
2. CS:GO - MY FIRST ACE! - TmarTn2
With more than 2 million subscribers on his channel, TmarTn2 seems to be quite the CS:GO player. But one thing that really showed his skill was his first ace. Destroying a whole team by first picking off the sniper and returning his AWP, and picking off player by player, getting his very first ace for CS:GO.
---
1. GRAND FINAL DAY - NAVI vs VP HIGHLIGHTS
The ESL Grand Finale was one of the most intense games anyone had ever seen. Where people thought Virtus.pro was going to win, NAVI fought hard and ended up demolishing Virus.pro, along with Snax, getting one of the most incredible aces ever seen.