The Evil Within: The Latest Interview with Shinji Mikami
Shinji Mikami returns to his roots in survival horror with The Evil Within!
Giant Bomb recently sat down in a brief interview with Shinji Mikami, the creator of the Resident Evil series and father of the survival horror genre, to discuss the latest news on his upcoming new survival horror game The Evil Within. Mikami shared his thoughts on the definition of survival horror, the iconic influences that helped him in creating scary moments for his well-renowned games, and the differences between Western and Japanese game developers.
The following was transcribed from the actual Giant Bomb audio interview and can be listened to on their website: Shinji Mikami Returns to the Throne

Return to Survival Horror
The Giant Bomb host asked Mikami how he would define a "survival horror" game in 2013. Mikami responded, "Survival horror is back." He went on to say that the definition of the deeply-rooted survival horror genre remains the same, but there are absolutely no games these days that actually follow the center of this specific definition.
Stating how Mikami's previous work, Resident Evil 4, had influenced many other games since its release, the host asked, "What was it like for you to watch you make that game and see so many other games influenced by what you made?" Mikami was indifferent and stated that he didn't really care about its influence nor kept track of it.
Mikami was asked if there was a specific reason to why he had wanted to return to survival horror to which he roughly answered, "One of the reasons is the center of the definition. No one is sitting there right now so the chair is empty. I want to sit there again." He also said that a lot of people wanted to see him make another survival horror title since he is in a big position and highly respected within that realm.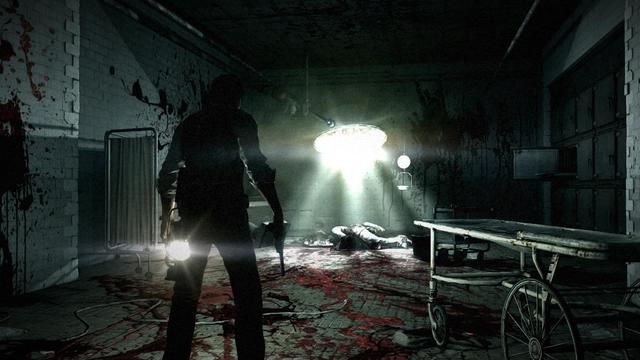 Opinions on Game Design
The host began his next set of questions on the topic of game design, and stated how video games have changed their focus to have a much bigger emphasis on story within the past 15 years. With Mikami's primarily action-oriented games, the host asked the developer whether he felt pressure to include more story elements to compete with popular demand. Mikami simply answered with a "yes" and his translator added, "he feels that 'story' is very important now." The host continued by asking Mikami what he does when trying to think about the story elements for his games. Mikami responded, "I will still create a game flow first, and this itself has to be very scary. Scary situations and the flow of these situations come first. Then, I add a story on top of it."
The host was curious to know what Mikami thought about other popular horror games' movement to remove combat from gameplay as a way of scaring the player, such as in Amnesia. Mikami said, "That kind of game design is very interesting, but that's a 'pure' horror game, whereas we are making 'survival' horror and the definition of survival horror is that you can fight back."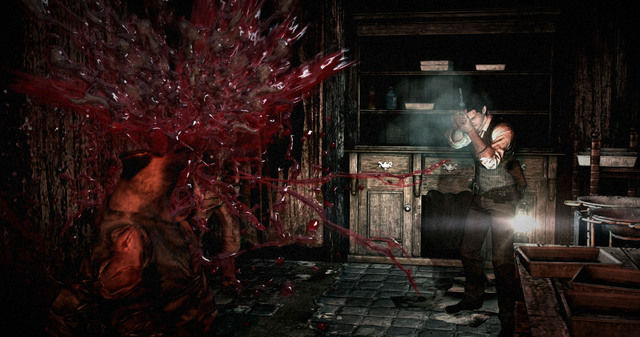 "Pure" Horror and Media Influences
Following up on the previous question, Mikami was asked if he had ever thought about making a "pure" horror game to which he stated that he had originally intended the first Resident Evil to be a "pure" horror title, but from a game design perspective, the only way it would be popular is if he added a combat element to allow players to feel a sense of accomplishment in defeating enemies. Mikami also stated that, putting aside commercial success, he would consider making a really hard horror game that no one could finish because it would be challenging.
The host asked Mikami if other kinds of horror media, like movies and books, influenced any elements in his games. Mikami stated that he gets a lot of influences from movies, particularly Dawn of the Dead, Evil Dead, Texas Chainsaw Massacre, The Cell, Jacob's Ladder. The Evil Within demo was also noted in showing heavy influence from Texas Chainsaw Massacre.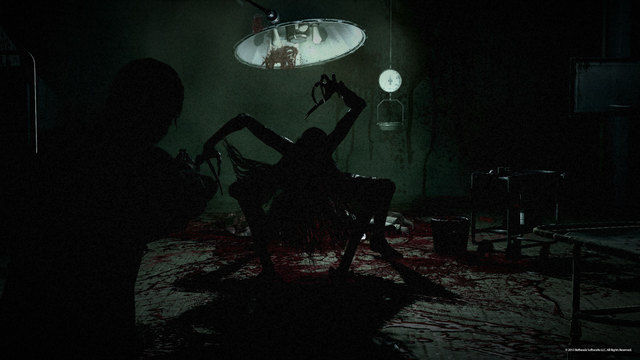 Mikami was asked, "What is it about that movie that you find so interesting?" Mikami responded by saying that zombies in prior horror films were really slow, but the guy in Texas Chainsaw was really fast, and that was a new horror element that really surprised him.
Resident Evil
The host asked, "The creature in Texas Chainsaw Massacre feels very much like the Tyrant in Resident Evil...which is just a big unstoppable creature that you can fire guns against but you can't do anything to actually stop him. Are you fascinated with the idea of a creature that chases you but you can't actually kill it?" Mikami responded, once again, with a simple "yes," to which the host followed up by asking him if he was surprised that the Resident Evil franchise continues to remain as popular as it is. Mikami laughed and replied with a "no" with his translator noting that Mikami wasn't expecting the series to be as big as it became and that he had only hoped to sell 500,000 units of the original Resident Evil game when it first debuted in Japan.
Mikami was asked why he thought people were so obsessed with learning about an early version of Resident Evil 2, referred to as Resident Evil 1.5, that never came out to which he replied with a chuckle, "Maybe because it never made it." The host continued on the topic, asking, "But there's a reason you said, in other interviews, that you weren't happy with it?" Mikami answered in detail, "Hideki Kamiya was the director of that 1.5, but since that was his first direction...he had a lot of good ideas, but he couldn't package it well. So, it didn't make sense as a game...he had to throw the entire thing away and start it over again."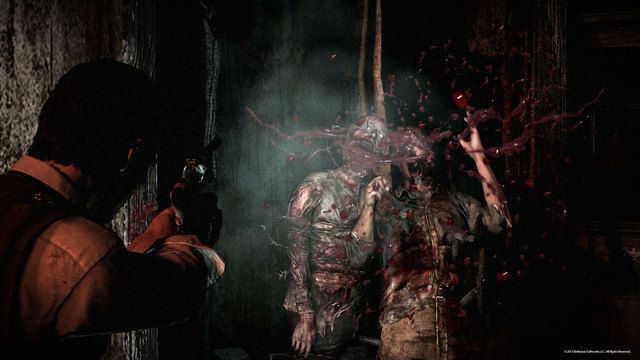 Working on The Evil Within
Mikami was asked why he was willing to constantly throw away concepts when other developers would just release what they had made. Mikami said that he only wants to provide customers with products that he feels fully satisfied with.
The host proceeded to ask Mikami about his views on the difference between Japanese and Western developers, asking: "In this last generation of consoles, there was a huge rise in the prominence of Western Developers. How do you feel about the role of Japanese developers in making games worldwide right now?" Mikami explained that Japanese publishers are not willing to spend a large budget on games (which has been the rising trend), and that has created a smaller territory for Japanese developed games. He further explained that budget management has been more sophisticated since working with an American publisher on The Evil Within for the same reasons.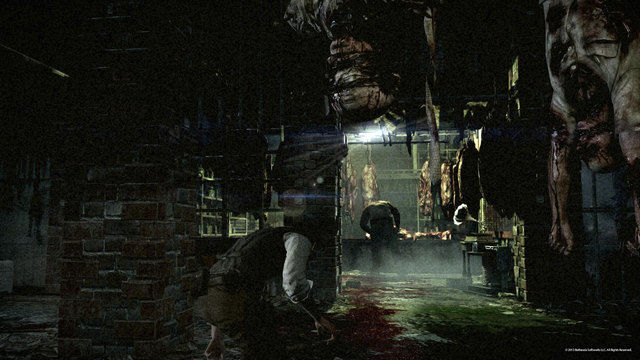 Mikami went on to state in the interview that he had learned all of his scare tactics featured in his games when he was young (before the age of 20) from watching scary movies and hasn't really learned any new techniques since. He jokingly admitted that the one thing that scares him the most is his wife.
The host asked, "What's been the most surprising thing about making The Evil Within that's been different than the other projects you've worked on in the past?" Mikami replied, "As platforms get more and more complex, when I come up with new ideas and ask someone to realize it on-screen, it takes a long time (like 3 months) to see it. That's surprising because before it was easier. Now, it takes time." Mikami admitted that this can be very frustrating.
To conclude the interview, the host asked Mikami what recommendations he would give to new developers looking to make their way into the realm of horror games. Mikami responded, "The director has to be loyal to the fear that he feels."
The Evil Within will be published by Bethesda Softworks and will be released on Windows, Playstation 3, Playstation 4, Xbox 360, and Xbox One in 2014.
Published Feb. 8th 2018