Bethesda Announces Tales of the Dead Contest for Elder Scrolls Online
We get to tell our side of the story with a new contest for Elder Scrolls Online.
Any Pirate worth his sea salt could tell you "Dead men tell no tales," however, Bethesda's ESO is challenging us to help an unfortunate soul by asking us to tell their story.
Bethesda has always been known for their stellar story work, especially in their open world games, like the Elder Scrolls series. Though this time around, they have handed the creative control to us and asked the gamers to spin a tale of the dead in their new contest.
Posted in their website forums, the company supplied us with an image of the dead character in question. In it we see a skeleton in a rocky crevice, wearing partial armor, helmet on the right, cheese plate and wine bottle on the left, and a spear protruding out of their head. For more detail check out the picture below: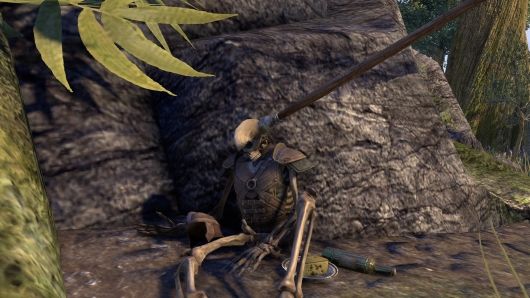 Can you imagine how this could have happened to the man/woman in this odd display? Then you should get cracking on your entry before the deadline of September 26th. Make sure to check the rules on the contest before entering.
3 Winners will receive a $25 electronic gift card to the Bethesda shop and an Elder Scrolls Online t-shirt. You can submit all entries in the Tales of the Dead 2 forum thread the contest was posted in.
It's time to pick up your pen and craft your very own piece of lore in the Elder Scrolls universe and possibly help this poor soul finally lay to rest.
Published Sep. 24th 2014