The Best Educational Apps for 3-6 Year Olds
A roundup of some of the best educational apps for kids 3-6 currently available for Android and iOS devices.
With technology becoming even more present and easily accessible, it's not uncommon to see youngsters with iPads, phones, and the next new piece of mobile technology. Thankfully, many developers have decided to make apps aimed at younger audiences that are educational, so the kiddos can learn something while they play! A win-win for everyone! This list will be directed at youngsters in the 3-6 age range. Let's hop to it!
Elmo Loves 123s and Elmo Loves ABCs.
Who doesn't love Sesame Street? While the longtime series not on HBO make not be the same as the one I grew up with, it remains iconic and a great source for teaching kids in an entertaining and not patronizing manner. Sesame Workshop has developed several apps, but the big two are undoubtedly Elmo Loves 123s and Elmo Loves ABCs. The apps use the famous red monster to help teach the alphabet and counting skills. Fans of the show will enjoy this one more, but there is still something here for kids who aren't familiar with the show to enjoy.
The Android versions are free with in-app purchases here and here. The iPad versions cost $4.99. The iPad version of Elmo Loves ABCs contains additional in-app purchases while Elmo Loves 123s does not.
Oceanhouse Media Apps
Upon first look at Oceanhouse Media's store page, you would be forgiven for wondering what in the seven hells is going on. (There are numerous bizarre tarot listings after all.) However, the page also houses many beloved children's books, namely by a certain Dr. Seuss who I am sure no one has ever heard of. Aside from Dr. Seuss, there is also a selection of Little Critter and Berenstain Bear books, along with many others.
I have only experienced their version of How the Grinch Stole Christmas, but I will probably be looking into others for my daughter. Each book allows the reader to read by themselves or allow the book to be read to them. You can also touch some of those troublesome, large words for them to be repeated for the younglings. The illustrations look great and some are even animated. I highly recommend looking into some of these titles.
Most of the books are priced at $3.99 or lower for both Android and iOS platforms.
The Magic School Bus Explorer
Ah, The Magic School Bus. You'd be hard-pressed to find a person around my age who did not grow up watching or reading about the educational adventures of the beloved Ms. Frizzle and her class of third graders. Thankfully, Scholastic has adapted two of the books into an app/book combo. You can read the book as normal, but the app also contains supplementary information about the topics presented in the book as well as some games. To make it even better, the books cover two of the coolest subjects ever: the ocean (i.e. sharks) and dinosaurs. Need I say more?
Unfortunately, this is only available on iOS at the time being it seems. While Android users can download the books, they aren't the same as this app. Be wary when purchasing this though. This is actually a bundle of two apps that cost $3.99 apiece. This bundle gives them both to you for $3.99.
Fish School HD
This colorful app uses fish to help teach kids numbers, letters, colors, and more. There are songs to uncover; games to play; and things to be learned!
This app is currently only on iOS and costs $1.99
The Sight Word Adventure
Sight words can be tricky to teach. They should be recognized when seen, but sometimes, they are more difficult to teach than one expects. This app could help with some of that. The app contains 320 sight words of varying degrees of difficulty so your kiddo can continually advance. The app uses 10 games to help teach and reinforce these words. The app even has some disability accommodations, always a welcome sight! Parents or teachers can even select some words they want to the app to focus on if the child is having some difficulties.
The game is available on iOS for $1.99.
Originator Inc. Apps
Originator has several well-reviewed apps; each one is tailored to teach a certain subject. Endless Alphabet finds children learning over 50 words. The app contains spelling games, memorization, and visualizations of definitions to help the meanings stick. Endless Numbers offers similar activities such as arranging numerical sequences, solving basic math, and visualization for quantities. Endless Reader helps with sight words. The words are brought to life in a manner close to their definition, sentences are given to reinforce recognition, and much more. Each app is colorful and filled with cute monsters for your kids to befriend.
The apps are free on both Android and iOS, with in-app purchases available to unlock more content; except for Endless Alphabet which costs $6.99 on iOS devices.
Epic!
This app is possibly the best thing to happen to children's books in some time. The app works in a way similar to Netflix streaming: you may a monthly fee to have access to a ton of books whenever you so desire. The subscriptions vary in price, but some are as inexpensive as $5 a month.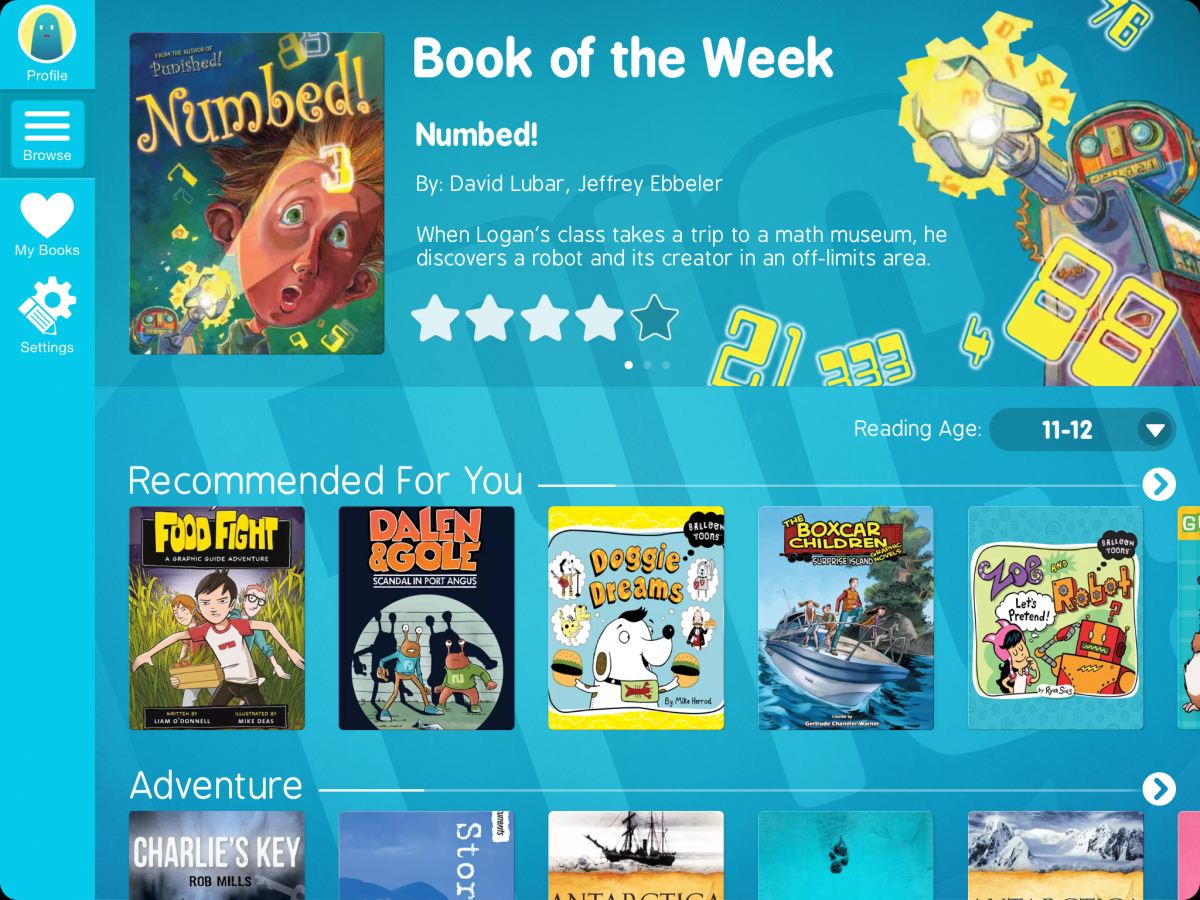 What makes this great is the selection. Kids will have access to The Chronicles of Narnia, Goosebumps, Amelia Bedilia, Goodnight Moon, The Berenstain Bears, and many more. The app also includes some bilingual books, audio books, and plenty of other nifty things too! I know I would've enjoyed this immensely as a kid. With so many books at your kid's fingertips, they'll never be bored.
The app is free for Android and iOS devices. The plans cost varying amounts. However, if you subscribe before January 5th of 2016, you will get two months of the service for free! Hop to it!
David Wiesner's Spot
This one may not be the most overtly educational, but there is plenty of potential. The basic premise has readers focused on the back of a ladybug. Through zooming and manipulation, users travel through the spot to five unique worlds full of illustrations rich in vibrant colors and life to explore. There are spots where the worlds interconnect, providing for entertainment for some time. There is also a companion app filled with storytelling prompts and writing activities if one chooses to download as well.
The app is available on iOS for $4.99.
Seamus Heaney: Five Fables
Aesop's fables have endured for centuries and continue to delight children and adults the world over. This app follows famed poet and writer Seamus Heaney's adaptation of 15th century Scot poet Robert Henryson's version of Aesop's fables. An adaptation of an adaptation!
What sets this apart is the ability to read both versions side by side or to forgo one for the other. You also get the fantastic Billy Connolly narrating the modern version of the tales. (There's also a narrator for the older version of the stories as well.) Aside from narration, there is also commentary and dissection of the texts for advanced readers, as well an animation for each fable. There's a lot to love in this package.
The app is available on iOS for $11.99.
Needless to say, there are a great deal of apps that can be used for educational purposes for both Android and iOS devices. This list has barely scratched the surface of all the apps available. If you know of any major ones I neglected to mention, please let me know in the comments below. If you have some experience with any of these apps, whether positive or negative, feel free to comment on your experience as well.
Now if you'll excuse me, I'll have my phone read The Lorax to me my daughter.
Published Jan. 6th 2016