Kalimba Review: Press Play's Clever Game Can Be Frustrating
Press Play brings us a clever puzzle platformer with Kalimba but it may be more frustrating than it needs to be.
From the creators of Max: The Curse of Brotherhood, Danish developer Press Play brings us Kalimba now available on Xbox One and later in January on PC.
It's a puzzle platformer where you control animated totems on a quest to overthrow an evil shaman and reclaim the island of Kalimba for the Kalimbi people. It has a pixel art style that uses geometric shapes as its main influence and includes puzzles, enemies, and totems, to offer both a single player and local co-op mode.
Perhaps it would be easier with the game's local co-op...I'm just being honest here.
First off, I will be honest and tell you upfront that I couldn't complete the game. I found myself throwing my controller in absolute frustration. I had to replace it twice.
The game was frustrating the hell out of me due to the weird mechanics that my eyes just couldn't comprehend. It's interesting and the narrator makes some humorous comments but I couldn't finish since it was causing me migraines out of frustration. You need to control 2 characters simultaneously and that's where it gets complicated... and not in the fun way like Brothers: A Tale of Two Sons is with dual controls.
Your characters are on different "floors" at times and you have to act fast, so you end up doing a lot of rapid screen scanning which strained my eyes causing my migraines to increase.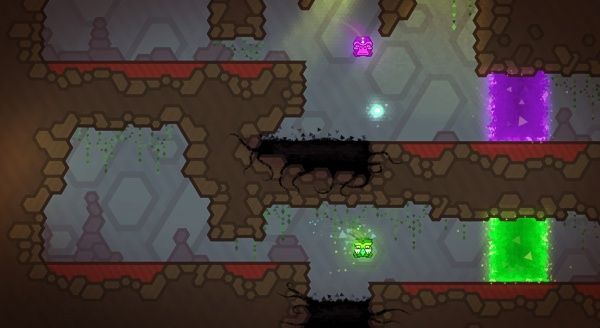 Perhaps it would be easier with the game's local co-op but no one wanted to play it--I even offered to pay. Now don't get me wrong, just because I had a hard time, doesn't mean you will. But there was something totally obtuse about the gameplay experience.
Kalimba has some innovative platforming.
It's cute with its pixel art, has really tense puzzles, yet I found the game physics a bit frustratingly odd to work with. The soundtrack, or lack there of, is enough to accompany you during your gameplay and that's about it. The narrative dialogue from Hoebear--yes you read that correctly, can be funny at times but is nothing memorable.
While guiding your totem pieces through the obstacle-course levels, if either piece touches a liquid that isn't their color or an enemy, both pieces die and are sent back to a checkpoint. Getting through some of these challenges requires stacking both pieces and switching places (quick button move), at other points you need to put space between your pieces; being carefully aware of their movement is a must!
You're either sliding on slick surfaces, jumping on trampolines, flying via cannons, or experimenting with elements that normally mess with parallel movement and make one of the characters larger or stationary. It can be frustrating but has its charm at the same time.
Did I mention frustrating?
I know I'm not alone when it comes to struggling on puzzles that relied heavily on gravity being reversed for one of the totem pieces. This mechanic causes the one on the top to walk on the ceiling and the way they bounce off each other--very delicate physics.
Getting through some of these requires stacking both pieces and switching places...so being carefully aware of their movement is a must!
Finishing a level without dying and collecting all 70 items stashed within unlocks a fully decorated totem piece. If you die, the level deducts the number of times you died and leaves you with a totem reflecting your results. It's up to you if you want to replay the level, but some levels were so frustrating I didn't even bother.
The game also has portals that allow you to discover new areas in which you can collect items as well. Beware of enemies that will cause you to restart!
Creative Director Asger Strandby calls it (in regards to the local co-op mode), "kind of a friendship tester – if you can play the game and high five more than you slap each other, you're probably ready to get married."
Your best bet for enjoying this game will be in co-op mode from my personal experience. If you do suffer from migraines or headaches, you might find the bright colors and rapid movements to be a strain.
Kalimba is rated E for everyone but I'm not too sure about how well a young child would handle this game. It may or may not be too challenging for them. If anything else, it'll introduce them to some physics concepts and boost up their problem solving skills.
You'll find Kalimba in the Xbox Store via digital download for $9.99.
Our Rating
Press Play brings us a clever puzzle platformer with Kalimba but it may be more frustrating than it needs to be.
Published Jan. 13th 2015