EverQuest Next Nominated for Best New Game on the Horizon - 2014 Dragon Slayer Awards
EverQuest Next is nominated for Best New Game on the Horizon in the Dragon Slayer Awards
It is time for the third annual Dragon Slayer Awards! Held every year by Guild Launch, GameSkinny's sister site, this is the chance to commemorate some of the best in gaming. One of the categories this year is the "Best New Game on the Horizon", and one of the main contenders is the upcoming EverQuest Next, a great-looking MMORPG with a ton of potential.
Sony Online Entertainment is both developing and publishing EverQuest Next, the successor to the EverQuest series. Rather than being an actual sequel to the previous EverQuest, Next instead takes place in a parallel world to the original. Sony is using their Forgelight game engine, and Next is the second game to use it, following PlanetSide 2.
EverQuest Next is an ambitious game. Next will have many great features that help shape your game and the world around you. One feature is full destructability. Every part of the world is destroyable, and players can manipulate it. You can use this to your advantage, and it can help you explore the world and discover what is hidden underneath the world's surface.
Aside from the environment, players are able change the world around them as well. Castle walls can rise and fall. Large scale wars will be fought. Kings will live and die. Players are able to transform the game world, completely based on the decisions that they make. Thus, gamers are able to make dramatic changes that stay permanent, and influence the direction that the game takes. This goes into character choices as well. The characters of Next remember your actions, and they will act accordingly.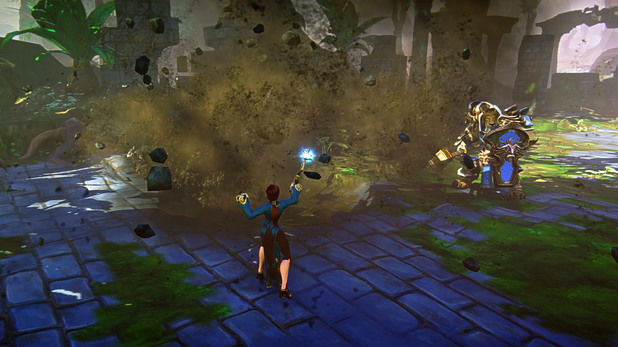 There are even more choices when it comes to classes. There will be 40 classes (or professions) at launch, and players will be able to mix and match abilities as long as they have unlocked them. This will allow gamers to make the character they want to make, and not restrict them to only one class.
One of the biggest draws for EverQuest Next is EverQuest Landmark. In Landmark, players are free to build just about anything that they can imagine. They can explore the world of Landmark, claiming territory and building materials. Landmark is also another way for gamers to make their mark in EverQuest Next. The best creations will become permanent fixtures in Next, and allow their creators to truly leave their mark in the game.
Overall, EverQuest Next is a great looking MMORPG. It is looking to put control in the hands of the players, and let them control the world around them. Like I said, Next is an ambitious game, and is one to keep an eye on.
What do you think? Is EverQuest Next the best new game on the horizon? Then come vote for the Dragon Slayer Awards here! You can also check out the other nominees here.
Published Aug. 8th 2014