E3 2014: Everything We Know About "Hyrule Warriors"
Hyrule Warriors mixes Dynasty Warriors-like gameplay with characters from The Legend of Zelda to make one of the most surprising Nintendo titles in years.
Nintendo is often criticized for not taking enough risks with their biggest characters. The same formula for games starring Mario, Link, Kirby, Donkey Kong and others has been followed for years.
Occasionally though, like with Metroid: Other M, Nintendo tries to break the mold by letting a third-party developer take a stab at one of their characters. That being said, nobody ever expected a musou game set in the Legend of Zelda universe. Developed by Team Ninja and Omega Force in a collaboration between Tecmo Koei and Nintendo, Hyrule Warriors will allow players to use familiar characters such as Link, Zelda, Midna, Impa along with other characters that are original to the game with gameplay similar to the Dynasty Warriors series.
Link's Usual Attacks Translate Surprisingly Well to Dynasty Warriors-like Gameplay
The game will be extremely similar to the Dynasty Warriors series, allowing players to unlock new characters by playing through the story mode and upgrade their characters and weapons using rupees and items collected during gameplay. Characters will also be able to use different weapons found during gameplay.
In terms of the game's story, Nintendo's official press release had this to say.
The delicate balance of the Triforce has been disrupted, and Hyrule Kingdom is once again being torn apart by a dark power, this time lead by Sorceress Cia. Now it's up to the legendary hero Link to face hordes of enemies and find the missing Princess Zelda™.
Antagonist Cia's Design is Surprisingly Racy for a Nintendo Title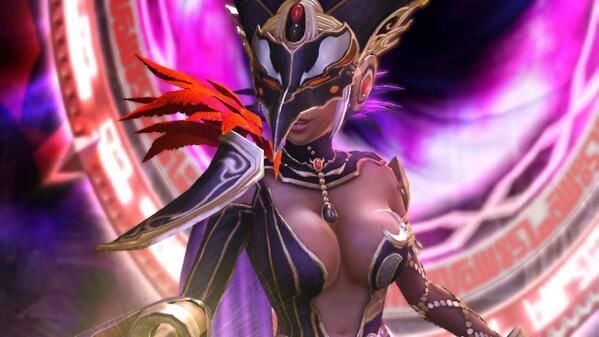 Hyrule Warriors will release in Japan on August 14, 2014 and in North America September 26, 2014.
Published Jun. 10th 2014