Game Music Connect: A Panel With Giants - Part 2
The second part of Game Music Connect's panel with six behemoths of video game music.
We continue our look at Game Music Connect's "Soundcard to Symphony" panel that quizzed six of the biggest names in video game music: James Hannigan, Jason Graves, Richard Jacques, Jesper Kyd, Martin O'Donnell, and Joris de Man.
Concert Crazy
Following on from my previous comments about video game music being in a great place with concerts being performed regularly around the world, the chair of the panel, John Broomhall, asked what it actually feels like to suddenly have adoring fans spanning the globe?
All seem to think that this was pretty great: who wouldn't!? In addition, O'Donnell, offers a charming anecdote about a fan of his who, after hearing his score for Myth: The Fallen Lords, took up learning the cello and is now majoring in the instrument at university. He uses this example to illustrate that their music is not mere novelty, and is having a real impact on culture as a whole.
Kyd mentions that the fandom behind video game scores isn't particularly surprising. As video games are a medium that people end up spending a lot of time in, its music therefore becomes not just a bit part of the game but a big part of that individual's life.
However, not all that glitters is gold, and Hannigan wonders why music in video games has to be like a Hollywood orchestral score, especially as he ponders whether the only reason video game music is getting recognised is because it sounds like this.
Reasons discussed were ones such as: with advancement of technology and games comes with a higher quality and expectation of music therefore an orchestral and filmic score is the epitome due to its high production values. Furthermore, it could be that digital/"chip" music is more abstract that a classical score, and hence why this genre is preferable.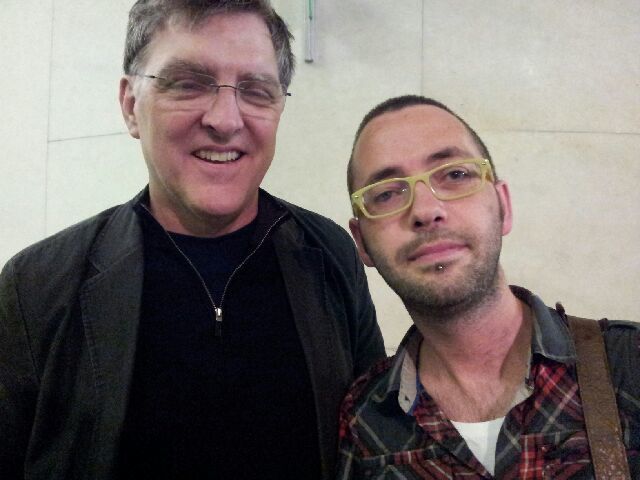 Pete Boyle of Dork Tunes (right), with Halo composer, Martin O'Donnell (left). Photograph: Courtesy of Pete Boyle.
Perfect Cadence?
As the panel drew to a close, the panelists were asked where they think video game music will go next. They all seemed to hint that with the challenges that the last ten years of innovations has posed for them, the upcoming new generation of consoles will make the next ten years just as challenging.
However, the challenges that O'Donnell sees is less about music, and more about how developers approach games and story. He believes that storytelling in games is a paramount concern, with games currently at risk of parodying films and not finding their own narrative device. As video game music has really refined the art of storytelling through score, now, with the possibilities brought about by the new consoles, it's up to developers to rise to the challenge of how to tell stories through gameplay.
Published Sep. 12th 2013