Sony Reveals LittleBigPlanet 3's November Release Date
LittleBigPlanet 3 is given a release date, along with pre-order bonus details.
During their E3 presentation this year, Sony announced the next entry to the LittleBigPlanet franchise. Now Sony has given the release date for the title.
LittleBigPlanet 3 releases in America on November 18. While we knew that the game would release on the PlayStation 4, Sony also announced that the game is coming to the PlayStation 3 on the same day.
Sony also revealed the various pre-order bonuses buyers can receive from different retailers. Regardless of where you pre-order the game, you will automatically be upgraded to the Day 1 Edition if you get the game for the PS4. This pack comes with Dragon Age Costume Pack, as well as a variety of costumes based off of various PlayStation characters.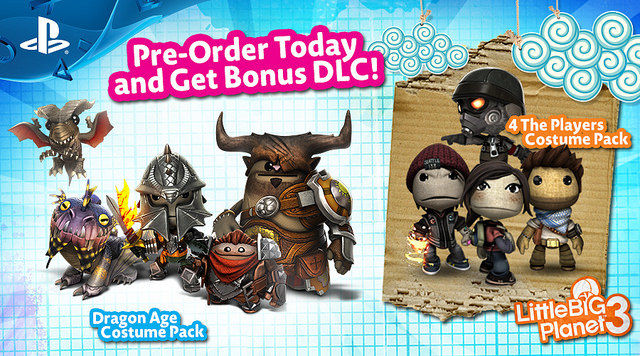 If pre-ordered at participating retailers, gamers will receive a Sackboy plush. Order from Target, and Sackboy comes along with a Target hat. GameStop customers will receive Mythical Creatures Costume Pack, pre-orders from Best Buy get the Hidden creatures Pack, and Amazon orders come with the PlayStation Favorites Costume Pack.
Those that would rather buy the game digitally can also receive something. Digital purchases come with the LittleBigPlanet 3 T-shirt Pack. The pack comes with set of t-shirts for LittleBigPlanet 2, LittleBigPlanet PS Vita, and LittleBigPlanet Karting, and will transfer to the third entry.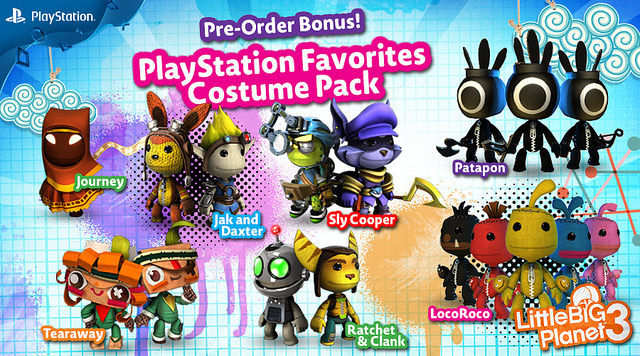 Some of these costumes look pretty nice. It is good to see that the new characters being introduced in LittleBigPlanet 3 will also be given the choice to wear alternate costumes. I loved making my own distinct Sackboy in the previous titles, and can see myself doing that for the whole team in this entry as well.
I also like the plush. When it comes to pre-orders, I prefer to have physical bonuses, so the plush looks pretty nice to me. Hopefully LittleBigPlanet 3 will continue what has made the series so great, and allow gamers to push their imaginations even further. We will see in November.
Published Jul. 30th 2014