Using the recently launched multiplayer beta as inspiration, PlayStation Experience 2015 (PSX) kicked off their keynote shooter style. On December 5th, the stage opened up with a spotlight on Uncharted 4: A Thief's End, compliments of Naughty Dog. Check out the two brand new cutscene reveals below for character insight and a gameplay twist, as well as the director's thoughts on the voice acting controversy from the Game Awards.
Warning: Spoilers ahead. Do not proceed if your heart is ill-prepared.
Prepare for even more franchise nostalgia, brought to you by touching reunions incorporated.
Naughty Dog has been dishing out nostalgia in heavy doses with their Uncharted 4: A Thief's End trailers ("Sweet Emotion" ring any bells?). This pattern continues in the first of two new videos brought to fans by PSX, which introduces prospective players to one of the very first cutscenes they'll encounter in-game.
Watch as Nathan's feelings overwhelm him (understandably so) at the discovery that the rudely insistent customer outside his office door is none other than a sibling he long thought dead. Joy, relief, and excitement abound at the introduction of Sam Drake.
Roughly five minutes of conversation teases some of the personality and motivation behind Sam, a man who shies slightly at his brother's immediate affection and dodges questions until he can no longer avoid admitting to his personal plight. The cutscene ends with a pressured Sam interrupting Nathan's eager invitation to dinner.
The nostalgia aspect comes right in the middle of the scene while Sam pushes Nathan to share the nitty-gritty details of his adventurous life. This inevitably touches on events in the first three games of the series. When Nathan doesn't know where to start his tale, Sam suggests he start with the best part.
For the first time in the franchise, Uncharted 4: A Thief's End will feature branching dialogue paths. It looks like the first options are lighter, with players able to select their favorite game. The PSX cutscene goes with Drake's Fortune and El Dorado, taking audiences back to the very beginning.
See? Nostaglia everywhere, reminding us where our love stories began. For the full feel of what the devs are going for, check out the cutscene below:
Details on Nadine Ross emerge.
At this year's Game Awards, a new trailer for Uncharted 4: A Thief's End introduced a brand new character to the series, Nadine Ross. PSX brought more details and an additional 2-minute cutscene of the woman whose quick violence left poor Nathan groaning on the floor.
The video's first bit of news can hardly be called a twist; the well-traveled and experienced Sully knows this dangerous and confident woman, and their history doesn't sound all too pleasant. His conversation with the mission-preparing Drake brothers drops crucial background information on Ms. Ross.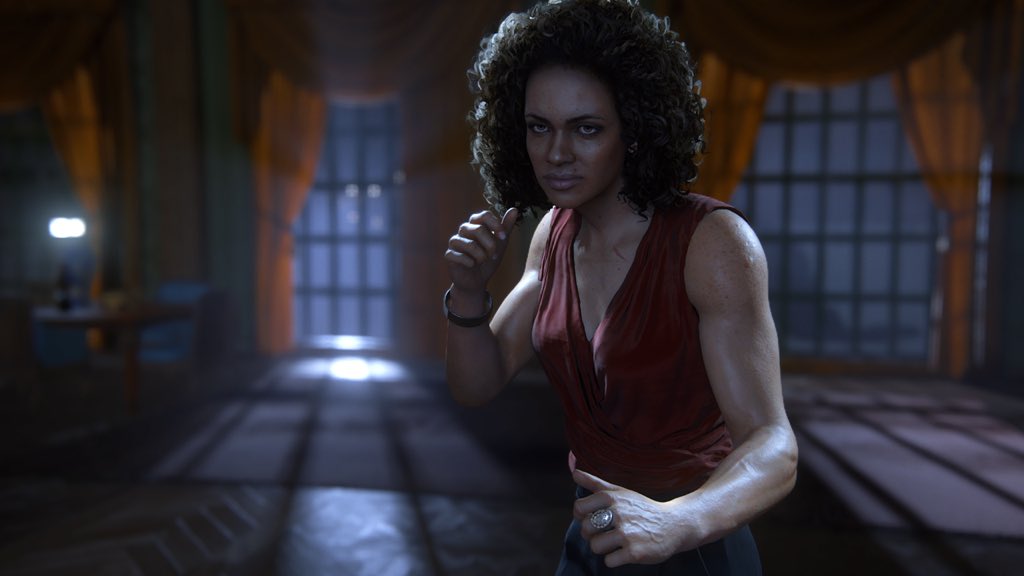 Our powerful, no-nonsense South African woman inherited a private military army from her father. This army for hire began as an elite group of soldiers. These soldiers, along with Ross, make up the baddies chasing Sam and Nathan. Just another day in the life of a Drake, eh?
Check out the army boss for yourself below:
The director addressed the controversy behind Ross' casting choice.
Laura Bailey's voice gives life to Ross. You may recognize the name for her wide range of work in the industry, including her roles voice acting Chun-Li in later Street Fighter games, Lucina in Fire Emblem Awakening, Serana in The Elder Scrolls V: Skyrim, and Spartan Olympia Vale in Halo 5: Guardians. That's a pretty impressive resume to precede her Uncharted work.
Her role jump-started minor controversy after the Game Awards reveal due solely to the fact that Bailey is a white actress voicing an African character. Director Neil Druckmann responded to the negative reactions at PSX, defending the casting choice as well as Bailey's on-spot performance.
Druckmann first explained that the development team settled on Ross' final character design after casting Bailey in the role. While initially concerned with the pairing, he later felt confident that Bailey embodied the character exceedingly well and emphasized the importance of a great performance.
The director pointed out a key fact some fans seemed to have forgotten: character appearances don't have to match their voice actor's. Druckmann cited Troy Baker's role as Joel in The Last of Us as one mismatched example before hinting at another new character for Uncharted 4: A Thief's End. The mystery character will be a white man played by a black voice actor, a clean reserve on Ross and Bailey. It appears that ability and talent truly win casting roles in his games, not appearance.
Thus ends the PSX news for Uncharted 4: A Thief's End, set to launch March 18th, 2016. How do you feel about the cutscene reveals? Do you back Bailey's performance as Ross after seeing her work in two different videos? Were you hoping for a different type of news? What do you think of the open dialogue paths coming to Uncharted? Chatter away; it'll help keep your excitement at bay. Maybe. Probably.
About the author