As previously announced by BioWare, Anthem's first post-launch content updates, collected under the title "Act 1: Echoes of Reality," are set to begin next month. These updates will be implemented over three months, and the company has recently shared a roadmap that offers further detail on what will be included in each of its stages.
Echoes of Reality starts with the Evolving World update in March, which will bring new cosmetics, rewards, and "Legendary Missions" to Anthem. Additionally, it will include a number of new Freeplay events for players to enjoy.
From there, the Stronger Together update will release in April. As the title suggests, this update has a focus on social play, introducing guilds, leaderboards, and weekly Stronghold challenges.
Furthermore, new items, Freeplay events, and "Legendary Missions" will be available with Stronger Together. It will also bring a new Stronghold, The Sunken, and expanded progression to the game through a "Mastery System."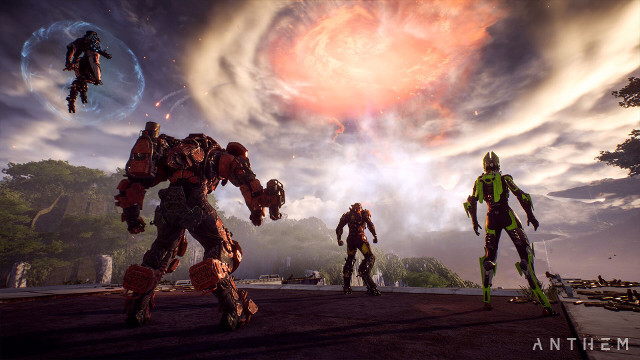 Finally, The Cataclysm update will round out Echoes of Reality in May. While the roadmap indicates that it will include new Freeplay events, missions, and items, the Cataclysm itself seems to be the main attraction of the finale.
The Cataclysm was described in a recent blog post from EA as "a world-changing, time-limited event that comes with extreme weather, dangerous new enemies, and new mysteries to solve."
What will occur after this event remains to be seen, but the new roadmap does indicate that Act 2 and 3 are on the horizon.
While Anthem's official release occurred just today, many players have already spent significant time with the new multiplayer shooter due to a number of early access options. This has allowed some fans to reach the end-game before the general public has even had a chance to jump into the game, and many more players are certain to follow suit in the upcoming days.
Indeed there are a number of options to pursue upon completing the game's main story, however, these high level players are certain to be eager for new content by the time Echoes of Reality begins its launch. That said, it remains to be seen if what is outlined in this first post-launch roadmap will prove satisfactory.
The full roadmap can be seen on Anthem's website.
About the author