Counter-Strike: Global Offensive has been available for over six years, and, despite the myriad of multiplayer shooters that have come since its release, it is still one of the most popular shooters ever made. That said, it seems that Valve is still looking to get more players into the fray, as the company has just announced that the game is now fully free-to-play and includes a new battle royale mode called Danger Zone.
Danger Zone is a lightning-quick battle royale experience, with a full match lasting around 10 minutes, that is "built on CS:GO's tactical gameplay." It features traits that will be familiar to many fans of the genre, including airdropped equipment, caches to loot, and a shrinking play-area, however, the new game mode has unique aspects that some players may find intriguing.
Specifically, Danger Zone's map contains special missions that can be completed, granting those that participate additional rewards. Throughout the course of a match, players may find themselves escorting hostages to a rescue zone or eliminating a high-value target in service of bettering their load-outs.
Danger Zone can be played solo or as a duo/trio, with players entering alone joining 16-player matches while those that join as a squad will enter 18-player matches.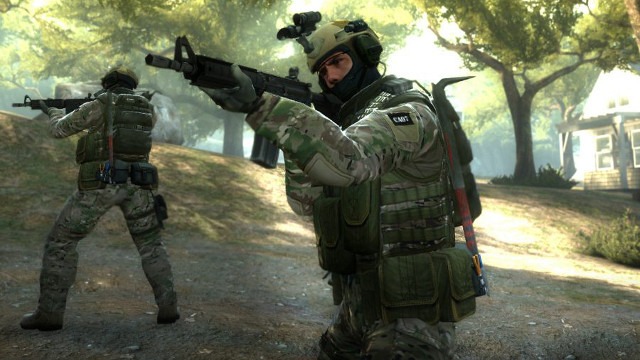 Furthermore, anyone that would like to try out Danger Zone can do so at no cost, as CS:GO is now officially free-to-play. This is down from a $15 price tag, and players that paid full retail for the title previously will be given a "commemorative Loyalty Bade they can display on their profile."
Additionally, these paying players will be upgraded to Prime Status, which gives them access to the Souvenir MP5-SD submachine gun as well as the Danger Zone Case, which features "17 community-designed weapon finishes, and the Horizon knives as rare special items." New players can also pay $15 if they wish to be granted Prime Status.
With CS:GO's addition of Danger Zone, the battle royale genre continues to grow ever more ubiquitous. Fortnite shows no signs of slowing down, Call of Duty: Black Ops 4 shirked a single-player campaign for its battle royale mode, and even Rockstar is getting in on the act with Red Dead Online.
While it remains to be seen if CS:GO's new game mode will be able to pull any players away from these established titles, its free-to-play status is certainly a valiant attempt.
About the author