We may still be an agonizing seven months away from release, but more exciting news just keeps landing for Cyberpunk 2077 in the run up to launch.
Last week, CD Projekt Red held a lengthy gameplay live stream that took a deep dive into character creation, two possible play styles, and the Night City district of Pacifica.
Today, the studio shared another way it intends to support the title with new additions well beyond launch. Fans already knew a Cyberpunk 2077 New Game+ mode is in the works and expected to arrive sometime after release, but now it has been confirmed that multiplayer will arrive as well.
The developer ignited a firestorm of comments with this tweet earlier today: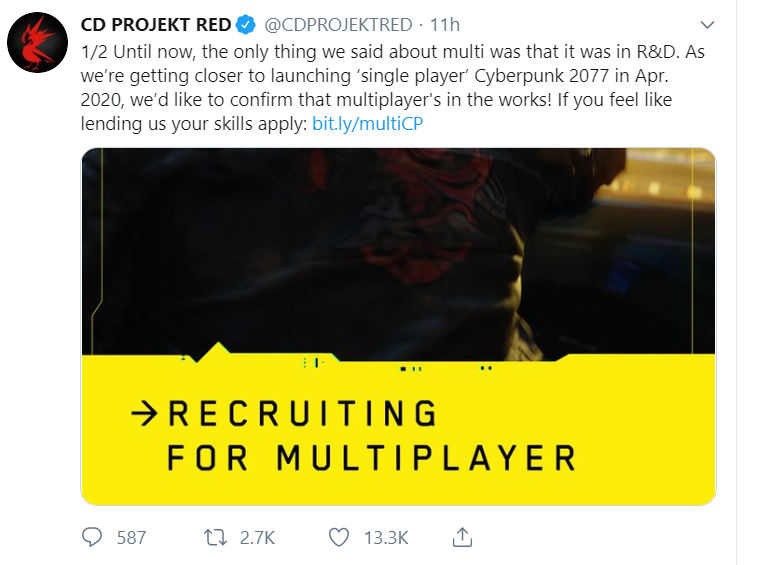 After the announcement, unveiling that single-player and multiplayer will be split into two different experiences spread out over time, CD Project Red followed up with this clarification:
The plan for now is to deliver Cyberpunk 2077 in April, then follow up with DLCs (free!) and single player content, and — once we're done — invite you for some multiplayer action.
For those stoked for the April 20, 2020 launch of Cyberpunk 2077 but just can't wait that long to get into the dystopian future, make sure to play these 8 games first, and sound off with some of your recommendations for what we should be playing while we wait!
You can also follow the latest news on the game's development at our Cyberpunk 2077 hub here.
About the author