The latest event in Tales of the Rays — titled "God's Recipe" — has you going on an adventure with Edna and Mikleo from Tales of Zestiria. So if you wanted more Zestiria characters in the game, this is the perfect chance to go get them.
If you have played Tales of Zestiria, you will be very familiar with who Edna is. But if not, Edna is the Earth Seraph in Zestiria and has the tendency to tease others. She fights with an umbrella and primarily casts earth spells.
Mikleo is the Water Seraph, and the childhood best friend of Sorey. While he is a calm and composed individual, he has a tendency to get flustered. This makes him a very easy target to get teased by Edna. Mikleo uses a staff as his weapon of choice and primarily casts water spells.
The new event comes with a prologue you will need to clear before you start the quest. Once you have beaten the prologue, you'll be able to start the 2-part quest. The first part has 17 stages — and by clearing it, you'll unlock Edna and Mikleo for your party. Clearing the final stage in part one will unlock Mikleo Mirror Arte. The 2nd part has 10 stages, and is much more difficult than the first part. But you'll get Edna Mirror Arte at the end of it.
The one advantage this event has over the game's previous event is the inclusion of Mirror Arte as a reward for Edna and Mikleo. While the summon banner does feature a much more powerful Mirror Arte for the two characters, it's nice for them to have at least a basic Mirror Arte. This event also has rewards in the contract section for leveling Edna and Mikleo so you are encouraged to use them while the event is live.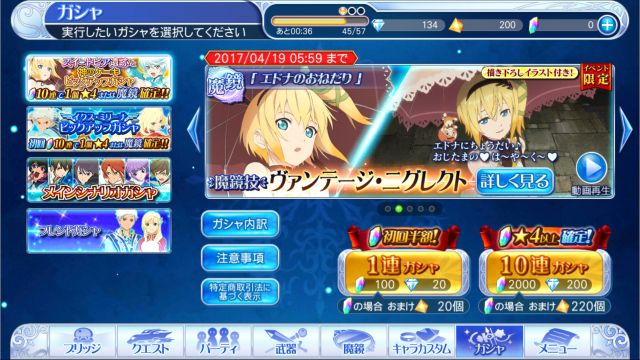 With this, we will now have had 4 characters added to Rays through events. The "Gods' Recipe" event will run from March 31 to April 17.
About the author