EVO carries a unique weight in the world of fighting games, and why shouldn't it? It's the largest, most prestigious fighting game tournament in the world, the one that everyone who's anyone travels for and dreams of winning. If you win EVO, you are the best player in the world at your game, period, end of story.
It's gotten so big in recent years that people tune into streams announcing what games will be headlining the event on the main stage. FGC legends IFC Yipes and Ryan Hart hosted this year's announcement show, and now, finally, we know what EVO 2023 is going to look like.
This year's event will return to the Mandalay Bay Resort and Casino and take place from August 4 to August 6, 2023. As usual, eight games will appear on the main stage, including the upcoming Street Fighter 6 and Ultimate Marvel vs. Capcom 3, which will be kicking off the first annual EVO Throwback Tournament.
The full list of games (and the platforms they'll be played on) is below, with games returning from last year's lineup marked in bold: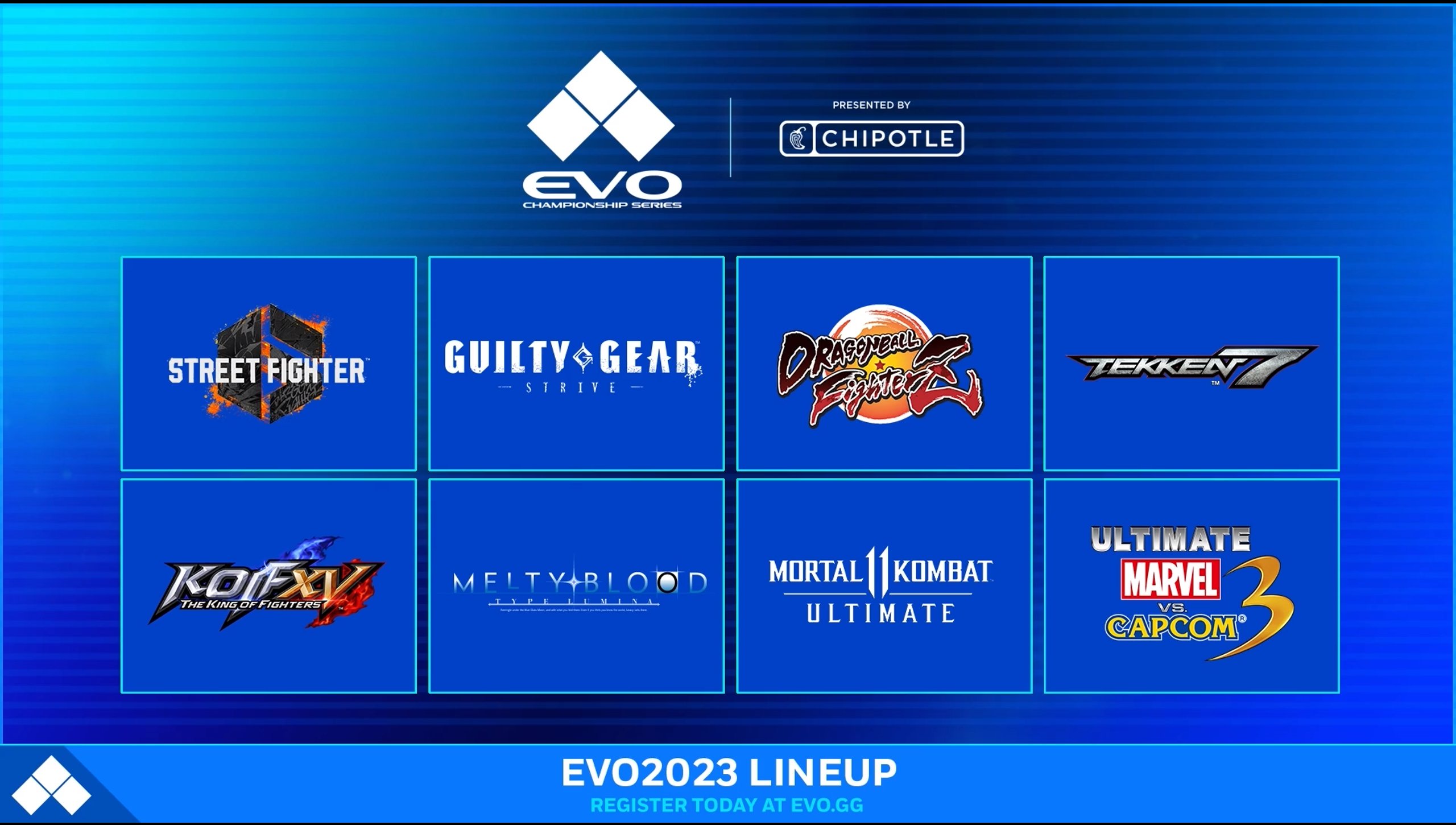 Image via EVO
Street Fighter 6 – PS4
Guilty Gear Strive – PS4

Dragon Ball FighterZ – PS4
Tekken 7 – PS4
The King of Fighters XV – PS4
Melty Blood: Type Lumina – PS4
Mortal Kombat 11 Ultimate – PS4

Ultimate Marvel vs. Capcom 3 – PS4
The overall list isn't a huge surprise, but seeing Ultimate Marvel vs. Capcom 3 make its long-awaited return to the main stage will be an incredible treat. Street Fighter 6, on the other hand, will make its EVO debut and likely continue to headline the event for the next several years. The only surprise is the return of Mortal Kombat 11 Ultimate.
Developer NetherRealm discontinued DLC and update support for the game in 2021 to move on to new projects. MK11's return to the main stage could signal that NetherRealm might have something to announce, but we'll have to wait and see. EVO 2023 may also mark the last year of Tekken 7's run, depending on when Tekken 8 releases.
The other big news from that broadcast was that EVO will establish a $25,000 minimum prize pool for every game in its lineup. While that's a far cry from Capcom's announcement that the 2023 Capcom Pro Tour will have a cool $2 million for its prize pool, with $1 million going to the winner, it's a huge step up for fighting games, which have traditionally offered low prize pools, even at premier events.
If you're planning to attend, you can register for EVO 2023 (and book a hotel) on EVO's website.
Featured image via EVO.
About the author