It is very possible we may be getting a book series revolving around the Five Nights at Freddy's brand later this year. Book publisher HarperCollins recently added a placeholder on their publishing site regarding a, "Young Adult Horror" series to be written by Scott Cawthon.
This follows the release of another book of his, published by CreateSpace, an independent publisher. Cawthon's earlier release, Five Nights at Freddy's: The Silver Eyes, was received positively by the fan-base, who praised the book for the suspenseful tone that Cawthon is known for. The book averages 4.5 stars on Amazon's 5-star ranking system.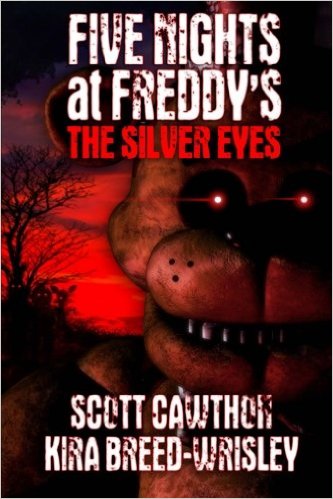 The move to HarperCollins, one of the world's largest publishing companies and representative of such authors as Clive Barker & Michael Crichton, signifies the possibilities of a long-term book deal. While it is not known for sure whether or not the book will take place in the Five Nights at Freddy's world, the identifiers listed for the book include, "Media Tie-in, Imagination & Play, and Horror & Ghost Stories", leading us to assume that some sort of game influence will lend itself to these books.
The mysterious new book is simply labeled as Young Adult Horror # 1 on the site as of right now, and has an e-book and hardcover ISBN already generated. The book will be priced at $9.99 and $17.99 respectively, and is scheduled to be released on September 6th. 2016.
As of this moment, Scott Cawthon has not responded to any e-mails regarding this new series, but this article will be updated if any news develops.
Update 1: Scott Cawthon did previously responded to a post on Steam regarding a book listing on Amazon.
Hey guys, just to be clear. The 2nd book listing is fake. People are able to create any name they want on Amazon and then their items get grouped in with mine on search listings. I'm having the fake listing removed as well as taking action against the user.
It is unclear whether or not Scott is referring to HarperCollins' Young Adult Horror #1 that is credited to him, since the poster he was responding to was asking about Amazon. Amazon has an open-source policy for publications, HarperCollins does not.
This invite the question as to why anyone would bother to offer a hardcover version if the listing is a stolen IP Hardcover books are normally much more expensive to make then paperback books, and exponentially more expensive then a simple e-book version would be.
This isn't to say Scott may be hiding the truth. Video game books are often made without the owner's consent, however these books are typically self-published and are never hardcover.
Since the update of this article, Scott has again been contacted with hopes to clear up any confusion surrounding this story, and has been provided with HarperCollins' official ISBN for the book to help him dispute any claims against his protected properties.
About the author