After getting swallowed by a black hole on Sunday afternoon, Fortnite is finally back. The battle royale game blipped back to life at around 4 a.m. EST this morning, as some correctly predicted after the game literally went dark following the end of Season X.
Servers were initially "down for maintenance" before players were able to log in shortly before 6 a.m. EST. Here's what we know so far.
What's New in Fortnite Chapter 2?
From the looks of things, most of the Fortnite Chapter 2 leaks from yesterday were correct. The game has a brand-new map, which, according to those who have been able to drop into a match, features a lot fewer buildings and urban areas than the original Fortnite map. There are currently 13 new locations to explore.
It seems like a big change of pace for the game, at least initially, but it is certainly something that will change over time.
Of course, there are new weapons to pew, pew, and they can be upgraded with materials found in the world. There are new ways to progress, too, with a more engaging challenge-based medal system. It gives you XP for battle pass progress as you notch more kills or perform certain in-game tasks, such as breaking a certain number of rocks.
Boats are real. Swimming is real. Fishing is real. You can eat fish for health because video games.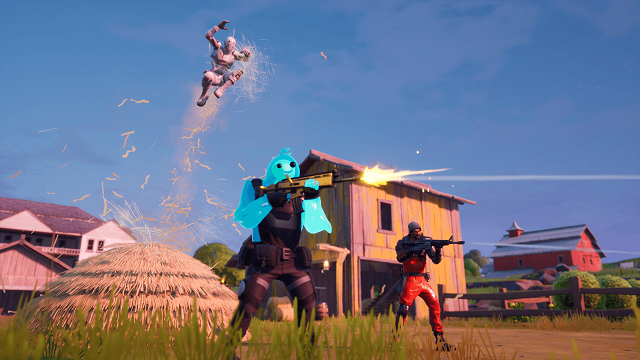 Stealth attacks also feature in the new season. We learned from the leaks that you can hide in dumpsters and haystacks to attack your enemies unawares. But now that some have finally gotten their hands on the game, it's confirmed that stealth adds a major wrinkle to combat. There is also confirmation of explosive barrels and gas tanks.
On top of that, new squad support actions make their way into Fortnite. The Bandage Bazooka heals your teammates with a rocket blast, and you can carry wounded comrades out of the line of fire.
Of course, there are also new emotes, such as high fives, as well as new dances, skins, cosmetics, and more.
How Much is the New Fortnite Battle Pass?
The Fortnite Chapter 2, Season 1 Battle Pass costs 950 v-bucks. Initial goals will net you around 1,500 v-bucks. According to the official Fortnite website, it appears this Battle Pass runs through December 12.
—
That's the gist of what we know about Fortnite Chapter 2, Season 1. Be sure to check back in the coming hours and days for more on the latest developments with the battle royale hit.
Sources: Kotaku, Fortnite.com
About the author