God Eater: Resurrection, the updated remake of the cult-classic God Eater for the PlayStation 2, releases on the PlayStation 4 and the PlayStation Vita tomorrow, June 28th, 2016. It comes out two days later on PC. Fans of JRPGs might want to give this game a look, particularly if they missed its first release and sequel.
What is God Eater: Resurrection?
God Eater: Resurrection is very similar to the popular action RPG series Monster Hunter. In terms of gameplay, it's all about hunting monsters with an NPC team, using weapons that transform between melee and ranged at the press of a button. You'll have to take down massive beasts with well-placed hits and combos, while also taking care to dodge and block the monster's attacks and watch out for your teammates.
Where it really differs from Monster Hunter is the plot. The story of God Eater is set in a post-apocalyptic future, where unknown life forms called "Aragami" have destroyed most of the world, ruling over the remnants with God-like force. The player joins a faction known as the Fenrir Organization, and is given a living weapon made of the same material as the Aragami, called a "God Arc". From there, they become a "God Eater," part of an elite squad sent to take back the world from the Aragami. However, threats can come from anywhere, and desperate people will do anything to survive…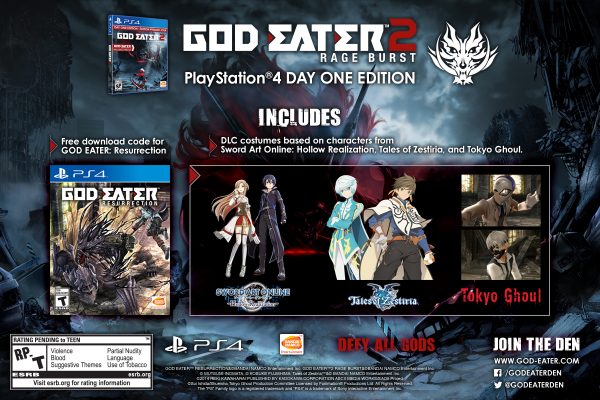 The sequel, God Eater: Rage Burst, is also available for pre-order. If you pre-order the sequel, you'll get the first game free, along with free DLC costumes based on popular anime like Tokyo Ghoul and Sword Art Online. Not only that, but it features cross-save and cross-play, meaning that your files between the PS4 and PS Vita are shared, letting you play at home and on the go without losing any progress.
If you like JRPGs, post apocalyptic settings, and awesome, over-the-top combat, God Eater Resurrection is one game you can't miss.
About the author