There's always a good deal of hype surrounding Level-5 games. Whether that's Ni No Kuni or Professor Layton, the community is always ready to learn as much information about the studio's titles as they can — especially before launch.
Recently, Level-5 updated the official Japanese website for the upcoming soccer strategy RPG, Inazuma Eleven Ares, the first Inazuma Eleven title to release on Nintendo Switch, as well as the first to receive a North American release since the Nintendo 3DS eShop remake of the original Inazuma Eleven in 2014. The update reveals more detail about the scouting system, battle mechanics, and the toy link system.
Here's a quick look at how those systems are reported to work when the game releases.
Scouting Other Players for Your Team
To recruit other players, you'll be able to talk to your team manager, Anna Mikado, who will introduce you to them. Another way players will join your team is by meeting the correct requirements, such as defeating them in a match.
Characters from the old Raimon team seen in the original Inazuma Eleven series are now spread throughout Japan, and they are used extra players in the other teams encountered throughout the game. In addition to players from other teams, there will also be several different arenas in which soccer matches will take place.
As of this writing, more details on those were not available.

Soccer Match Details
The update also covered the details of passing, command battles, defending, shooting, and special moves.
The pass line will show who the current ball holder can pass to, and it's best to choose which player to pass to based on the situation. Timing and distance are important factors to consider as well, and once the ball is passed, the receiving teammate will control the ball.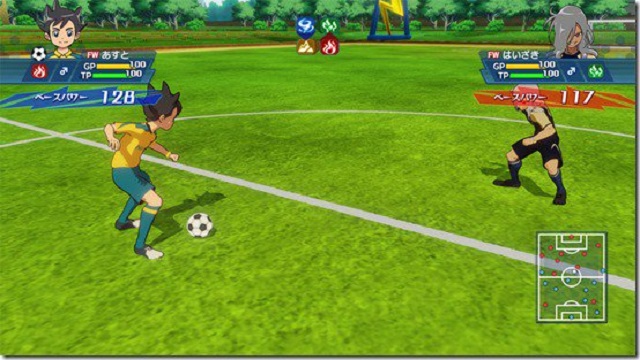 When a teammate and an opposing player run into each other, it will prompt a command battle in which the player can either move left or right, or execute a special move.
When moving, the player can steal the ball from the opposing player if their ability and power is strong enough.
Once the player gets close enough to the goal, they can choose to shoot the ball. Players will first have to determine their shot type depending on the situation and timing, and then individual player ability will determine if the goal is successful.
In tricky situations, special moves can turn the match around. These special moves are divided into four types: Shoot, Offense, Defense, and Keeper. Each will be successful depending on the timing of each move, as well as their specific characteristics.
Toy Link
Additionally, Inazuma Eleven Ares is compatible with Eleven Band and Eleven License toys. The Eleven Band will allow players to send Training Power once a day and will give experience points, or Nekettsu points — points required to obtain secret books for learning techniques, items, and equipment. These are also required for training and practice matches.
Eleven License toys will give either experience points or Nekettsu points, and up to three can be used each day. More information will be revealed in a future update.
Inazuma Eleven Ares will launch in Japan in Fall 2018 for PlayStation 4, Nintendo Switch, iOS, and Android. A North American and European launch of the game is planned for 2019.
About the author