According to Square Enix's Financial Results Briefing Session — which was presented by company President and Representative Director, Yosuke Matsuda, and Chief Financial Officer, Kazuharu Watanabe — the Final Fantasy 7 Remake and Kingdom Hearts 3 will release sometime in the fiscal year of March 2018 or later.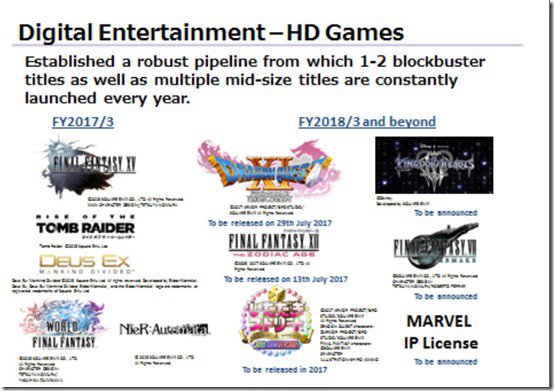 This slide shows our release lineup for FY2017/3 as well as for FY2018/3 and beyond. We plan to launch each of these upcoming titles in the next three years or so.

— Square Enix
This statement doesn't necessarily mean that it will take 3 years or more for both games to release, as it could be more of a general estimate than a set window. Fans have to remember that the Final Fantasy 7 remake will be episodic — with each episode being the length of a full game. And whether this is how long it will take to make all the episodes or just the first one has not yet been clarified.
It's been rumored that a new Kingdom Hearts 3 trailer is coming this year, and many are expecting that it may make an appearance at Sony's E3 press conference. This year marks the franchise's 15th anniversary, which has fans speculating that it's the perfect time to tease something about this highly anticipated entry in the series.
Players could still expect Kingdom Hearts 3 to release sometime in fiscal year 2018 at the earliest. But for FF7, Tetsuya Nomura has claimed that Square Enix is currently in the process of recruiting more people for its development.
Kingdom Hearts 3 was originally in development for PlayStation 4 and Xbox One, but the Xbox One version has yet to be reconfirmed. The Final Fantasy 7 Remake is in development exclusively for PlayStation 4.
Stay tuned in to GameSkinny for more updates and information on these two games, whenever they finally get closer to release.
About the author