It's that time of year again — Mojang has revealed yet another spooky skin pack, Campfire Tales, as part of their Minecraft content for this year's Halloween. The Halloween themed skin pack will feature 16 scary new character skins that will be available for both Minecraft Pocket and Windows 10 Edition at a cost of $1.99.
The Campfire Tales skin pack will include: the jealous Headless Haunter, the vengeful Lumbering Jack, the obsessive Sea-Swallowed Captain, the hasty confectioner Crisp, the cursed Well Wisher, Rancid Anne, The Sham, Ol' Diggy and the Risen Rose.
The Minecraft Twitter page has been revealing some twisted tales about each character since the start of October. You can view all these twisted tales here.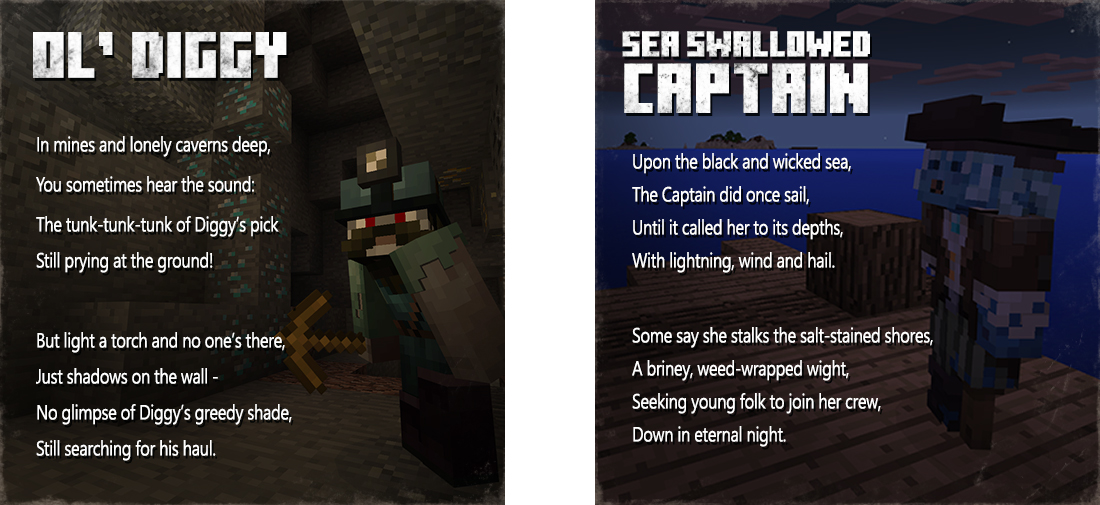 Alongside the Campfire Tales skin pack, Mojang has released the 0.15.10 update for Minecraft Pocket and Windows 10 Edition. While the update is rather small, it focuses heavily on fixing bug-related issues such as MINECON 2016 capes, which can now be obtained for a limited time only from the Google Play store for free using the code "MINECON2016". It also fixes a number of VR related issues.
For those interested, the full change log can be found below:
New Features:

Campfire Tales skin pack!

Tweaks:

Fixed mirror texture issues.
Small fix to smart turning. (VR only)
Capes no longer clip through armor.

Bug Fixes:

When getting the MINECON 2016 capes, you will now be prompted to make a "free" purchase from your device's store. If you are on Android & it prompts you for a payment, use the code MINECON2016 to get it for free.
Fixed crash when rendering leads in VR. (VR only)
Using the B button to quit the game (when using a controller) now works. (Win 10 only)
Fixed top of cursor flickering in VR. (VR only)
Mouse clicks no longer cause keyboard input to stop. (VR only)
Fixed issue where Minecraft would not shut down completely when launching another app in the Oculus store. (Win 10 Oculus only)
Added in bug fixes for VR that were previously in the 0.16 betas. Click here for 0.16 build 1 changelog and click here for 0.16 build 3 changelog!
Will you be purchasing the Campfire Tales skin pack? Let us know in the comments section below!
About the author